Why Emma Mackey Almost Didn't Star In Sex Education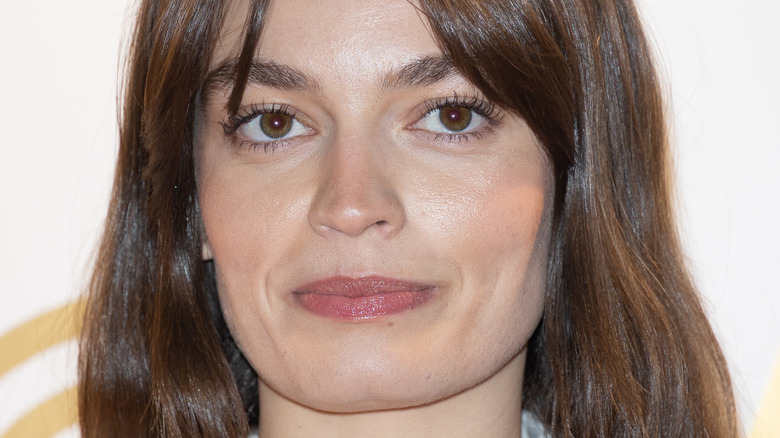 Marc Piasecki/Getty Images
Netflix's "Sex Education" isn't what you'd call a blockbuster hit, but it's more popular than you think. When Season 3 dropped on the streaming platform in September 2021, Forbes reported the series rocketed to #1 on the charts — an impressive feat, considering it largely stars an up-and-coming ensemble cast. The crux of the plot centers on Otis Milburn (Asa Butterfield) and Maeve Wiley (Emma Mackey), as they start a sex therapy business at school and grapple with their romantic feelings for one another in the process.
After Season 3 premiered, Digital Spy confirmed the show was greenlit for a fourth season. However, the actors' growing popularity and busy schedules might make this next installment the last. Mackey is one such actor whose star has risen as "Sex Education" got bigger. Her performance as Maeve earned her a BAFTA nomination in 2021 for Best Female Comedy Performance, and paved the way for blockbuster roles, including the Hercule Poirot thriller, "Death on the Nile," per IMDb. Next up, she's set to star in Greta Gerwig's "Barbie," alongside A-listers Margot Robbie and Ryan Gosling, according to Collider.
With all the international acclaim she's received to date, Mackey is grateful for the start "Sex Education" gave her. "It was such a lovely ... really special, warm moment," she told Body + Soul of the release of Season 1. "For me, this is my first piece of work." Given her positive experience, it's surprising she initially considered turning down the role.
Emma Mackey was hesitant about taking on the role of Maeve Wiley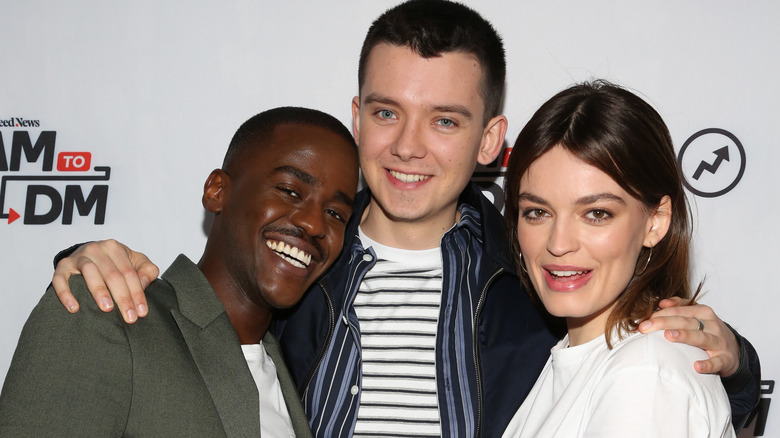 Manny Carabel/Getty Images
In a 2021 interview with Elle, Margot Robbie look-a-like Emma Mackey reflected on her initial feelings about "Sex Education. "I wasn't sure if I was even going to do it," she admitted. "I'd never done [a TV series] before, so it was quite a momentous thing to take on." Even so, Mackey recognized it as "a gift of a part." "I think any doubts I had were more about my nerves, my own sort of prudishness that I might've had at the time, being new and not knowing what was right for me," she added.
Along with the show's exploration of taboo topics like high school sexuality and substance abuse, Mackey was hooked on the character of Maeve Wiley, who is presented as a bad girl with a heart of gold. "I was very attracted by the way Maeve introduces herself to the world, she is very independent, very confident, and she does not apologize for anything even if she is bullied and doesn't fit in with the popular girls at school," she told Vogue France.
Just as the character of Maeve has grown over three seasons and grappled with her childhood traumas and teenage relationships, so too has Mackey come to terms with what she's looking for in her acting career. Roles like Jacqueline de Bellefort in "Death on the Nile" and Emily Brontë in "Emily" prove that she's ready to transcend her Maeve-type character box.
Will Emma Mackey appear in Season 4?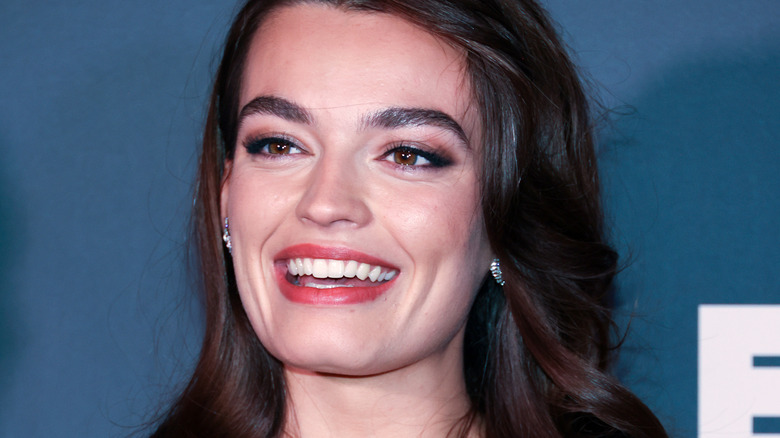 Pierre Suu/Getty Images
Per Elle, Emma Mackey explained that she loves "Sex Education" because it helps viewers embrace a different worldview, or better understand their existing one. "The main takeaway is that [the show's] not prescriptive, and hopefully people don't see it as, 'Oh, this is how [sex] should be,'" she said. "It's more like, this is a story that we're telling, and these are the characters we have to offer you. Do with them what you will, but go forth and discuss all of these topics." But despite her gratitude and appreciation for the series, Mackey might be ready to move on to bigger and better things.
The finale of Season 3 ended with Maeve Wiley heading off to study in the U.S. The "will they, won't they" relationship between Maeve and Otis Milburn is at the heart of the show, but how much will Maeve factor into Season 4 if she's off in America? Given Mackey's schedule is quickly filling up with huge projects like "Barbie," it could be that writers gave her an out if she's unable to participate in filming another season.
Currently, outlets like Seventeen seemingly confirmed that Mackey will reprise her role of Maeve. But Mackey herself sparked speculation with her comments to Hunger Magazine. "Sex Education is so momentous as a concept, as a show, and the cast are phenomenal. ...But the bittersweet nature of it is that I also can't be 17 my whole life," she said.