Inside Kaia Gerber's Relationship With Her Famous Mom Cindy Crawford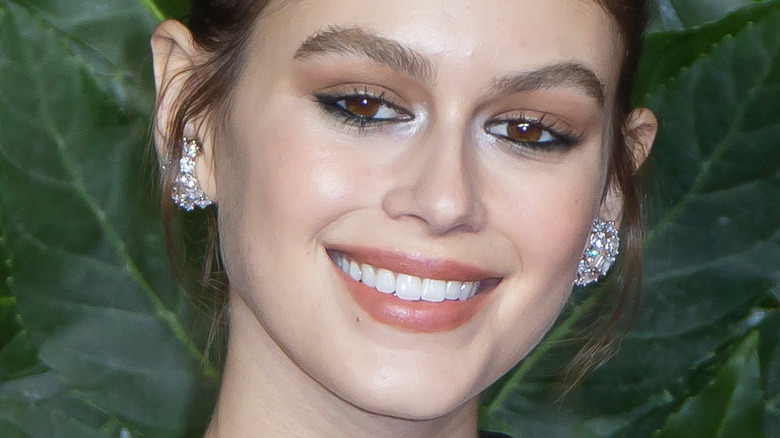 BAKOUNINE/Shutterstock
Kaia Gerber and Cindy Crawford are a mother-daughter duo who have dominated the modeling industry. When Gerber spoke to i-D in 2020, she explained that she didn't fully recognize Crawford's prominence in the fashion world until she decided to model as well. "It wasn't like 'Cindy Crawford' was my mom, she was just mom and she happened to be a model," Gerber said. "It was only when I started working in the fashion industry that I began to really grasp her impact and influence."
Gerber chatted with Teen Vogue in 2017 about what informed her decision to follow in her mom's footsteps. "[Modeling is] fun for me, so it doesn't feel like work," Gerber said. "I choose to do it ... It's what I want to be doing." Prior to this, Gerber and Crawford spoke to Teen Vogue in 2016, and Crawford opened up about letting Gerber do her first modeling gig for Versace at 10 years old. "We allowed her to do it because it was with a great team," Crawford said before adding, "I chaperoned her and I knew besides getting great pictures, she would have fun."
Past interviews with the lookalike mother and daughter have revealed the closeness that Gerber and Crawford share.
Kaia Gerber sees Cindy Crawford as her 'role model'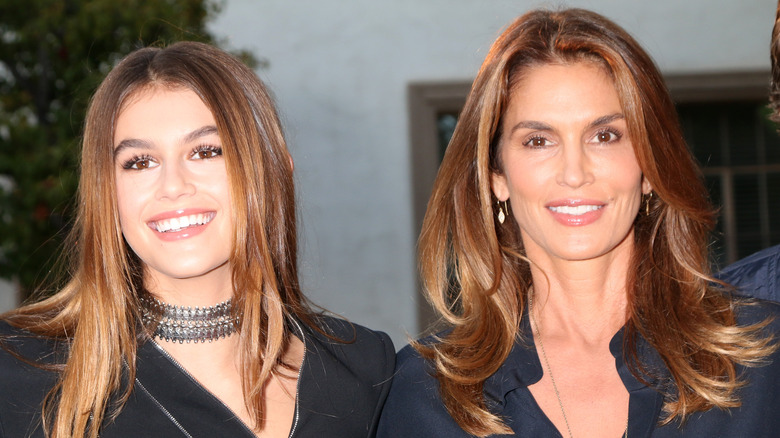 Joe Seer/Shutterstock
Kaia Gerber and Cindy Crawford have a tight bond and respect for each other. In 2019, Gerber penned an essay for Vogue in which she talked about people comparing her to her celeb mom, which she said is "the biggest compliment." "Beyond [Crawford's] beauty and obvious appeal, she has always been my hero and my role model because of the way she treats people and the lens that she sees the world through, and that's something for which I'm beyond grateful," Gerber added. The two were compared most recently when Gerber rocked a Hedi Slimane red halter dress in May 2022, per People, which had a similar look to a red gown Crawford donned at an event over three decades ago.
Crawford has also discussed her close relationship with Gerber, in which the two "talk every day, at least, and text," she said to W Magazine in 2018. "I can only go, like, a week without seeing [Gerber]," Crawford added. "If she doesn't text me back within 15 minutes, I do one in all caps and a lot of exclamation points." Gerber and Crawford's relationship also consists of Crawford passing along some sage words of advice to her daughter.
Kaia Gerber has received valuable words of wisdom from Cindy Crawford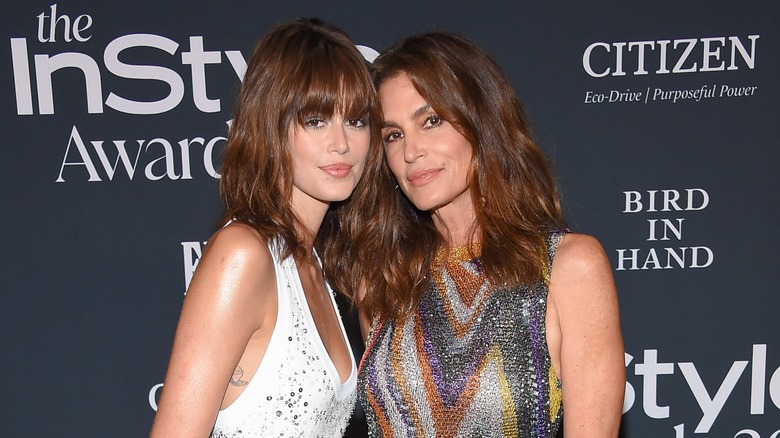 DFree/Shutterstock
Since her start in the entertainment industry, Kaia Gerber has achieved success through her own talent, plus lessons she's learned from her mom, Cindy Crawford. Following Gerber opening a Chanel fashion show in Paris, Crawford expressed her pride to ET Canada in 2017. "I'm just proud of the young woman that she is becoming and just the way she handles herself," Crawford said. "I was excited for her because this is a dream that she's had, and it just happened in the nicest way possible."
That same year, Gerber explained to E! News how Crawford's guidance had helped her thus far in her career endeavors. "She gives me advice for life more than she does for modeling, like be on time ... and to be kind to everyone," Gerber said of her mom. "Everyone that I've worked with say she's the most professional person that they work with."
In 2020, the two models joined forces when they posed together for an Omega campaign, via Crawford's Instagram account. "On set with my favorite model," Crawford captioned behind-the-scenes images of the work from home shoot. Here's hoping these two powerhouse models will collaborate once again in the near future.