Selena Gomez's Latest TikTok Has Fans Buzzing About Her Love Life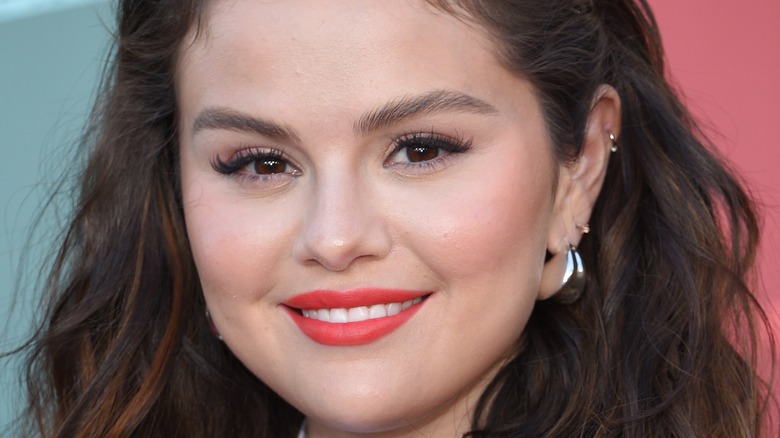 DFree/Shutterstock
Selena Gomez's love life has always been a source of public fascination. She famously had an on-again, off-again relationship with heartthrob Justin Bieber, as recounted by People. According to Life & Style, she's also been connected to big names like Nat Wolff, the Weeknd, and One Direction's Niall Horan. As a pop singer, her work frequently references her love life, with hit songs like "Same Old Love" and "Back to You" finding their way on to the Billboard Hot 100. 
Gomez seems to have had a prolific dating history. (Who wouldn't want to make out with Niall?) But it wasn't all sunshine and rainbows for the "Rare" singer. In a 2021 interview with Vogue Australia, she shared, "I think most of my experiences in relationships have been cursed. I've been way too young to be exposed to certain things when I was in relationships." For now, Gomez appears to be staying single ... but that doesn't mean she isn't dating.
A recent video posted by Gomez had fans hoping for some romance updates. Using the TikTok account of her makeup line, RareBeauty, the singer treated her 900,000 followers to a lip routine. The everyday clip is transformed into something hilarious and more notable because of someone asking a pointed question in the background. Now, Selenators are searching for the answer. 
Selena Gomez's grandma had questions about her love life
Selena Gomez's unforgettable TikTok kicks off with a voiceover reading the words, "When you're about to film your lip routine and..." The "Kill 'Em With Kindness" singer begins using her lip liner, only to be interrupted by a voice in the background. The video's subtitles label the speaker as "Nana," who says, "So how did you end it with that guy?" Leave it to relatives to ask the hard love-life questions ... Nana didn't even have the decency to wait until Thanksgiving. 
Gomez freezes in the middle of her application, her mouth falling open slightly. Careful to not mess up her freshly applied make-up, she calls, "Uh, I'll tell you in a second." Her Nana responds with a disappointed "Oh" and Gomez eventually dissolves into laughter. 
Nana wasn't the only one disappointed to not get the gossip. The top comment on the post, which racked up over 25,000 likes, read, "We need the tea." The Rare Beauty account responded, "Should we get nana on the phone." Fortunately, Gomez's Nana does not appear to be on social media, or we're sure she would be inundated with fan questions. Instead, Selenators made appeals through the comment section: "Miss Nana...girl...tell us the tea."