The Supernatural Star Who Introduced Jeffrey Dean Morgan To Hilarie Burton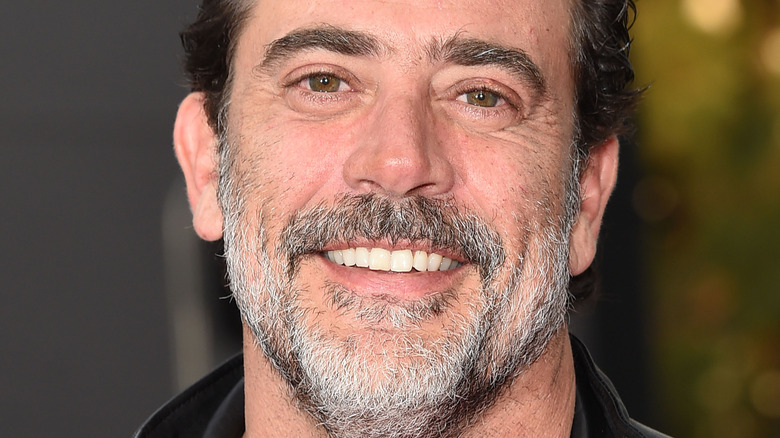 DFree/Shutterstock
Jeffrey Dean Morgan and Hilarie Burton are one of the most stable couples to emerge from our teen craze of the aughts, though the "Supernatural" and "One Tree Hill" alums didn't become an item until after leaving their career-defining roles. Their romance sparked when they crossed paths in 2009, but they opted to keep their relationship private, only going public the following year.
No one knew then, but Burton and Morgan were already expecting a child, Gus, who was born in March 2010, Us Weekly reported. In fact, the media didn't catch wind of it until May, when the baby was a couple months old. If secrecy was what they wanted, secrecy is what they achieved indeed. They continued to nurture their family, showing they were in no rush to tie the knot. In February 2018, the couple welcomed a daughter, George, Burton announced on Instagram. Their "human miracle" was born after Burton's years-long battle with infertility and miscarriages.
Upon completing their family, Morgan and Burton decided they were ready to formalize their union. In October 2019, they walked down the aisle, becoming husband and wife after 10 years together. "From the moment I met @jeffreydeanmorgan, he was my husband. Rather than make vows right out of the gate, we lived them ... The good times and the bad," she captioned the Instagram post. They sure have gone through a lot and written a beautiful story along the way. But none of it would've been possible without their former co-stars. 
Danneel and Jensen Ackles introduced Hilarie Burton and Jeffrey Dean Morgan
Hilarie Burton and Jeffrey Dean Morgan have their former co-stars Jensen Ackles and Danneel Ackles to thank for their fruitful union. Burton and Danneel have a friendship stemming from their days on the set of "One Tree Hill," while Morgan and Jensen developed a bond while playing father and son on "Supernatural." Even after Burton left "One Tree Hill" in 2009 and Morgan left the horror hit drama in 2007, they continued to cultivate the relationship with their respective Ackles friend. And the Ackleses saw the perfect opportunity.
In early 2009, Jensen invited his buddy to go to a bar and Danneel invited her girlfriend to join her as well. "I [got lit]. We all did. We ended up back at my house drinking shots of tequila," Morgan told HuffPost in 2015 (via E! News). Burton and Morgan's connection was so strong that she gave up a one-way ticket to France to invest in this potential relationship, Burton detailed in her memoir "The Rural Diaries" (via ET Canada). 
Morgan and Burton diverge on how that night went down. Morgan contends Burton took the initiative, though she disagrees. "I remember being a lot cooler and standoffish," she joked on PeopleTV in 2020, sitting next to her husband. "I mean, you were smooth. You knew exactly what you were doing." Morgan maintained his version. "She so jumped on me with a quickness," he said, drawing laughter from Burton and the hosts. 
Jeffrey Dean Morgan and Jensen Ackles's friendship is still strong
Once a Winchester, always a Winchester. Jeffrey Dean Morgan and Jensen Ackles didn't lose touch in a post-"Supernatural" world. Morgan was featured in the show for only its first two seasons, but it was enough to leave a mark on his onscreen sons, Ackles and Jared Padalecki. In August 2016, the latter took to Instagram to share that the trio had reunited for a fun night out, a snippet that sent fans down a spiral of nostalgia. "Now who couldn't love a picture of a dad and his boys," one user commented. 
In October 2017, Morgan showed that he keeps Ackles around by sharing a photo of the actor with his son, Gus, on Instagram. And he didn't miss the opportunity to draw on their "Supernatural" connection. "Sons. I swear, if either one ever bitches about their lives.... xojdad," Morgan captioned the snap, which showed Ackles with his hands on Gus's shoulders in what looked to be a restaurant.
But Morgan and Ackles showed the true extent of their friendship in October 2019, when Ackles officiated Morgan and Hilarie Burton's wedding alongside Morgan's "The Walking Dead" co-star Norman Reedus, Morgan revealed on his Instagram. Ackles, Morgan and Padalecki celebrated the occasion by getting matching tattoos. "Me and @hilarieburton weren't the only ones joined for life.... @jaredpadalecki @jensenackles and myself will forever have a bond that is both special, and permanent. Love you both dearly," Morgan captioned the Instagram post.