The Hilarious Reason Ryan Gosling Decided To Star In The Barbie Movie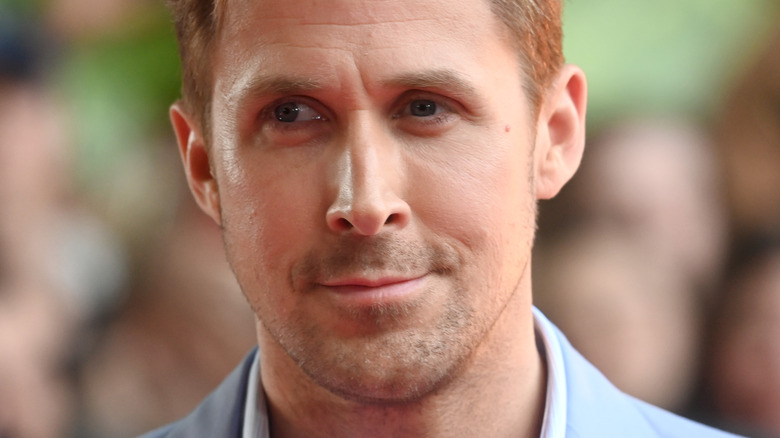 Dave J Hogan/Getty Images
Ryan Gosling's casting in the upcoming Barbie movie caused a stir when it was announced. The film, which is scheduled for release in July 2023, also stars actor Margot Robbie as the titular character. Fans have been able to catch glimpses of Gosling in his role as Ken, due to the movie's public filming locations. In response to the images, some social media users dragged Gosling for accepting the role.
"Women talking about how Margot Robbie is perfect for Barbie but Ryan Gosling is a bad choice for Ken... it's not for you guys sorry it's for the boys," one person tweeted, while another wrote, "The ugliest Ken I have ever seen."
However, there are some who support Gosling's casting. Joe and Anthony Russo — the directors of the Gosling-led film, "The Gray Man" — said that the actor always had "Ken-ergy." "I think we can tell that Ryan had a lot of Ken-ergy and he was ready for a Ken-aissance," Joe said, per Pinkvilla. Now, Gosling is speaking out for himself and revealing the hilarious reason he took on the role.
Ryan Gosling got a sign from his daughters
Ryan Gosling's decision to play Ken in the live-acton Barbie doll film was influenced by a hilarious incident involving his daughters. During an appearance on "The Tonight Show Starring Jimmy Fallon," Gosling explained that he was still hesitant to star in the role even after he received an offer from director Greta Gerwig. Gosling revealed that it wasn't until he found his daughter's Ken doll stuck in the mud that he decided to accept the part.
"I walk out in the backyard, and you know where I found Ken, Jimmy?" Gosling asked. "Face down in the mud next to a squished lemon." Fallon went on to joke that the discovery was a sign that Gosling was meant for the role, to which Gosling responded, "I texted [the picture] to Greta and I said, 'I shall be your Ken, for his story must be told.'"
And while Gosling might have gotten hate from people online, it appears that his long-time beau Eva Mendes was very fond of his new leading role. Mendes explained on "The Talk" that she asked Gosling if she could keep his underwear after seeing him as the character. She went on to joke that she was wearing his underwear during the interview.