The Truth About Joe Pesci And Robert De Niro's Friendship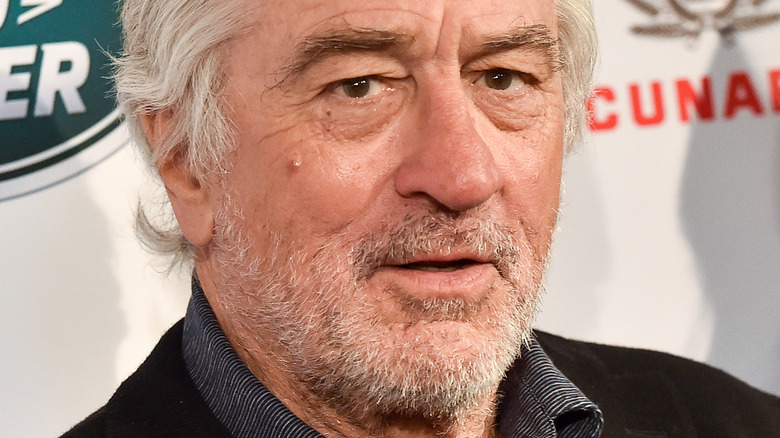 DFree/Shutterstock
Hollywood has a host of famous acting duos — Leonardo DiCaprio and Kate Winslet, Drew Barrymore and Adam Sandler, Matt Damon and Ben Affleck, just to name a few. But these killer pairings aren't a new phenomenon. Viewers have been falling in love with actors' on-screen chemistry for decades, leading to subsequent partnerships that seemed to only get better with time and familiarity. Among those is Robert De Niro and Joe Pesci, who have shared the big screen a whopping six times throughout the years, IMDb indicates.
Together, the two Oscar-winners have produced some of the most iconic pictures of the 1990s, including "Goodfellas" (1995) and "Casino" (1995). In fact, both De Niro and Pesci won Academy Awards for films in which they co-starred — Pesci for "Goodfellas" and De Niro for "Raging Bull." It seems they just bring out the best in each other. And their professional partnership isn't simply something of the past, either. Pesci and De Niro reunited for Martin Scorsese's "The Irishman" in 2019, proving that their decades-old chemistry is still very much intact.
Each man's performances were greeted with acclaim from critics, who also highlighted the ease with which they share the screen. "Without ever raising his voice or changing his methodical gestures, Pesci shows how [his character] has altered the course of [De Niro's character]'s life across decades," The New York Times' Violet Lucca raved. Maybe such strong chemistry stems from their closeness in real life. Or maybe it was the other way around.
Robert De Niro recruited Joe Pesci for Raging Bull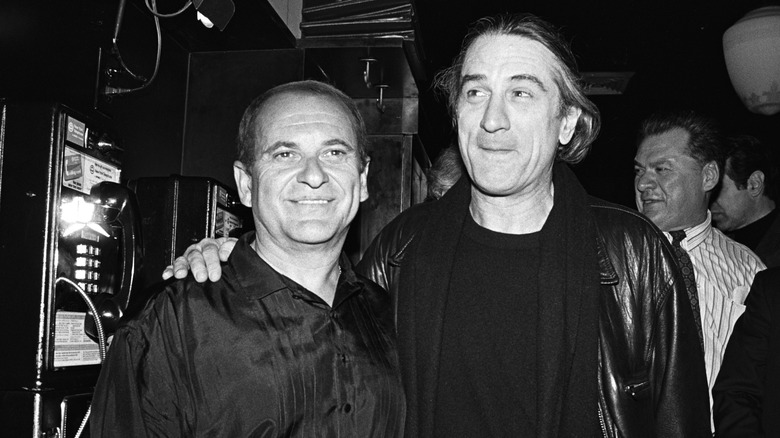 Catherine Mcgann/Getty Images
When Martin Scorsese and Robert De Niro teamed up for their fourth collaboration with the 1980 biopic of Italian-American boxer Jake LaMotta, they immediately set out to find the perfect man to portray the athlete's brother. After seeing Joe Pesci in "The Death Collector," De Niro was convinced he had found the perfect match, The New York Times noted. By then, the former child actor's career had all but dwindled, and he was working at the New York restaurant Amici's, he said on "The Late Late Show with Tom Snyder" in 1998.
One morning, Pesci's coworkers informed him he had received a call from De Niro. Pesci cursed them off, believing it was yet another joke about his past. "They used to call me 'the actor' — they had all these nicknames for me," he told Snyder. But Pesci returned the call anyway. His coworkers hadn't been pulling his leg, after all. Pesci went honest and bold. "I don't work anymore, unless it's a really big part where I get to go one-on-one with you," he said.
We all know what happened next. But Pesci and De Niro also developed a real-life bond that has endured a lifetime thanks to that unusual phone call. "They have their own brotherhood," the "Irishman" star Kathrine Narducci said on "PeopleTV" in 2020 (via Entertainment Weekly). "They're like family ... We would sit during breaks and just listen to them tell stories and it was wonderful."
Robert De Niro had to convince Joe Pesci to act again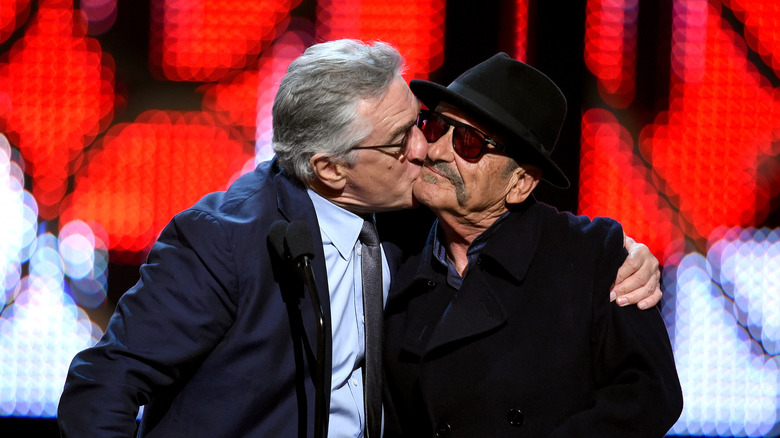 Kevin Winter/Getty Images
The part in "Raging Bull" wasn't the only one Robert De Niro had to convince Joe Pesci to accept. As it turns out, Pesci had no interest in coming out of retirement to star in "The Irishman." This time around, though, it took De Niro much more than a phone call. It took him years. "A lot of what I was saying was, 'Come on, who knows if we're ever going to have this chance again? Let's just do it,'" De Niro told Entertainment Weekly in 2019.
No one really knows what was holding Pesci back, as he declined to be interviewed. But director Martin Scorsese had a few hypotheses. "It could be, financial issues. You could have that — I'm not saying he did, right? It could be family issues. It could be health. It could be boredom from doing a certain kind of film. Playing a certain character," he said. However, Scorsese was certain that, if anyone had the ability to convince Pesci, that person was De Niro. "Ultimately, if Bob asks enough and he pushes enough..." he said.
Even if Pesci's reclusive nature keeps him from sharing too much about his personal life, he does not hide the gratitude and affection he has for his old pal. "I owe Mr. De Niro a lot, probably a lot more than most people," Pesci said when De Niro was recognized with the American Film Institute Life Achievement Award in 2003.