Here's What RuPaul Really Looks Like Without Makeup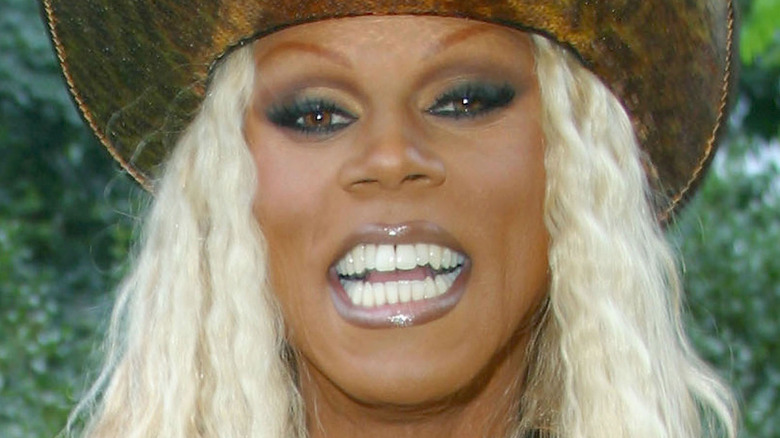 Teresa Lee/Getty Images
RuPaul's not just a drag queen — she's the Queen of Drag! For most of her illustrious career, RuPaul's drag persona is synonymous with her complete image. She came to fame in the 1990s for her song "Supermodel (You Better Work)" — about being a supermodel of the world, of course — and performed the song in full drag. Then RuPaul continued to appear in drag throughout her very own talk/variety television show in 1997 called "The RuPaul Show."
Yes, she had her own claim to fame in the beginning, but RuPaul became a true household name when she created the first-ever drag queen competition program in 2009, which we all know today to be "RuPaul's Drag Race." Before RuPaul was famous for being a drag queen and having talent in her own right, she transitioned into the world of producing and judging. Instead of needing to rely on drag, RuPaul became a leader in the boardroom, with several executive producer credits under her belt for the international iterations of "Drag Race."
And if we've learned anything about RuPaul these days, it's that RuPaul won't be putting on full drag unless a check is being cut — especially since it takes RuPaul a whopping six hours to get into full hair and makeup. So, what does RuPaul look like without the laborious get-up?
RuPaul has transcended drag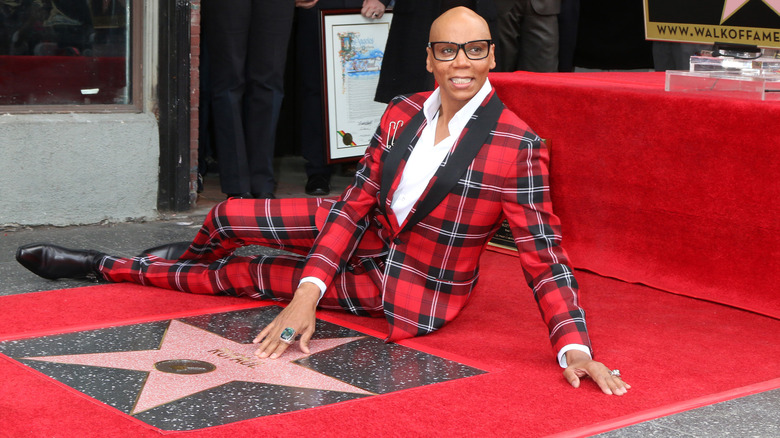 Kathy Hutchins/Shutterstock
One of the first times we saw RuPaul without drag was when she played the role of a "straight" conversion camp counselor in the 1999 film "But I'm a Cheerleader." While RuPaul has continued to stunt in full glam on "RuPaul's Drag Race" as part of the judges' panel, she actually begins each episode in a suit and tie, and usually with a pair of glasses.
In 2018, Oprah asked RuPaul what she sees "when [she] looks in the mirror." "Freckles!" RuPaul responded gleefully. "I've spent so much time putting on makeup and using my body for a living. So initially, I see it as part of my work. But when I look with my heart, I see that little boy who loved to dance and laugh."
These days, we see RuPaul mostly out-of-drag for a multitude of reasons. Without makeup, you'd never guess RuPaul is 61 years old as of this writing, but she told The Cut in 2015 that she likes to keep active in order to take care of her health and wellness. So, RuPaul can stunt regardless if she's in drag or not. And when she was invited to the 2019 Met Gala, RuPaul explained on "Watch What Happens Live with Andy Cohen" why she decided to go out of drag. "If I were in drag, I would be so mean to everyone," RuPaul joked. "Drag hurts, and I'm not getting paid! ... You sit in these small bar mitzvah chairs." Comfort prevails for RuPaul.
RuPaul uncovered an unexpected familial relation to Cory Booker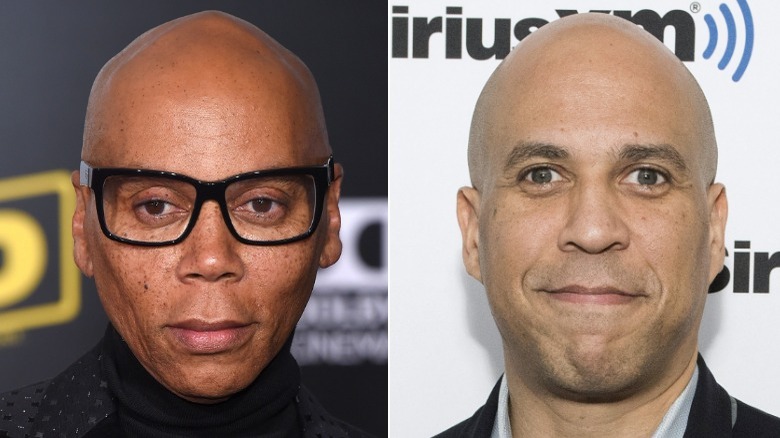 Bonnie Biess/Getty & DFree/Shutterstock
RuPaul has certainly become one of today's most prolific queer, Black creators. So, when RuPaul appeared on the celebrity ancestry show "Finding Your Roots with Henry Louis Gates, Jr." on PBS in 2020, she was surprised to find out about her family tree's historic relevance. RuPaul learned from Gates that her great-grandparents were one of the earliest couples to get married once it became legal for African Americans to do so after the end of the Civil War.
In a surprising turn of events, Gates also revealed that RuPaul's related to the Sen. Cory Booker from New Jersey! Even RuPaul was taken by the resemblance. "Oh my goodness! ... He looks like my kin," RuPaul realized. "There's a sweetness about him that I've always loved, and an intellect that is undeniable. But every time I've ever seen him, he reminds me of my cousin Eulah ... How about that?"
"I told everybody that would listen in my world," Booker gushed to Wendy Williams (via CNN) when he found out the happy familial news. "I just love RuPaul ... I was very happy about that news and I hope that he and I can have a family reunion sometime."