The Truth About Daniel Radcliffe And Rupert Grint's Friendship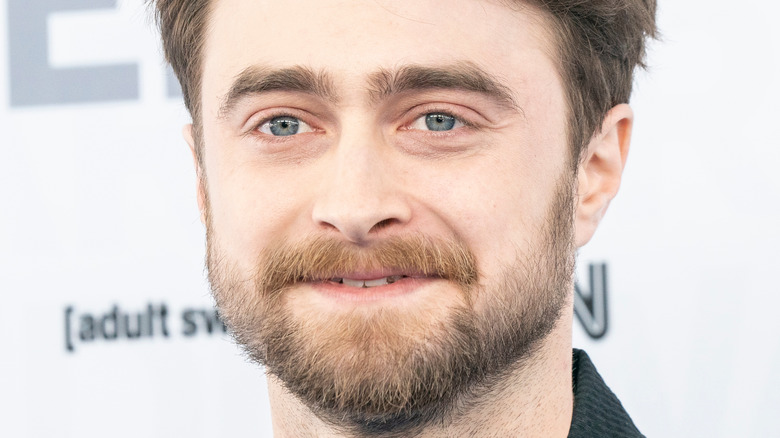 lev radin/Shutterstock
Harry Potter, Ron Wesley and Hermione Granger were the friends many of us needed to help us through our growing pains of childhood and adolescence. We were there with them through it all — the fights, the jealousy, the all-nighters and, above all, the challenges they were only able to pull through thanks to one another. Daniel Radcliffe, Rupert Grint, and Emma Watson, respectively, had the difficult task to bring our best friends to the big screen from the "Harry Potter" novel series between 2001 and 2011.
For better or worse, their lives and careers were shaped by the years spent in their Hogwarts robes. Of course, shedding those old clothes have proven difficult. "I'm getting to a point where I feel like I made it out of 'Potter' okay and I'm really happy with where I am now," Radcliffe told The New York Times, explaining why he won't revive Harry for a film adaptation of "Harry Potter and the Cursed Child."
Grint has had a similarly hard time leaving Ron and the series behind. "I find it very hard to detach myself from being Ron — we merged into the same person," he wrote for The Times. In addition to spending a decade playing their characters, the trio also faced long hours on set — meaning they spent a lot of time together. "We're there at about 6:30 a.m., which means I'm picked up at about 5:45 a.m," Watson told Interview in 2009. But did Radcliffe and Grint's friendship endure after "Harry Potter?"
Daniel Radcliffe and Rupert Grint went their separate ways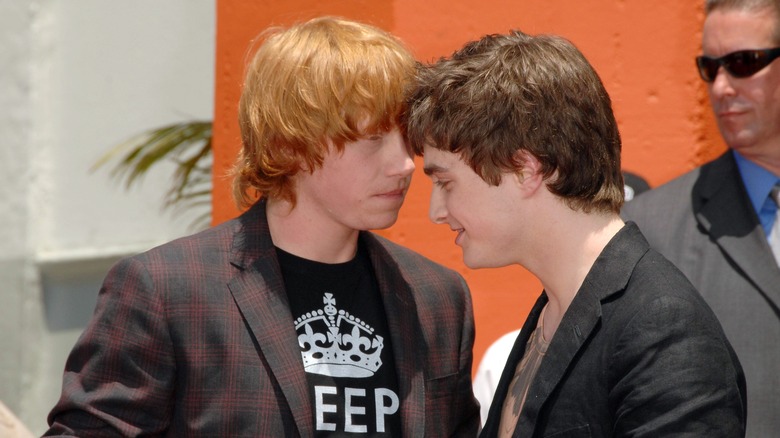 Everett Collection/Shutterstock
Daniel Radcliffe and Rupert Grint spent their entire adolescence sharing the very unique experience of portraying two of the most beloved characters of the 1990s and 2000s. For fans, it's hard to imagine they were anything but Harry Potter and Ron Wesley. But they did have a life outside of Hogwarts. In fact, the trio rarely spent time together off set. "We see so much of each other when we're working that hanging out together would be overload," Emma Watson told Interview. "I love them, but I need to see other friends off set. They're like my siblings now."
After the movies wrapped up, Radcliffe and Grint worked to build their careers outside of the franchise. And as they did, they also disassociated from each other. That's not to say they don't reserve a special place in their hearts for the fond memories of yore. "I don't see Dan and Emma as much as you'd expect, so the reunion was very nostalgic," Grint wrote in his essay for The Times, referring to HBO Max's "Harry Potter 20th Anniversary: Return to Hogwarts" special released in January 2022.
And Radcliffe always finds time to reach out when big events happen in Grint's life. That, of course, included when Grint welcomed his daughter in May 2020. He said on "Watch What Happens Live with Andy Cohen," "I texted him the other day. I'm so happy for him. It's very, very cool."
Did Daniel Radcliffe and Rupert Grint feud?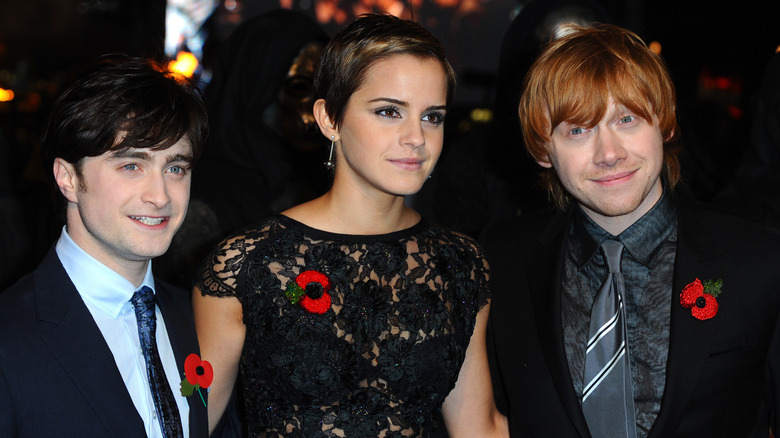 Anthony Harvey/Getty Images
In January 2012, Daniel Radcliffe was rather emphatic about how he and Rupert Grint weren't close. "I'm just going to put out there, Emma [Watson] and I text all the time but Rupert and I never text each other, we never see each other," he told The Mirror. The emphasis, combined with how Radcliffe brought up his other "Harry Potter" co-star, led many to assume there were issues between him and Grint.
However, Radcliffe later shut down those speculations, explaining he only meant that he and Grint are both passive about maintaining virtual contact whereas Watson is better at it. "We are lazy texters. We've never texted each other back. And we both know that's how the other person is," he told Ryan Seacrest in a now-unavailable episode of "On Air" (via NZ Herald). The two may not see each other frequently, but Radcliffe still considers Grint a friend. "I know that the next time I see Rupert, we'll sit next to each other and chat, and it will be like old times," he told Seacrest. "It will be fantastic It's just that we're not constantly texting each other."
During the "Harry Potter 20th Anniversary: Return to Hogwarts" special, Grint showed his vulnerable side as he opened up about how much his co-stars mean to him. "We're family, we always will be," Grint said in an exchange with Watson (via Independent). "It's a strong bond, we'll always be part of each other's lives."