Here's What Drew Barrymore Really Looks Like Without Makeup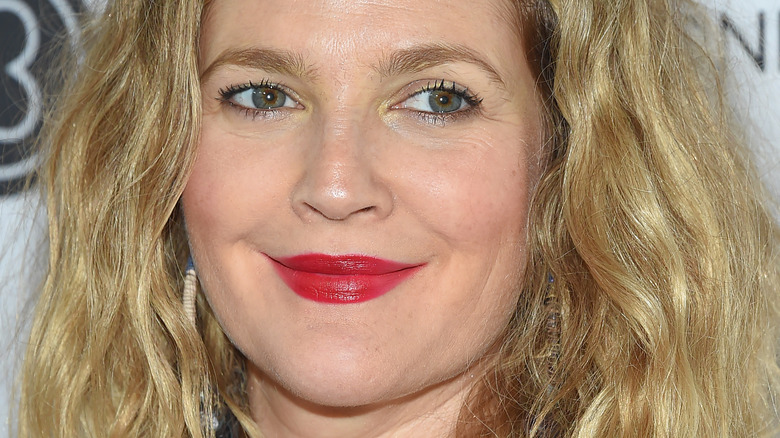 DFree/Shutterstock
Drew Barrymore has had an illustrious and versatile career. Besides her starring roles in iconic movies such as "E.T.," "Charlie's Angels," and "Never Been Kissed," the award-winning actor hosts a daytime talk show called "The Drew Barrymore Show" and has a cruelty-free makeup brand called Flower. And you can bet that the actor-TV host has combined her passions. In fact, she's used her talk show to promote her makeup line, which includes a full range of cosmetics products. On the Flower website, a section called "Drew's signature look" features products such as serum foundation, liquid highlighter, lip liner, and winged eyeliner.
The happy-go-lucky Barrymore is clearly a fan of makeup, but how does she feel about wearing little to none? Does the star ever flaunt a more natural side of herself? Barrymore happens to be enthusiastic about both, and has shown both sides throughout the years. She's been outspoken about the power of wearing makeup, but also going makeup-free.
Drew Barrymore showed off her makeup-free look in numerous tutorials
Drew Barrymore often opts for a minimal makeup look on Instagram. On her birthday this past February, the star posted a bare-faced selfie, appearing glowing and radiant. But Barrymore also embraces the power of cosmetic products. She has posted numerous getting ready tutorials on the app. Needless to say, it's not uncommon to witness the actor's before-and-after makeup looks. In one video, she claimed she "loves makeup" and thinks it's "transformative." She explained, "I always talk about the behind-the-scenes and the way you see a woman's physical cadence change when she puts makeup on."
Barrymore especially loves using makeup to enhance her natural beauty. In a 2017 makeup tutorial video for Vogue, Barrymore shared a secret. After dabbing on highlighter, she tapped some moisturizer on her face and said, "It does something that even a highlighter can't do. It's beyond a makeup glow. It just makes your skin look really fresh."
Attaining a natural glow seems to be a specialty area of Barrymore's, who covered the topic on "The Drew Barrymore Show" in 2021. In the episode, the TV host pulled out a skin elixir from her beauty line Flower to demonstrate an "instant dew." She also told Allure about the product, "With this, I love it on bare skin with nothing, bare skin with a little concealer and spot treatment, or even with full foundation."
Drew Barrymore is empowered by makeup and no makeup
In 2018, Drew Barrymore reflected on her relationship with makeup to People. She told the outlet, "Makeup-free selfies are empowering because that's what you really look like – and I have no interest in sort of pretending I look something else than what I am." However, she doesn't prefer one look over the other. She continued, "I love wearing makeup, but I also love not wearing makeup."
In a 2019 interview with Harper's Bazaar on her cosmetics brand Flower, Barrymore shared her personal take on beauty. "I always say a smile is the best make-up. And I think it really means that there's such power and beauty in being happy. I'll take a big smiling make-up-free face any day of the week." And the makeup mogul had some inspiring words for consumers. "As a beauty brand owner I definitely look at this in a different perspective but the philosophy is still the same. Our very first tagline was 'Love The Way You Look' and I think that is a really good message," she said.
On multiple occasions, the self-love advocate has expressed how makeup can elevate confidence. This past May, Barrymore gushed to Byrdie about the "amazing result" of Flower's color corrector. "If women can feel like they don't have to think about dark circles, that is making room in their brain for bigger and better things."