The Truth About Kris Jenner's Friendship With Faye Resnick
Eugene Powers/Shutterstock
Kris Jenner and Faye Resnick's friendship has stood the test of time. Resnick, an interior designer and guest star on "The Real Housewives of Beverly Hills" and "Keeping Up With The Kardashians," has been by Jenner's side through blood, sweat, and tears.
The two were both close with Nicole Brown Simpson, whose devastating death in 1994 caused a media frenzy, leading Nicole's ex-husband O.J. Simpson to be charged with her murder. Jenner was a major subject of the press, as her late ex-husband Robert Kardashian was one of O.J.'s defense attorneys. Resnick and Jenner's friendship with Nicole Brown Simpson garnered even more attention in "The People v. O.J. Simpson: American Crime Story," where Selma Blair portrayed Jenner and Connie Britton played the controversial part of Resnick, per IMDb.
In a 2019 episode of "Keeping Up With The Kardashians," Jenner and Resnick dined at a spot they ate at with Nicole. Surprised to hear it was the 30th anniversary of the restaurant, the ladies found the occasion to be bittersweet. "I feel like it was just meant to be that this is where we are to celebrate her life," Jenner said in a confessional clip. At their table, Jenner and Resnick discussed their emotional pain from the heavily publicized tragedy.
Though they've gone through some profoundly sad moments together, Jenner and Resnick have demonstrated an unbreakable bond. Let's dig deeper at their friendship, and examine where it stands today.
The feeling is mutual between Kris Jenner and Faye Resnick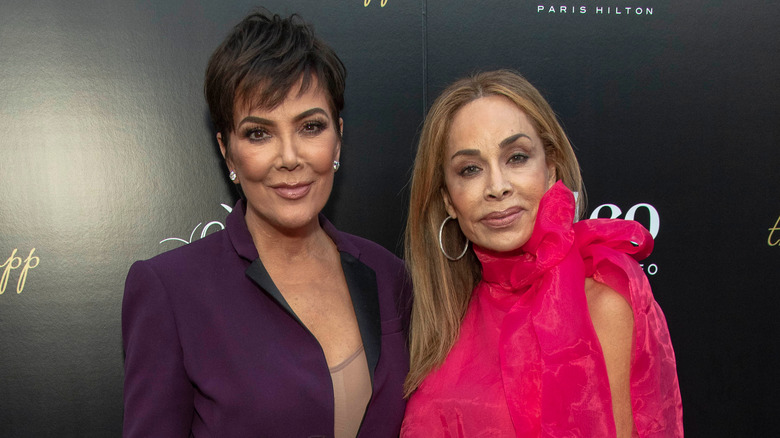 Eugene Powers/Shutterstock
In 2015, Kris Jenner officiated and hosted Faye Resnick's wedding ceremony with Everett Jack Jr. at her California home, per E! News. "Faye, you're a beautiful woman," Kris reportedly gushed. "But your true beauty and true radiance, your true success will not be what's accomplished in your career, but what is built in your character, your integrity and in the beliefs that you hold to everyday."
Resnick has also been supportive of her close friend's relationships. In a bonus scene of "Keeping Up With The Kardashians," Jenner opened up to Resnick about her romantic life. In a confessional clip, Jenner said, "The one person that I can always talk to about anything is one of my best friends Faye, and I know she will not be the one to judge me and she'll be the one to understand."
The duo's love for one another is further evident in their social media posts. In early July, Jenner gave Resnick an Instagram shoutout on her birthday, sharing a series of photos of the two throughout the years. Calling Resnick her "OG ride or die," Jenner captioned the pictures, "You are the most fabulous BFF, friend, mother, sister, auntie, traveling partner, therapist, and you know how to make the best margarita on the planet." In November 2021, Resnick also wished her friend a happy birthday on Instagram, writing, "You are seriously the best friend anyone could ever dream of and I love you so much."
Faye Resnick has a familial relationship with Khloé Kardashian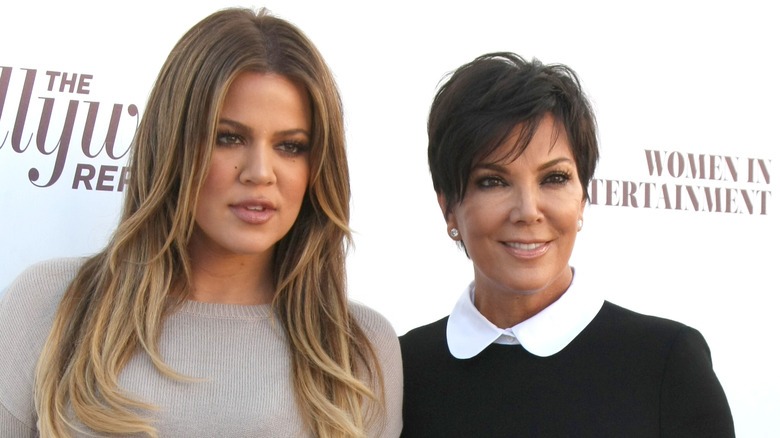 Kathy Hutchins/Shutterstock
Unsurprisingly, Faye Resnick and Kris Jenner's tight-knit dynamic extends to family. In an interview with E! News this July, Resnick talked about her close bond with Khloé Kardashian, who considers Resnick an "auntie." When asked if she gives Kardashian advice on her love life, Resnick replied, "Always. Unfortunately, I don't have a filter — we all know that. So I tell her, she asks me. We try to always give each other the best advice possible. As the auntie, I give her as much as I can."
This isn't the first time Resnick has professed her adoration for the Kardashian sister. This past June, Resnick posted a photo of Khloé Kardashian and her own daughter Francesca on Instagram. Sending some birthday love, Resnick wrote, "I love you with all my heart." Kardashian commented, "I love you so so so much!!! You both are my happy place," with a heart emoji. Jenner chimed in, "The most beautiful girls!!! Love you!!!"
Resnick often gives the inside scoop on the Kardashian-Jenner family. In a 2018 red carpet interview for E! News, Auntie Faye said, "The Kardashian girls are so loving." When asked how Kylie Jenner's pregnancy was kept under wraps for months, Resnick explained, "Kylie wanted privacy. And she needed it. And she's so happy she had it. She's so happy that she just had that down time. So, I'm so happy for them." For these ladies, love is certainly in the air.