How Jack Harlow Really Feels About Lil Nas X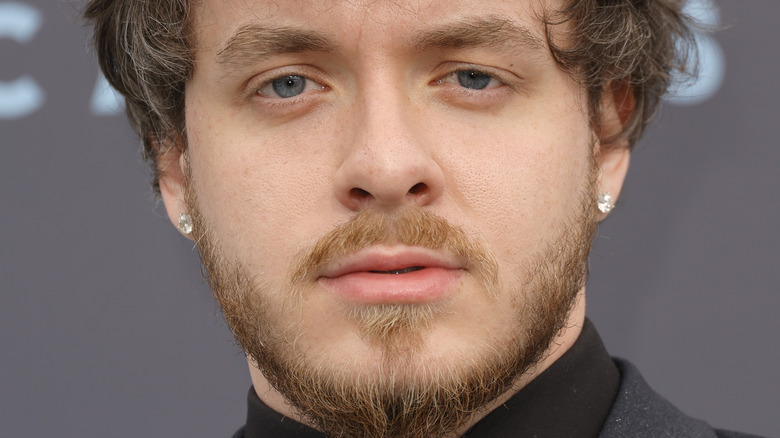 Frazer Harrison/Getty Images
Rappers Lil Nas X and Jack Harlow made magic when they collaborated on the 2021 track "Industry Baby" from Lil Nas X's debut album, "Montero." After striking gold with the ultra-viral, family-friendly song "Old Town Road" in 2019, Lil Nas X dropped "Call Me By Your Name," where he sang about his sexuality. While he became a beloved figure in the LGBTQ+ scene, there were unfortunately others in the industry who were homophobic toward Lil Nas X and his music.
Like a middle finger to the homophobes, when Lil Nas X released his second single for his first album "Industry Baby" with fellow newcomer Harlow, he filled it with flagrantly gay imagery. The music video— which has accumulated over 367 million views on YouTube as of this writing— features Lil Nas X in a prison shower with a band of naked dancers.
The "First Class" rapper appeared in the video for his verse, but the shower scene had passed, to the dismay of fans everywhere. When Harlow tweeted after the fact that he would've been down to film the shower part, Lil Nas X jokingly apologized to the LGBTQ+ community for leaving Harlow out of the steamy scene. So, when they're not in a music video, what is the friendship between Harlow and Lil Nas X?
Jack Harlow respected Lil Nas X from the beginning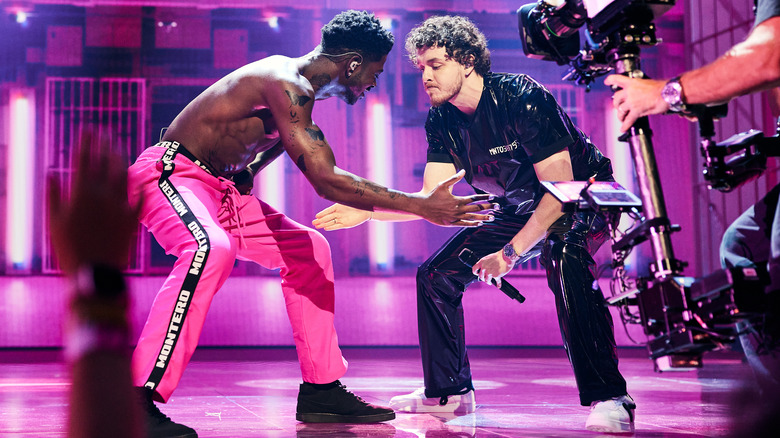 John Shearer/mtv Vmas 2021/Getty Images
The recording of "Industry Baby" by Lil Nax X featuring Jack Harlow in 2021 popped off around the world and birthed a friendship between the two rappers. After its release, the song reached the number one spot on the Billboard Hot 100 and stayed on the chart for 42 weeks. But what a lot of people don't know is that the process of creating "Industry Baby" is what kindled Harlow and Lil Nas X's entire working relationship.
Before the two met, Harlow told Variety that they admired each other from afar. "I thought [Lil Nas X] was hilarious and I loved the way he was handling the internet," he explained. "So we just started chopping it up — we got cool, followed each other, typical digital s**t. And then after we told a few jokes and exchanged respect, he said he had a song he wanted me on and texted it over." Thus, "Industry Baby" was born!
Due to the homoerotic imagery in both the song and the music video, "Industry Baby" was deemed controversial by certain groups of people. When Teen Vogue asked if this perceived controversy affected his decision to join the track, Harlow said he supported Lil Nas X no matter what. "It was a decision I made from my soul," Harlow shared. "I do think Lil Nas stands for something really important. I'm gonna be really proud as that ages."
Jack Harlow went to bat for Lil Nas X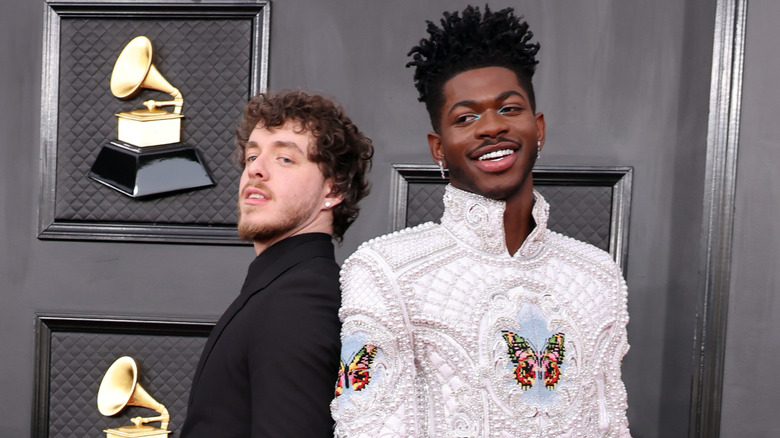 Amy Sussman/Getty Images
"Industry Baby" was only the beginning of Lil Nas X and Jack Harlow's friendship, and Harlow recently supported the "Montero" rapper in a public feud. It all started when Lil Nas X received zero nominations at the 2022 BET Awards, and he believed it was because of his homosexuality, per the Rolling Stone. This was a rare response from Lil Nas X — considering that he told Variety he "[doesn't] want to speak on a lot of the homophobia within rap because ... this is a very dangerous playing field" — so this feud with BET was serious.
But when Harlow showed up on the BET Awards' carpet, he protested by wearing a statement piece: a fan shirt of Lil Nas X! "I think he's giving a voice to a lot of people and kids who could use one," Harlow praised the rapper to Variety in 2021. "I really recognize what he's doing and I think he gets a lot deeper than the jokes and whatever gimmicky stuff people wanna associate — I really think he's an icon." He added that he's "admired [Lil Nas] long before we met."
And, of course, the admiration is mutual. "Wow i really love this man," Lil Nas X tweeted after he saw Harlow defending his honor on the BET Awards red carpet.