The Question From Barbara Walters That Made Ricky Martin Uncomfortable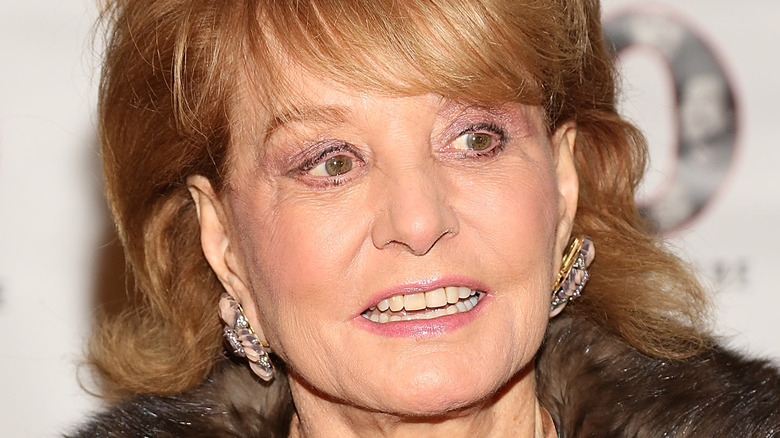 Dustin Harris/Getty Images
Barbara Walters is the grand damme of news. The veteran reporter has been a television fixture for more than 60 years. Walters has earned a wealth of awards and accolades over her career, including the glass-ceiling-shattering achievement of being the first female co-anchor on nighttime news. "I knew I was driven to interview world leaders and icons," Walters told Time. And interview them, she did. Walters grilled Fidel Castro, Richard Nixon, Menachem Begin, and Anwar Sadat, among many others.
However, it wasn't all dictators and dignitaries. Walters was not above questioning superstars and even reality stars, and she did no tread lightly, whoever or whatever the subject was. Walters has asked more than a few inappropriate interview questions. There was her shockingly patronizing sitdown with Dolly Parton. "Where I come from, would I have called you a hillbilly?" she began. Walters then tried to shade Parton's "blonde wig" and body shame the famously buxom singer. "You don't have to look like this," Walters added. "Do you ever feel you're a joke?"
Walters' only (sort of/kind of) excuse is that it was the 1970s, and Parton was a pro, owning everything and slaying it with grace, Southern charm, and wit. It isn't so easy to justify Walters' 1981 interview with Brooke Shields, though. Per NBC News, she interrogated the 15-year-old about her "body measurements" and "sexual history." Shields later lashed out at Walters, calling the interview "practically criminal." Then there's the cringe question from Barbara Walters that made Ricky Martin uncomfortable.
Barbara Walters made Ricky Martin feel violated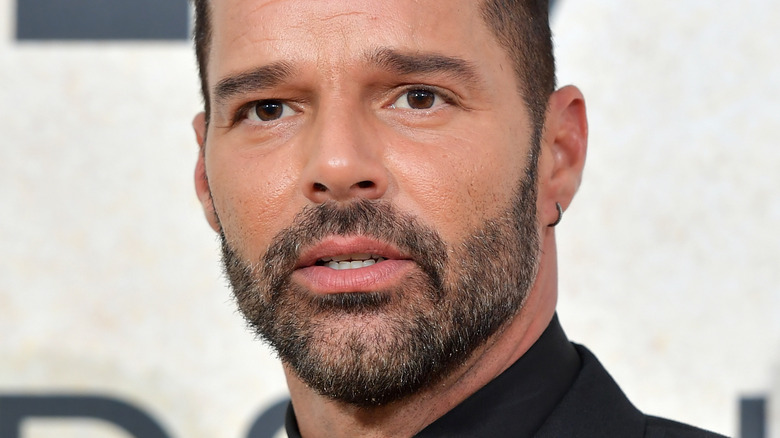 Dominique Charriau/Getty Images
Barbara Walters has a knack for asking uncomfortable, inappropriate, and intrusive questions. She combined all three when she sat down with Ricky Martin in 2000. The Puerto Rican had been subject to speculation about his sexuality for years. However, he lived on a don't ask, don't tell basis and believed his sex life was nobody's business but his own. Walters begged to differ, though. "When I interviewed Ricky Martin, I felt it important to address the rumors that were swirling around his sexuality," she explained on "The View" in 2006.
When Walters asked if it "hurt" that people thought he was gay, Martin replied that words shouldn't harm anybody. "I think that sexuality is something that each individual should deal with in their own way, and that's all I have to say about that." However, Walters wasn't satisfied. She pressed the visibly uncomfortable singer, telling him he could "stop these rumors" and that he could answer one way or the other or "leave it as you are, ambiguous."
Walters persisted like a dog with a bone, but Martin kept his cool. "Thank you so much for giving me the opportunity to address the rumors; however, for some reason, I just don't feel like it," he replied with a forced smile. She later admitted that, in hindsight, it felt like a mistake to force somebody to out themselves. Martin, who came out in 2010 — when he was ready — told People Walters' questioning made him feel "violated."
Ricky Martin now has 'a beautiful sense of freedom'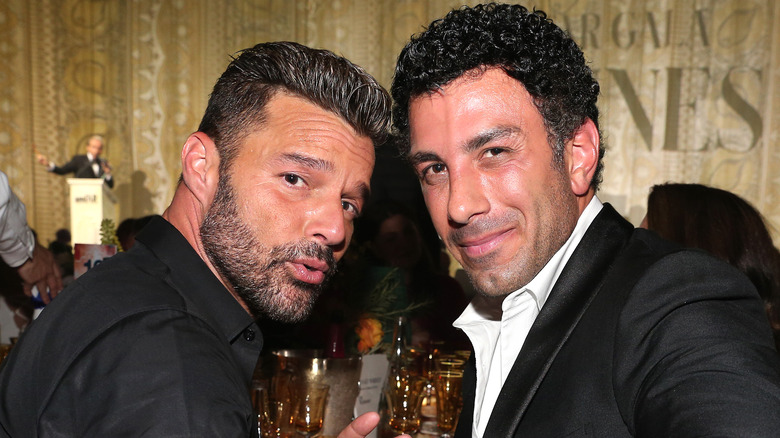 Gisela Schober/Getty Images
Ricky Martin has been married to his husband, Jwan Yosef, since 2017 and they have four children. Martin insists that, when he dated women, he wasn't being disingenuous. He did love them, and there was chemistry. "Sexuality is one complicated thing," he explained to People. "It's not black and white. It's filled with colors." Martin told the Associated Press in 2010 that he'd been waiting for a long time to come out but didn't know how. The singer said he was "sad" that many men still didn't feel able to. "Some people go through life not being able to do so," he said.
"I want people to look at me and see a family and say, 'There's nothing wrong with that.' It's part of my mission. It's part of my kids' mission as well," Martin told Out in 2018. "My kids ask me about having two daddies, and I tell them we are a part of a modern family. This is a beautiful sense of freedom." Meanwhile, Walters said Martin's answers to her questions about his sexuality made people believe he was straight. "A lot of people say that destroyed his career," she told The Toronto Star.
Per Biography, since Walters' interview, Martin has won a Grammy, four Latin Grammys, and published a best-selling memoir, "Me." His album, "Música + Alma + Sexo" hit the top of the Latin charts. Martin starred in "Evita" on Broadway and in Ryan Murphy's "The Assassination of Gianni Versace: American Crime Story."