House Of Cards Staff Accuses Kevin Spacey Of Sexual Harassment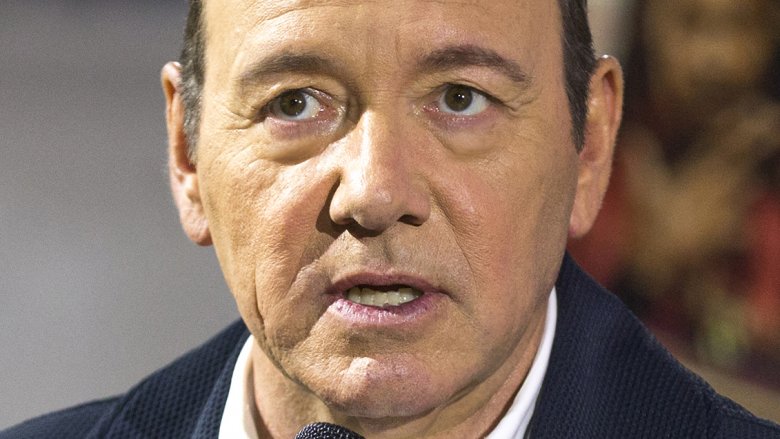 Getty Images
The allegations just keep rolling in.
CNN reports that eight former or current employees from the set of House of Cards have accused the show's star Kevin Spacey of sexual misconduct. Spacey's alleged inappropriate behavior was described as "predatory," as he reportedly often targeted young male staff members, and, according to the report, included unwanted touching and "crude comments."
One employee, a production assistant, claims that he once drove Spacey to an offsite location, and, during the drive, Spacey allegedly stuck his hands down the assistant's pants and touched him without consent.
"I was in a state of shock," the production assistant recalled. "He was a man in a very powerful position on the show and I was someone very low on the totem pole and on the food chain there."
The production assistant, who declined to say what immediately followed the incident for fear of being identified, then described helping Spacey bring his belongings from the car to his trailer. When both men were in the trailer, Spacey allegedly "cornered him," and made "inappropriate contact," according to CNN.
"I told him, 'I don't think I'm ok with this, I don't think I'm comfortable with this,'" the production assistant stated. Spacey then allegedly became "visibly flustered," resulting in him leaving for the rest of the day.
The production assistant said he did not report the incident to his superiors or to the police. He also stated that the alleged assault came after previous incidents of sexual harassment, which, the assistant said, had seemed to stop after he'd spoken to his supervisor—who wouldn't let him be alone with Spacey on set. But, after months of no inappropriate behavior, the production assistant had felt comfortable enough to drive Spacey by himself.
Another crew member told CNN that Spacey often sexually harassed him and touched him without consent. "He would put his hands on me in weird ways," the man recalled. "He would come in and massage my shoulders from behind or put his hands around me or touch my stomach sometimes in weird ways that in normal everyday conversation would not be appropriate."
The employee stated that he did not "feel comfortable" telling Spacey to stop, as Spacey was in a position of power—as both the star and executive producer of the Netflix series.
As Nicki Swift previously reported, Spacey was accused of sexual misconduct by Star Trek: Discovery actor Anthony Rapp. According to Rapp's account (via BuzzFeed), he, at 14 years old, had visited Spacey's New York City home for a party and entered the actor's bedroom to watch TV when he got bored. Once everyone had left, Spacey allegedly came into the room and attempted to "seduce" him.
Following Rapp's report, Spacey stated, "I honestly do not remember the encounter, it would have been over 30 years ago. But if I did behave as he describes, I owe him the sincerest apology for what would have been deeply inappropriate drunken behavior, and I am sorry for the feelings he describes having carried with him all these years."
He also came out as gay, which sparked near-immediate backlash.
Since then, several other men have come forward with their own accounts of sexual misconduct at the hands of Spacey (via Vulture).
In response to the new allegations presented against Spacey, Netflix, who acknowledged one incident from five years prior, released the following statement (via CNN): "On Tuesday, in collaboration with [production company] MRC, we suspended production, knowing that Kevin Spacey wasn't scheduled to work until Wednesday. Netflix is not aware of any other incidents involving Kevin Spacey on-set. We continue to collaborate with MRC and other production partners to maintain a safe and respectful working environment. We will continue to work with MRC during this hiatus time to evaluate our path forward as it relates to the production, and have nothing further to share at this time."
House of Cards' production company MRC also addressed the recent accusations, stating that they have instituted "an anonymous complaint hotline, crisis counselors, and sexual harassment legal advisors for the crew."
Spacey is reportedly "taking the time necessary to seek evaluation and treatment" at this time. According to Deadline, he is no longer being represented by talent agency CAA, with whom he had an eight year client relationship. Additionally, his publicist from Polaris, Staci Wolfe, will no longer be working with him.