Inside Alicia Witt's Experience With Cancer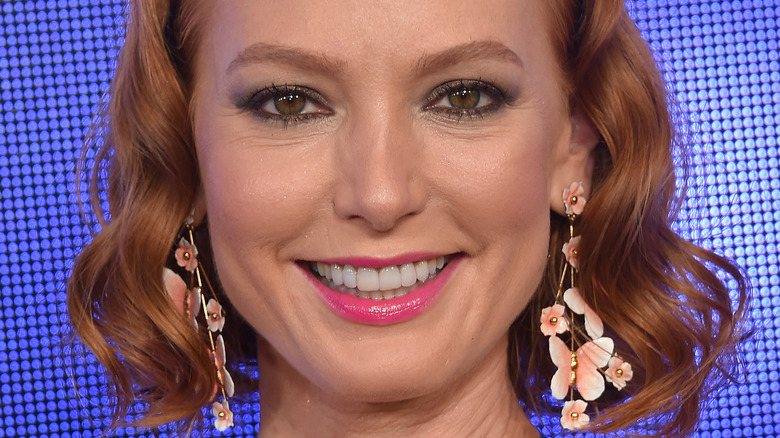 DFree/Shutterstock
Alicia Witt closed 2021 amid a series of tragic events. First off, Witt lost both of her parents, Robert and Diane, who were found dead at their home in Massachusetts under strange circumstances, according to the Associated Press. After being unable to reach her parents, Witt asked a family member to drop by their house to see if they were okay. "I reached out to a cousin who lives close to my parents to check on them. Sadly, the outcome was unimaginable," Witt said in a statement. In February, local authorities determined Witt's parents died from "probable cardiac dysrhythmia" on December 20 after prolonged exposure to the cold, the Telegram & Gazette reported. 
Police also concluded the home was unequipped to handle the Worcester weather, as temperatures hovered around 15 degrees F that night, according to AccuWeather. With no functioning furnace found in the home, Robert and Diane had been using only a space heater to combat the cold, the AP noted. A neighbor told the Telegram & Gazette she and others had offered to help repair their unkept home, but they consistently refused.
Witt shared the problem was never financial. "I hadn't been allowed inside my parents' home for well over a decade; every time i offered to have something repaired for them, they refused to allow workers into their house," Witt explained in a January 25 Facebook post. The public didn't know then, but Witt's loss came the same month "The Walking Dead" actor started treatment following a terrifying cancer diagnosis.
Alicia Witt had to undergo chemo and surgery
Late 2021 not only marked when Alicia Witt lost both her parents, but also when she was diagnosed with breast cancer at age 46. The "Orange Is the New Black" actor kept the news out of the public sphere then, only noting the exact date of her diagnosis in a May 25 Facebook post in which she announced she had undergone surgery to remove one breast. "These last six months have been the absolute strangest i could ever have imagined," she started the lengthy message.
But With came with good news. "I am healing from a unilateral mastectomy," she revealed. "All of the tissue removed (as well as my blood) tested *negative* for any trace of remaining disease." Witt detailed she suffered from HER2-positive breast cancer, information that allowed her to get specific treatment with pertuzumab and trastuzumab, which she'll continue through the end of 2022, she detailed in a June 1 Instagram post. She began chemotherapy on December 1, after being diagnosed on November 4. But by April, she had completed the necessary rounds of the chemo drugs docetaxel and carboplatin. 
Witt deduced this type of cancer likely runs in her family, as she lost her paternal grandmother to breast cancer. "Thinking of my grandma Loretta, my dad's mom, who did not survive her diagnosis, leaving me just one beautiful memory of her beaming her beautiful smile at me when I was 3," she wrote on Facebook.
The reason Alicia Witt kept her diagnosis private
Alicia Witt sought professional help in October 2021 after noticing a lump on her left breast. The doctors weren't particularly worried about it, so the actor and author stuck to her book release and album tours, she shared on Facebook. But a November 4 phone call changed everything. A month later, the "Urban Legend" star started the first round of chemotherapy — just 20 days before she had to confront the sudden loss of her parents.
The combination of circumstances made Witt even more grateful she was able to share her journey on her own terms. "This was such a needed part of my healing — particularly given the horribly public tragedy that had happened in our family just as i was beginning my treatments," Witt noted on Instagram. Witt also explained she felt more comfortable disclosing the disease when she had positive information to share alongside it. "I needed to spend every bit of my energy focused on healing," she detailed on Facebook.
Witt was successful partly because she lost minimal amounts of hair. During chemotherapy sessions, Witt opted to wear a cold cap, which can help reduce hair loss, she noted. By contracting the scalp's blood vessels, the cooling system might reduce the amount of drugs that reach the area, the NHS explained. "While keeping hair was obviously the last of my concerns on a larger level, I did deeply wish to keep my diagnosis private until it was 100% healed," Witt shared.