How Isabel May Really Scored Her Role On 1883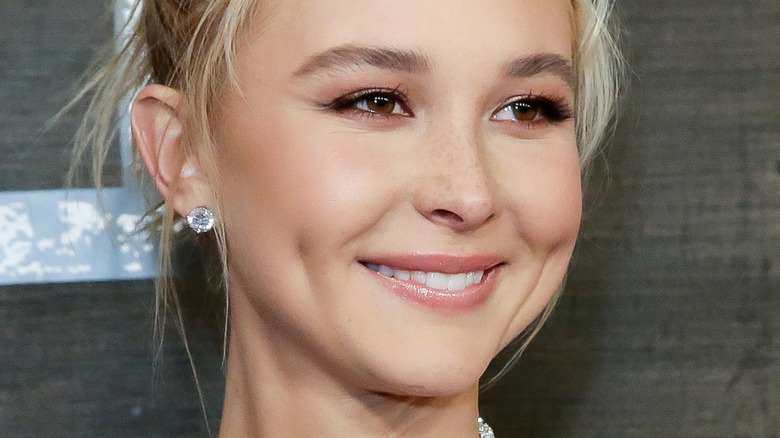 Greg Doherty/Getty Images
The highly anticipated western drama "1883," a prequel to "Yellowstone," features some of the industry's biggest names, including Tim McGraw, Faith Hill, Sam Elliott, Eric Nelsen, and Billy Bob Thornton. It also pushed actor Isabel May to the mainstream consciousness as the role of Elsa Dutton was the newcomer's first major role.
May plays the rebellious teenage daughter of James (McGraw) and Margaret (Hill) and serves as the narrator of the series. Her character is central to the plot, a tough ask for someone relatively new to the industry. "I'm lucky to be a part of it," May told Country Living of her role. "I don't really know how I've had this opportunity. It's difficult to find such depth and growth in a character especially at her age, considering the genre as well, being a Western it's usually from a male perspective."
Critics and fans alike have raved about May's performance as Elsa, with many thinking that she's perfect for the part. But even May herself never anticipated that she would land such a pivotal role. So, how did it happen?
Isabel May originally auditioned for a different role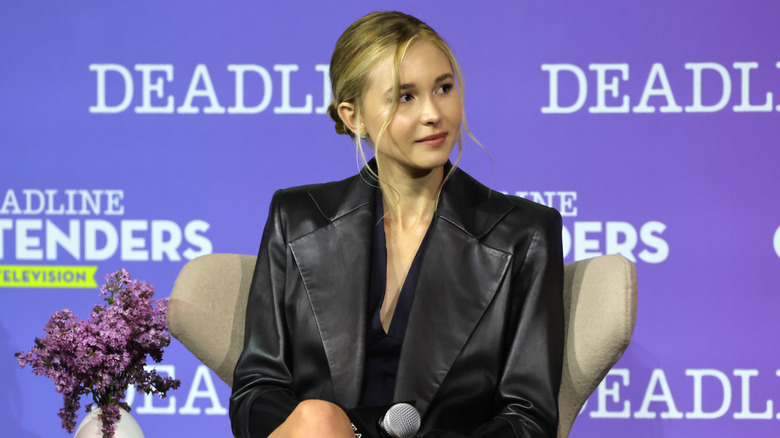 Kevin Winter/Getty Images
"1883" series creator Taylor Sheridan had a different plan for Isabel May's talents in the beginning. In an interview with The Hollywood Reporter, the fledgling actor dished that she initially auditioned for another one of Sheridan's projects, "Mayor of Kingstown."
"I was the only person to audition for Elsa. Taylor was doing another project called Mayor of Kingstown... He flew three girls out to Texas, including myself. So I auditioned for that, and I was terribly wrong for it," she said. May assumed that would be the end of their interaction, but she later received a call from Sheridan asking her to play a part for an entirely different show. "I don't know what happened or what it was about myself or our interaction that sparked something in him, but Elsa came to life after our meeting," she added. "He called two weeks later and said, 'You're Elsa Dutton. I want you to be Elsa Dutton. Please be Elsa Dutton.' And I said, 'Well, of course, I'll be Elsa Dutton because you're Taylor Sheridan and it's my dream to work with you.'"
Speaking with Deadline, Sheridan said that it was May who completed his vision for the drama. "I saw she could represent innocence and hope," he said. "At that point I had not figured out how to tell this story and I had Sam Elliott over here, and I had Tim McGraw there, and Faith Hill, and I had not found the bridge between them all. When I met Isabel, the whole story, all 10 episodes, went right through my head."
Isabel May on playing Elsa Dutton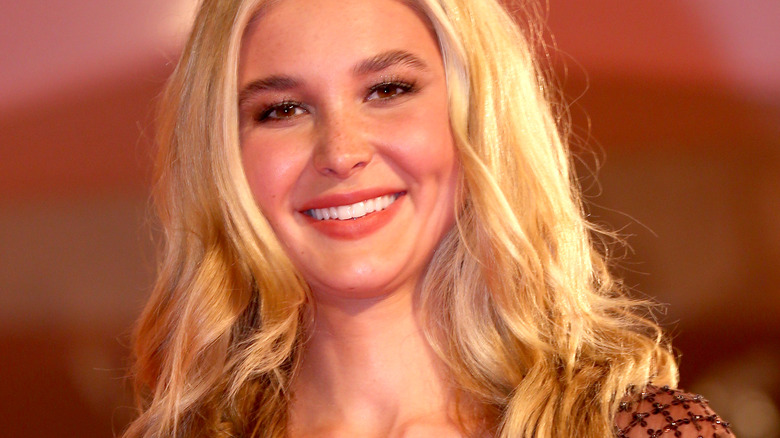 Franco Origlia/Getty Images
Taylor Sheridan apparently pulled strings to get the studio to agree to have Isabel May play such an integral part in "1883." Per Deadline, he pirated her off pilot opportunities, got May's reps to put their faith in him, and pleaded with Paramount to sign a relatively unknown name. For that, May will be forever grateful.
"I played potentially the greatest role I might ever have the opportunity of playing, and I still don't know how to take it," she told the outlet. "I don't understand what I did or what it is about myself that may have influenced Taylor in that moment, when this character sparked to life in his head."
May also admitted that playing Elsa Dutton is not a walk in the park. "This was not an easy experience at all," she shared with Newsweek. "I don't like saying that because I should have no complaints. It was a dream come true, but it was extremely physically and emotionally taxing for everyone collectively." And while it can be uncomfortable at times, May is trying to make the most out of the experience. "The whole thing was great," she told The Hollywood Reporter. "I don't know when I'll ever be able to do something like this again, so I'm just savoring it as much as I can."