How Did Rob McElhenny And Kaitlin Olson Meet?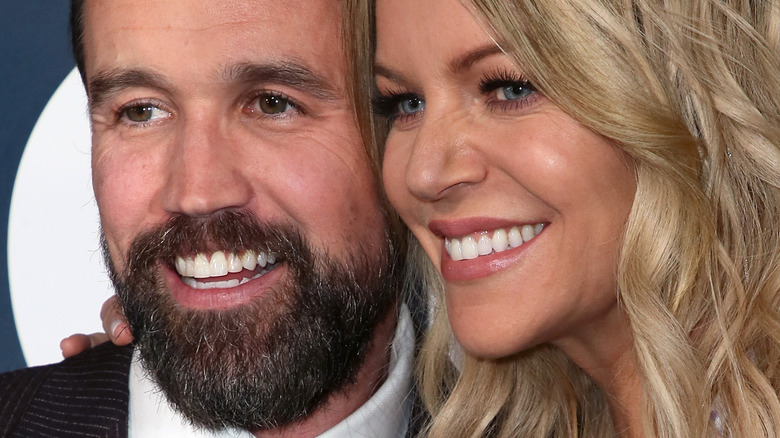 David Livingston/Getty Images
While some Hollywood relationships are known for crashing and burning, other celeb couples have managed to beat the odds and become relationship goals for hopeless romantics everywhere. One such couple? Rob McElhenny and Kaitlin Olson, who are best known for their respective roles on the long-running FXX comedy "It's Always Sunny in Philadelphia."
In addition to co-creating and producing the show, McElhenny also stars as Mac, while Kaitlin plays Dee Reynolds. Together, they make up two-fifths of the main squad of friends, who hilariously sludge through life's pitfalls as they run a bar in Philly. And despite the comedy's outlandish plots — which often put their onscreen counterparts in dangerous, outrageous, sometimes illegal, situations –- McElhenny and Olson's real-life romantic trajectory reads less like a dark comedy and more like a rom-com.
With over a decade of marriage and two kids under their belt, they've proven Tinseltown romances don't always have to end in tears (or career destroying divorces). In this couple's case, it seems that laughter is key. During an episode of "The Always Sunny Podcast," McElhenny revealed that Olson's light-hearted reaction to him drunkenly wetting the bed cemented his decision to pop the question. "She thought it was the funniest thing that could possibly happen," the actor said. "And I was like, we're gonna get — I'm marrying this chick." And they say romance is dead!
It seems this couple's love has stood against the time (and stained sheets). But how exactly did these sweethearts meet?
Rob McElhenny and Kaitlin Olson met on set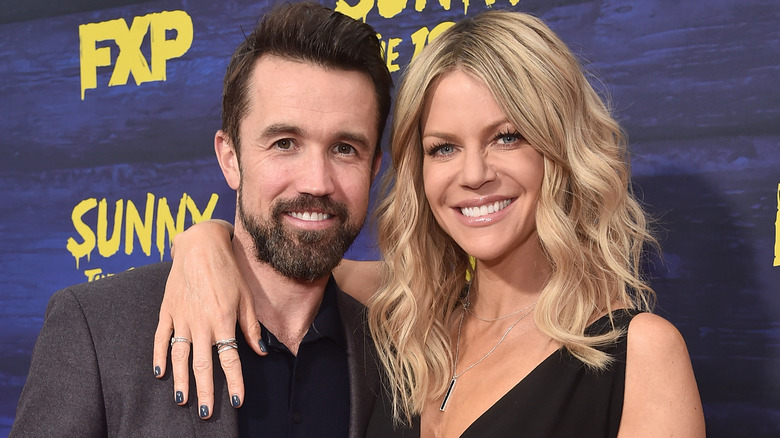 Alberto E. Rodriguez/Getty Images
Like so many Hollywood romances, Rob McElhenny and Kaitlin Olson's relationship started off as strictly business. The lovebirds first met on the set of "It's Always Sunny in Philadelphia" during the show's first season. While McElhenny's then-girlfriend Jordan Reid played the role of Dee Reynolds in the pilot episode (via Observer), Olson ultimately took over for the rest of the first season and beyond.
Despite their destiny to become spouses and parents, McElhenny and Olson didn't hit things off right away. In a 2009 interview with Entertainment Weekly, Olson revealed that when her manager asked her if she was attracted to any of the cast members after her audition for the show, she replied, "Nah. Not really."
Not only did Olson take back her claim — at least in the case of McElhenny, who she started a romantic relationship with during the second season of the show — but she also revealed she realized they were in love before McElhenny did. During an episode of Dax Shepard's "Armchair Expert" podcast, Olson said, "We started secretly dating, and he really just wanted to be casual, but I had this hubristic confidence that this person is completely in love with me — and he has no idea."
She added,"It wasn't even a game. It was just like, oh, you don't know, you have no idea that you are completely in love with me." Talk about knowing your partner!
They hid their relationship from their castmates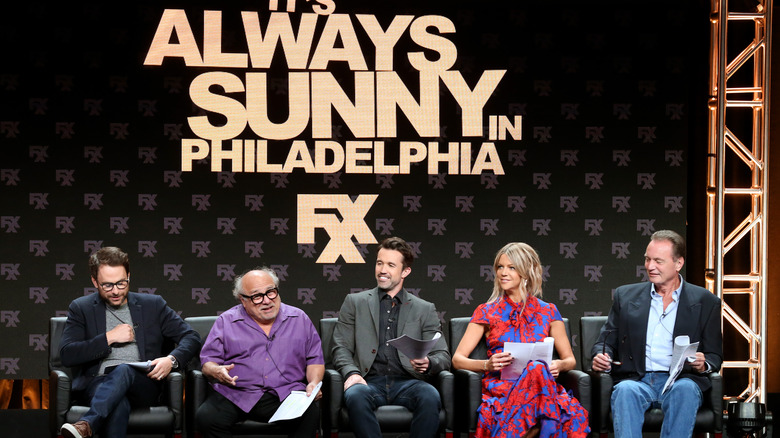 Frederick M. Brown/Getty Images
Despite the couple's uber-successful partnership, Rob McElhenny and Kaitlin Olson's romance wasn't necessarily written in the stars. In fact, during the early days of their relationship, they didn't even publicly admit they were dating. McElhenny and Olson kept their relationship a secret from everyone — including their fellow cast members — for the entirety of season 2. In a 2013 interview, Olson told Metro that while it "seemed like forever," the show only shoots "for like two and a half months."
The pair was so great at hiding things that McElhenny's then-roommate Glenn Howerton, who also stars in and produces "It's Always Sunny in Philadelphia," was jealous of the fact that McElhenny was meeting new people every night in bars. However, McElhenny was actually spending his time with Olson. "Glenn would come to work jealous. He was just like, "Rob is just like out there at bars just like meeting people and every bar he goes to he meets someone and spends the night [with her],'" Olson shared on Dax Shepard's "Armchair Expert" podcast.
Considering the fact that they met as co-stars, it makes sense why the couple might want to keep things hush-hush at the start of their relationship. One thing's for certain, though, they certainly love each other, out loud — and proud — today.