Is Megan Fox Close With Future Stepdaughter Casie Colson Baker?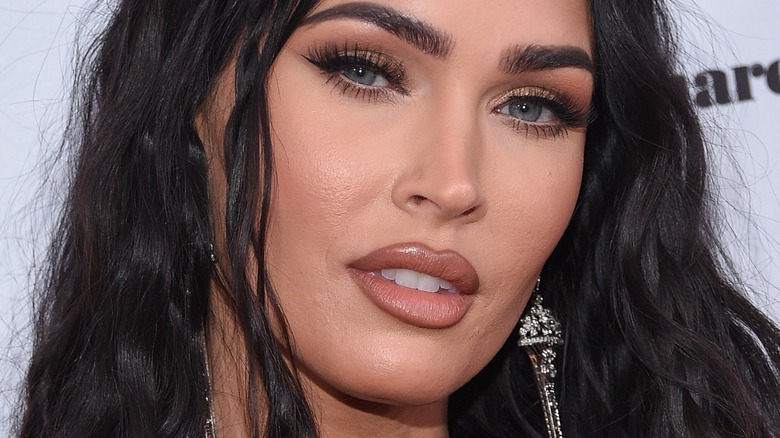 DFree/Shutterstock
Megan Fox is already familiar with navigating the waters of blended families. When the "Transformers" star started dating Brian Austin Green in 2004 at the age of 18, she quickly had to learn the dynamics of living with 2-year-old Kassius from Green's relationship with Vanessa Marcil. Fox officially became Kassius' stepmom in 2010, when she and Green tied the knot, Us Weekly reported. Fox transitioned into the role seamlessly. "My son loves her. They have a great relationship. She's always had a special bond with him," Green told NDTV in 2012. "They love each other to death."
Fox and Green went on to have three boys together — Noah, Bodhi, and Journey — but caring for Kassius remains her earliest experience of raising a child. "I am a stepmother to the fullest extent ... I am responsible [for him]. I've never struggled with that, from bedtime stories to the school run," she told Harper's Bazaar in 2010 (via Access Hollywood). After a few ups and down throughout the years, Fox and Green divorced in 2020, which was finalized in October 2021, Entertainment Tonight reported.
Fox soon moved on with Machine Gun Kelly. The relationship progressed quickly, with Fox announcing they became engaged in January via a ritual that involved drinking each other's blood, she shared on Instagram. Fox and Kelly's bizarre habits aside, she will once again become a stepparent and MGK will experience it for the first time. And Fox is already showing she will have no issues with it.
Megan Fox seems to get along great with Casie Colson Baker
Megan Fox's relationship with Machine Gun Kelly's daughter, Casie Colson Baker, will undoubtedly differ from the one she experienced with Kassius. Whereas she entered into the life of Brian Austin Green's son when he was just a toddler, Fox welcomed Casie into hers when the girl was already 11. But Fox is proving she is just as well-equipped to handle a pre-teen as she is younger children. In February, Fox indicated she and Casie get along great when she posted snaps of the two hanging out with Kelly to her Instagram Stories (via E! News).
One photo showed Fox, Kelly, and Casie striking funny poses as they enjoyed themselves at the 27 Club Coffee, the coffee shop Kelly opened in Ohio in 2020, Music Mayhem reported. In a second, more spontaneous shot, Casie was turned toward the couple and placing her hand of Fox's knee. This isn't the first time the trio enjoyed a night out together. In June 2021, the soon-to-be-family was spotted having dinner in Venice, California, HollywoodLife reported. Photographed outside of Wild Rooftop Concert, Fox was seen hand-in-hand with Kelly, who had his other arm wrapped around Casie's shoulders.
Fox keeps Noah, Bodhi, and Journey mostly absent from her social media, so it is unsurprising she does the same with Casie. But mother and sons reportedly have nothing but affection for Kelly's girl. "Casie simply adores Megan and her kids," an insider told Life & Style. 
Machine Gun Kelly is a dedicated family man
Machine Gun Kelly was 19 when he welcomed Casie with then-girlfriend Emma Cannon, according to The New York Times. But despite his young age, the rapper proved fatherhood suited him just fine. Unlike his fiancee Megan Fox, Kelly often shares snippets from the special moments he shares with daughter on Instagram. Similarly, he showed he will spare no effort to be present for Casie's important events. "Two connecting flights and still no sleep but ima make it to my daughter's recital tonight believe that," he tweeted in December 2019.
And Kelly is already showing he will be the same type of stepdad. In April, Kelly and Fox enjoyed a family day at Disneyland with the actor's middle son Bodhi, Harper's Bazaar noted. And his brothers reportedly enjoy Kelly's company as well. "Bodhi, Journey and Noah think he's super cool," a source told Life & Style. The relationship between the broods seems to be progressing just as well. "The kids get along great, which is huge ... So far, it's one big, happy, blended family," the source added.
When Fox and Kelly tie the knot, we should all expect to see all four there. "They both want all of their children to be a part of their wedding in some fashion," a source told HollywoodLife. And Fox reportedly wants Casie involved even before then. "Megan would love for Casie to be part of her bridal party, which means the world to [Kelly]."