What John Travolta Was Really Like On The Set Of Hairspray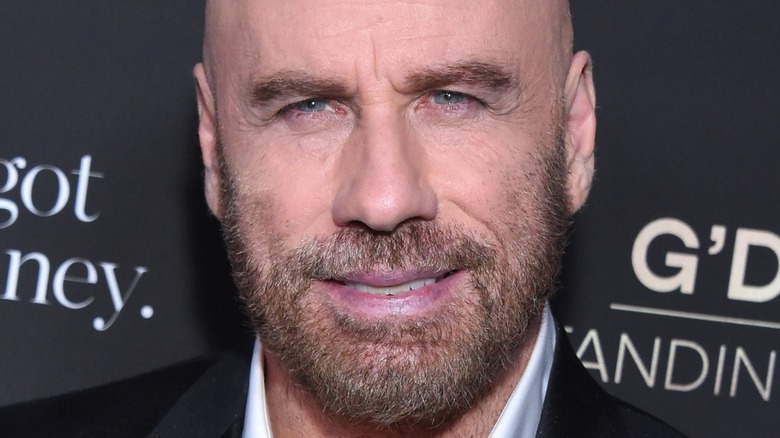 DFree/Shutterstock
John Travolta can be considered Hollywood royalty, with many different roles under his belt. One of his most surprising parts? His role as Edna Turnblad in the 2007 movie adaptation of the hit musical "Hairspray."
The actor was a part of an all-star cast including Michelle Pfeiffer, Christopher Walken, Queen Latifah, Amanda Bynes, Zac Efron, and a young Nikki Blonsky. Donning a fat suit and tons of makeup, Travolta shined in the role. While he may have been new to playing a curvaceous woman, he wasn't new to singing and dancing. Travolta had previously shown off his skills in "Saturday Night Fever" and "Grease."
Now, with the film celebrating its 15-year anniversary in 2022, Blonsky, who played the lead character Tracy Turnblad, had a lot to share about her time on set. That, of course, included spending time with Travolta, her on-screen "mom." Here's how Blonsky remembers him during the filming of "Hairspray."
John Travolta performed songs from Grease on set
Some may have thought John Travolta would stick to himself, especially around a bunch of younger actors and dancers. However, the actor was warm and open on set, and even apparently broke out into song during breaks. "We were filming in Queen Latifah's music shop and all of a sudden we were on a break and one of the dancers yells out, 'John, give us a little Grease,'" Nikki Blonsky shared with People in July. The actor sang a bit of "Summer Loving" and then sang "You're the One That I Want" with Blonsky.
Blonsky also remembered the industry veteran being very sweet and welcoming to her when they first met. She admitted she was completely starstruck and speechless when they first locked eyes. However, Travolta quickly broke the ice. "He looked at me and he opened his arms and he said, 'Come to mama.' And from that minute on, I absolutely fell in love with him," Blonsky added. "I always say 'Hairspray,' it has been the greatest, greatest, greatest blessing of my life. But I think my favorite blessing that's kind of out of 'Hairspray' is my relationship with John."
While the actor has pretty much retired from acting today, she also revealed that she and Travolta still keep in touch. And if fans want to keep up with her, Blonsky is active on TikTok, currently boasting more than 60,000 followers.
The actor intentionally chose the role to return to musicals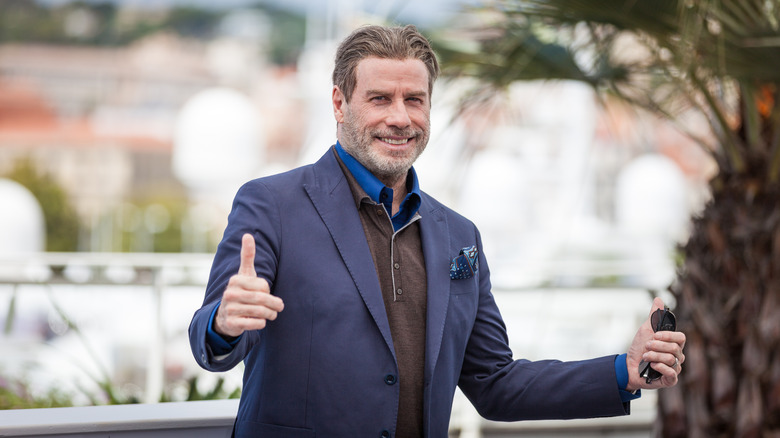 taniavolobueva/Shutterstock
For John Travolta, the role as Edna came about 30 years after he hung up his dancing shoes in "Grease." He apparently wanted to return to a musical ever since, but hadn't found the right role. The gender-bending part was the perfect fit for him. "I thought maybe it's smart to come back to it in a whole different way, an unexpected way. Because how do you top 'Grease'?" Travolta shared, per Access.
The actor spent roughly five hours a day in the makeup chair applying prosthetic makeup for the role. He also had to sing and dance in four big musical numbers dressed as Edna. "It took a lot of cashing-in of male ego to do this," he admitted. "But I finally said, 'You know John, acting is what you do best. You have to trust being an actor and not have this thing with the male ego get in the way."
"Hairspray" may not have surpassed "Grease," but it was still a very successful film. According to Playbill, the film broke $100 million at the box office in just a little over a month. At the time in 2007, it also became the biggest box-office debut of any musical movie, earning almost $30 million during its first weekend in theaters. Travolta definitely made the right choice on this one!