The Truth About Ivana Trump's Time In Rehab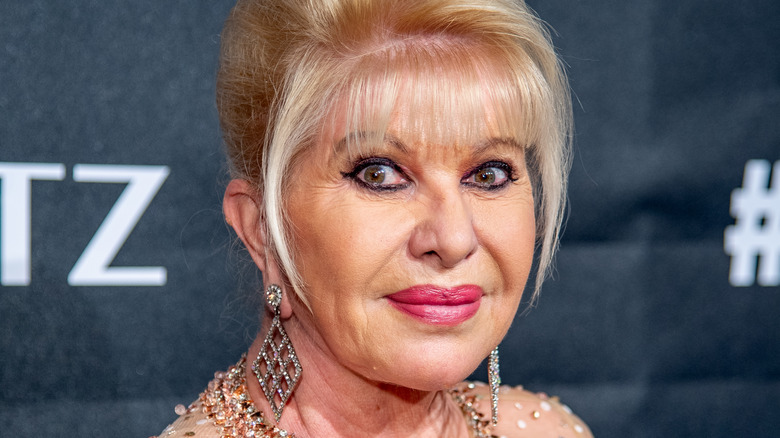 Roy Rochlin/Getty Images
Ivana Trump was a larger-than-life celebrity called an "inspiration" by her daughter Ivanka Trump. Ivana's only daughter told People in 2016 that her mom was the "ultimate role model." Ivana had a good relationship with her children; her youngest son Eric told Gayle King (via Us Weekly), "I have the greatest mom in the world ... She's larger than life." After her mother's death, Ivanka tweeted a poignant tribute. "Mom was brilliant, charming, passionate and wickedly funny," the former first daughter wrote. "She lived life to the fullest — never forgoing an opportunity to laugh and dance." Ivana became famous as Mrs. Donald Trump, but after their divorce, she became a celebrity in her own right.
The first Mrs. Trump had a hilarious cameo in the 1996 movie "The First Wives Club." Ivana delivered her famous line, "Don't get mad, get everything!" While humorous, Ivana never found humor in Donald's second wife, Marla Maples. Ivana called Maples the "showgirl" until the end. In an excerpt from "Raising Trump" (via The Daily Beast), Ivana wrote, "I'm not saying that if it weren't for the showgirl, Donald and I would still be together or that my life since our divorce hasn't been a wonderful adventure of love, travel, success, and laughter. I've had a fabulous life." Ivana's anger with Maples was due to the divorce's impact on her kids. She explained the kids have "deep scars from that period of our lives, in part due to her actions."
Ivana always had her own way of doing things — even in highly structured environments, like rehab.
Ivana Trump's friend spills about their time in rehab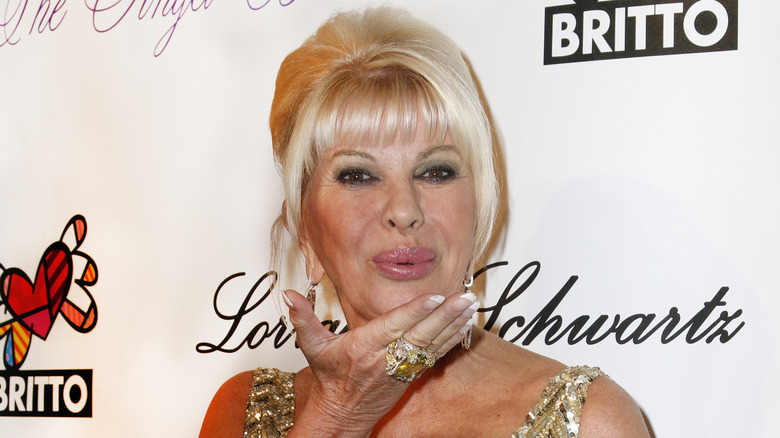 Debby Wong/Shutterstock
Guinness heiress Ivana Lowell paid tribute to her friend Ivana Trump by writing a column about their time in rehab. In an Air Mail essay titled "The Other Ivana," Lowell shared tales from her time with the late Ivana in a way she would probably love. The Guinness heiress was surprised to find out there was another Ivana at the Malibu rehab facility after meeting her. But the two Ivanas became fast friends when the former Mrs. Trump said, "Darlink, you must tell me your story. Come and talk to me." Lowell spilled that Ivana — who claimed she was there for "exhaustion" – might not have followed the rehab rules. She brought her much younger friend Roberto with her, she never went to a group meeting, and she made everyone call her Maria, not Ivana.
Lowell wrote that Ivana didn't open up at first about why she was in rehab. In time, the former Mrs. Trump spoke at "great length about the abusive marriage she had been in, how much she had suffered at the hands of this man, and how much she hated him." There were reports that Donald Trump assaulted Ivana that were later recanted, per The Daily Beast.
At the end of her stay, Ivana took a group of her rehab besties to dinner, even offering champagne to go with the fancy meal. On her last day at the rehab, Ivana gave Lowell a gift ... of IVANA perfume. The handwritten note with the gift read, "With love from one Ivana to another."
Stories about Ivana Trump show her zest for life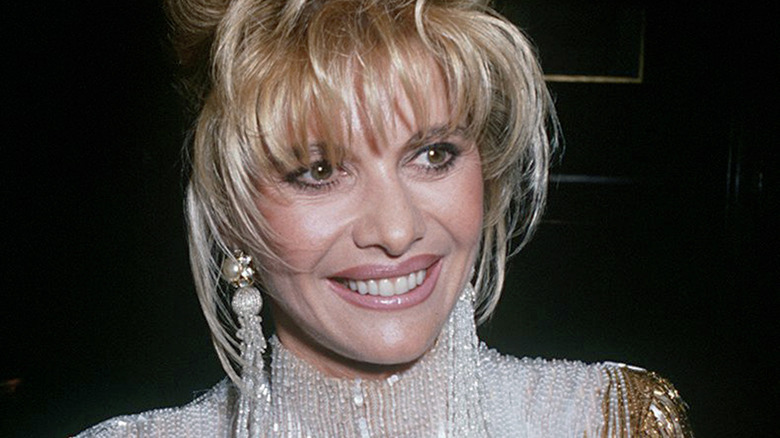 Kypros/Getty Images
The stories Ivanka Trump shared at Ivana Trump's funeral showed her love of life, which even rehab couldn't darken. The New York Times wrote about Ivanka's funeral speech, describing how Ivana made fun of her for leaving a party at 1 a.m. while "she had stayed til 4." Ivanka joked that her mother's motto was "flaunt them while you've got them" and that her mom's reaction after hearing she converted to Orthodox Judaism to marry Jared Kushner was hilarious. Ivana quipped, "Ivanka must really love him if she's willing to give up lobster." But it wasn't just Ivana's zest for life — some people credit her for helping Donald Trump become a mogul.
In an interview with The Atlantic, former Vanity Fair editor Tina Brown said, "I do think Ivana was hugely important to Donald Trump's rise — she domesticated the beast socially." Brown explained, "Before and after her, you never saw Trump at any top gathering or cultural opening. She brought him into circles he had ogled from outside and created a glamour aura." The New York Times credits Ivana with helping Donald become "The Donald." The Times wrote that while her husband could be "brash and often uncouth," Ivana "came across to the city's moneyed elite as charming and sophisticated, opening doors to rarefied social circles."
But Ivana's greatest accomplishment was her children, and she took credit for raising them. In her book "Raising Trump" (via The New York Times), she wrote, "I believe the credit for raising such great kids belongs to me."