What's The Real Meaning Of Summer Renaissance By Beyonce? Here's What We Think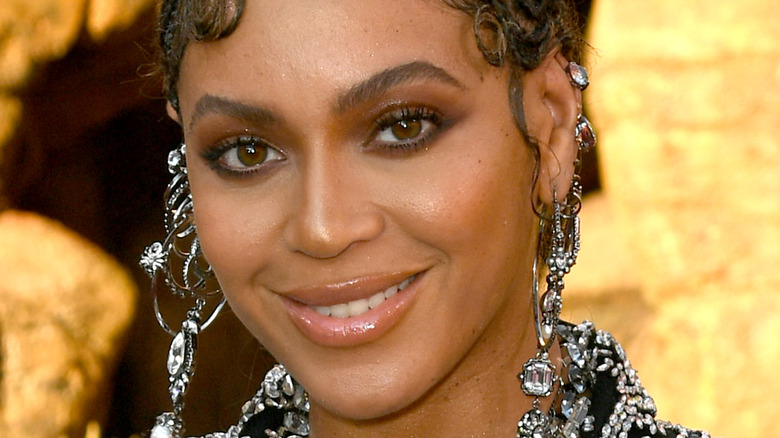 Kevin Winter/Getty Images
When you think of music legends, an array of artists come to mind. From Michael Jackson to Whitney Houston, the list is filled with extremely talented individuals. However, one of the biggest entertainers to change the scope of music for nearly three decades is none other than Beyoncé. Having first started in the record-breaking R&B group Destiny's Child, the "Irreplaceable" singer has since become one of the greatest artists of all time with her signature eras — including but not limited to — "I am Sasha Fierce," "BEYONCÉ," and "Lemonade."
Since 2016, Beyoncé shifted her focus to other ventures, including her successful athleisure clothing line Ivy Park and her role as Nala in Disney's "Lion King" live-action remake. Even though she took a break from solo work, the "Drunk In Love" singer has released collaborative projects like her "Everything is Love" album with husband Jay-Z and "Lion King's" soundtrack "Black is King."
However, in a 2021 interview with Harper's Bazar, Beyoncé shook the Beyhive when she teased new solo music was officially on the way. "I've been in the studio over the year and a half. Sometimes it takes a year for me to personally search through thousands of sounds to find just the right kick or snare," she said. Fast-forward to July 29 and listeners are finally soaking in every ounce of her highly anticipated seventh studio album, "Renaissance." Out of the magical 16-track album, we wanted to take a deeper look into her euphoric single "Summer Renaissance."
Beyoncé shares her love for husband Jay-Z on Summer Renaissance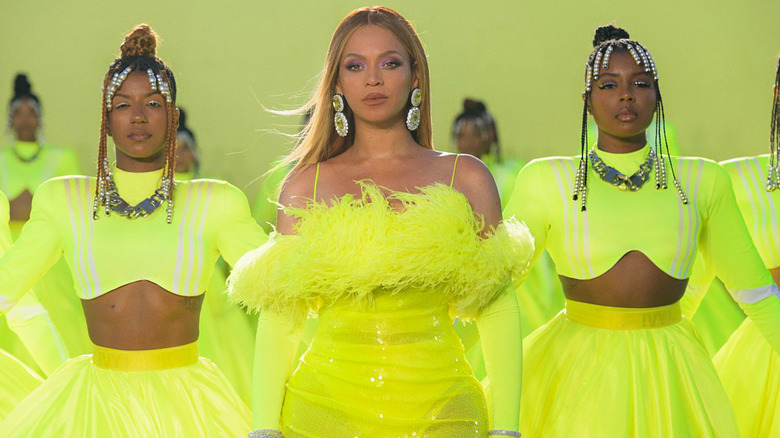 Handout/Getty Images
Over the last two months, Beyoncé fans have waited with bated breath for the release of her new album, "Renaissance." Fortunately, the short wait finally ended, resulting in various tracks going viral like her record "Summer Renaissance." Sampling from the song's namesake Donna Summer and her classic record "I Feel Love," the track opens up with unforgettable disco synths. But Beyoncé doesn't rely on nostalgia too long because the track's production swiftly shifts to an evolved '90s house sound. "I wanna house you and make you take my name," she seductively sings to her lover — which we can presume is her husband Jay-Z (per Genius).
Since Beyoncé's debut single "Crazy In Love," the Houston native hasn't been shy about her feelings for her man — do we need to talk about "Partition"? "Summer Renaissance" continues to highlight their love with lyrics like, "You a sexy motherf**ker" and "I just wanna touch, I can feel it through those jeans." In the track's third verse, Beyoncé even pokes fun at being the dominant one in the relationship singing: "Sorry' bout yesterday, now the sweet stuff. You a sweetie pie, come let me eat ya."
While Beyoncé usually remains mum on her relationship with Jay-Z outside of music, she recently praised him on social media before "Renaissance's" release. "A special thanks to my beautiful husband and muse, who held me down during those late nights in the studio," she wrote (per Daily Mail).
Beyoncé has sampled Donna Summer in the past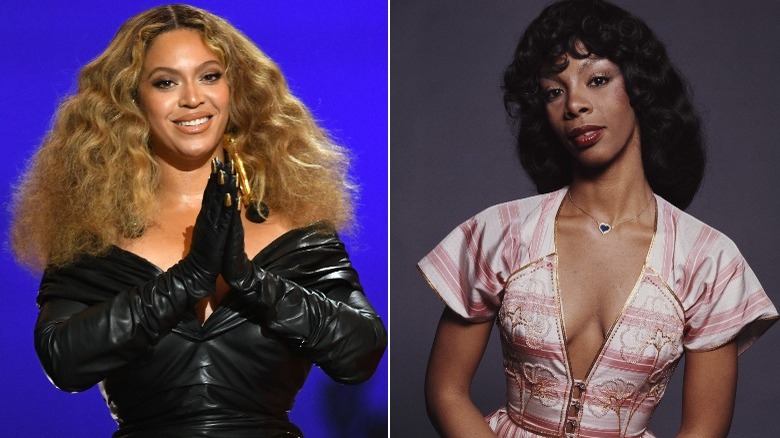 Kevin Winter & Michael Putland/Getty & undefined
Since the release of her seventh studio album "Renaissance," fans have fully immersed themselves in the disco/dance house project. Alongside the fact that there are 16 new tracks from Queen Bey, music listeners have also expressed excitement about the array of impactful artists sampled on the record, including Donna Summer on "Summer Renaissance." One fan tweeted, "That Donna Summer On Summer Renaissance?! That's how you end an album. You did it again, Beyoncé." Another fan wrote, "That Donna Summer sample kicked in on 'Summer Renaissance' and I levitated a lil [not going to lie]."
While "Summer Renaissance" is set to reintroduce music listeners to the legendary artistry of Summer, this isn't the first time that Beyoncé has used the disco queen in her music. For her debut record, "Dangerously In Love," the beloved singer sampled Summer's track "Love To Love You Baby" for her hit single "Naughty Girl." In an interview with Signed Media, the disco queen praised Beyoncé for being an "incredible woman." "She's a gifted songwriter, she's a visionary, and I think she deserves everything she has," she added.
The love was undoubtedly mutual for the "Lemonade" singer, who delivered a heartfelt statement in the wake of Summer's death in 2012. "She was so much more than the queen of disco she became known for, she was an honest and gifted singer with flawless vocal talent," she said (per MTV). "I've always been a huge fan and was honored to sample one of her songs."