What's The Real Meaning Of Heated By Beyonce? Here's What We Think
Kevin Winter/Getty Images
Queen B has done it again. Singer and songwriter Beyoncé released a new album — "Renaissance: Act 1." According to Time, the new album is the first of a three-part project, and she recorded this first part during the height of the COVID-19 pandemic.
"Creating this album allowed me a place to dream and to find escape during a scary time for the world," Bey said in her album note, posted on her website. "It allowed me to feel free and adventurous at a time when little else was moving." She continued to write about how she wanted to create a safe space with this album, ending with, "it was a beautiful journey of exploration."
Reviews of the album have been well-received as USA Today's Melissa Ruggieri mentions the power of Beyoncé, as she adds some "raunchiness" to her music, and is "unapologetic" for being herself. NME gave the album four out of five stars, and mentions that it's a celebration of love and "Black joy." One of the songs, "Heated," is all about self-love and care.
Heated is about taking some quality time away from fame
In the chorus of Beyoncé's new song "Heated," she says, "I gotta fan myself off (Fan me off) / I gotta fan myself off (Fan me off) / I gotta cool down, heated (Fan me off like hot, hot, hot)," per Genius. The singer also mentions luxury brands such as Chanel and Tiffany. This could mean that even queens like Beyoncé herself need a break from the fame. She has spoken about the struggle of being in the public eye.
"Throughout my career, I've been intentional about setting boundaries between my stage persona and my personal life," the singer told Harper's Bazaar in 2021. She then explains that even those who are close to her can get lost in fame and fortune. "I've fought to protect my sanity and my privacy because the quality of my life depended on it," she continued. "A lot of who I am is reserved for the people I love and trust."
The singer also says, "It's been a lot of years," which could directly aim at the fact that it has been six years since Beyoncé has recorded and released a studio album, per The Guardian. Therefore, she could be making a statement that she took some time to herself, but she's back now and people shouldn't forget about her. There's also another way in which "Heated" can be a glimpse into Queen B's personal life.
Beyoncé sings about important people in her life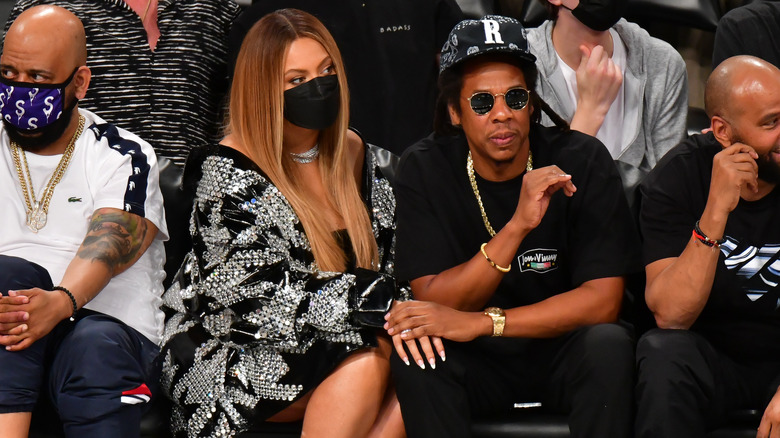 James Devaney/Getty Images
Another thing Beyoncé seems to do in her songs is pay homage to the people she loves. In "Heated," she names "Uncle Jonny" in the pre-chorus. According to Bustle, Uncle Jonny is Tina Knowles Lawson's nephew, who is known for having a good eye in style and design, and made Christmas dresses for Beyoncé and Solange. The singer often called him her "Godmother."
"He took care of our home and kept it in grand style," Lawson said in a tribute post on Instagram. "He made the most beautiful dresses for me and all of my friends. Did their hair, took great care of my kids and he added so much joy and security in my life."
Beyoncé also mentions a man in her second pre-chorus, as she says, "Only a real man can tame me," per Genius. This could be a direct mention to her relationship with her husband, Jay-Z. "I would not be the woman I am if I did not go home to that man," she told Oprah Winfrey in 2013 (via Today). "It just gives me such a foundation ... just to have someone that you just like is so important. And someone that is honest." So, with the time away from being famous and the people she mentions in the song, we think "Heated" is a great song full of raw emotion and sound.