Beyoncé's Rare Family Snap Has Everyone Saying The Same Thing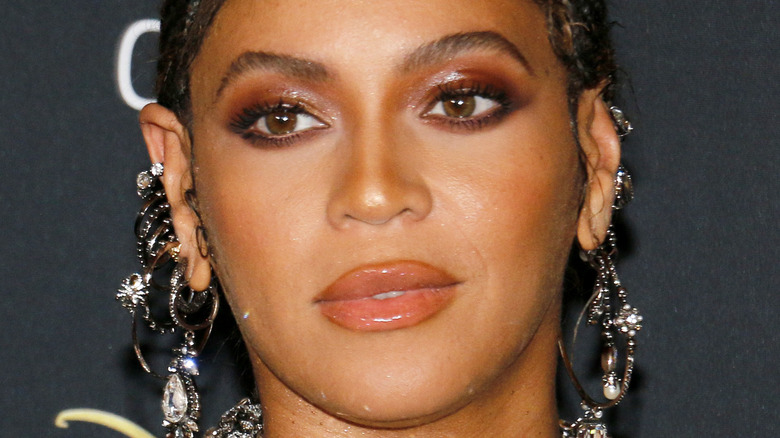 Tinseltown/Shutterstock
Beyoncé may be one of the most famous singers in the world, but that doesn't mean that she always puts her family on display. As fans know, the songstress wed rapper Jay-Z in 2008 (per Entertainment Tonight), and thus, became one of Hollywood's powerhouse pairs. In 2012, The Washington Post reported that they welcomed their first child together, daughter Blue Ivy. Not too long after, the couple welcomed a set of twins — Sir and Rumi.
It's not every day that the singer talks about her children, as she tends to keep her personal life out of the spotlight when she can, but in 2020, the star opened up to British Vogue about parenting during the "current events" of today's world. "My best advice is to love them harder than ever. I let my children know that they are never too young to contribute to changing the world," Beyoncé told the outlet. She also added that she "never underestimates their thoughts and feelings, and I check in with them to understand how this is affecting them." In addition, the singer mentioned that she and her eldest daughter, Blue Ivy, share a mutual respect for one another, and we're not going to lie, it makes our hearts melt just a little bit. "When I tell her I'm proud of her, she tells me that she's proud of me and that I'm doing a good job. It's teeeeeew much sweetness," the singer said.
After sharing a recent family photo on her website, Beyoncé is generating a lot of buzz from fans.
Fans go wild over Beyoncé's latest snap
It's not every day Beyoncé shares a photo of her kiddos, so when she does — it generates a lot of buzz. Ahead of her "Renaissance" album release, the singer took to her website to share a sweet shot with her three kids — Blue Ivy, Sir, and Rumi. The singer and her squad lay in bed, and Beyoncé appeared to snap the selfie-style shot. The kids looked at peace with their eyes closed. ​​"This three-act project was recorded over three years during the pandemic," Beyoncé wrote with the upload. "A time to be still, but also a time I found out to be the most creative. Creating this album allowed me a place to dream and find escape during a scary time for the world." How cool is that?
While there's no doubt that fans are ecstatic about the album itself, many couldn't help but take to social media and comment on the photo of Beyoncé's kids, who all boast a strong family resemblance. "They look like triplets omg," one person tweeted. "Beyonce really gave birth to herself, her sister, and her husband all over again," another social media user pointed out. "Jay z know he got some strong a** genes... but beautiful," one more commented.
On December 9, 2021, Beyoncé shared a rare photo of herself and her two daughters to promote her clothing line, Ivy Park. Not only did the trio wear matching outfits, but the family resemblance was also STRONG.