Inside Machine Gun Kelly's Strong Bond With Daughter Casie Colson Baker
GIO / BACKGRID
While anyone with internet access knows who Machine Gun Kelly is, few people realize that the rapper-turned-rockstar is a father. Born in 2009, Casie Colson Baker is the teenage daughter of MGK, who he frequently refers to as his "best friend." Though he doesn't discuss her frequently, the musician is a dedicated presence in Casie's life, crediting her with making him who he is.
"It makes you look at life really differently when you wake up next to a child," MGK told Jen DeLeon on her "Life Lessons" series in 2015. "When you wake up, you see a piece of you sitting there with their eyes closed and this funny sleep face. Favorite part of my day when I'm with her is like a nap or like in the morning because she has the funniest wake up face. That's the best mental image I always have of her because it is so genuine."
While he stepped up to the plate, MGK revealed that it wasn't easy to become a father at a young age, and raising Casie was difficult at first.
Machine Gun Kelly became a father at a young age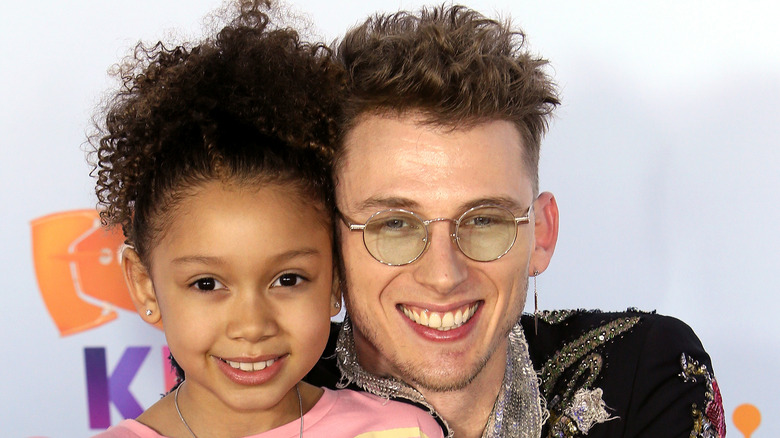 David Livingston/Getty Images
Casie Colson Baker was born when Machine Gun Kelly was only 18 years old. As a result, he struggled as a parent for much of her early life and resorted to "stealing diapers from a ******* Walmart" and scraping by. In those days, dreams of a record deal were just that — dreams.
"As much as a **** up people say I am, I pray that I have the connection I didn't have with my parents with my kid," MGK explained to DeLeon. "If it was a mistake, own up. It's not gonna be a mistake when you see that beautiful little girl pop up and you see those breaths come."
The musician then offered up some advice for other 18 year olds who find themselves becoming parents unexpectedly. "I see a lot of young fathers who come from, you know, low-income or fathers who are just young and maybe don't have the support of their parents... It doesn't matter what is surrounding that beautiful child. When I am with her, nothing else really matters," he said. 
Machine Gun Kelly prioritizes quality time with his daughter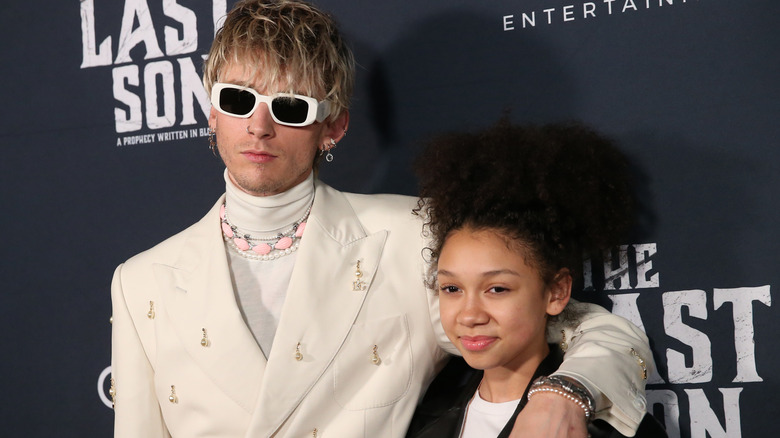 Rob Kim/Getty Images
Even now that Machine Gun Kelly is a huge success, he always puts his daughter, Casie Colson Baker, first. Despite his hectic schedule, MGK goes out of his way to be there for her biggest moments, once tweeting that he took "two connecting flights" and missed out on sleep just to see Casie's recital.
Taking one look at the star's Instagram shows how dedicated he is as a father, constantly gushing over Casie and sharing cute snapshots. Recently, he opened up about supporting Casie in all of her hobbies, more specifically volleyball, while on "The Kelly Clarkson Show." Despite his often icy exterior, MGK is just like every other dad at their kid's game — shouting from the bleachers. 
MGK explained that part of why he tries so hard to prioritize Casie is because he knew what it felt like to have a parent who didn't care about his interests (even seeing a photo of the musician's parents is rare). He further said, "Kids in our generation understand our kids better because we were the misunderstood generation." It's his goal to make sure his daughter never feels that way, and from their adorable relationship, he appears to be successful.