Are Jenni 'JWoww' Farley And Nicole 'Snooki' Polizzi Still Friends?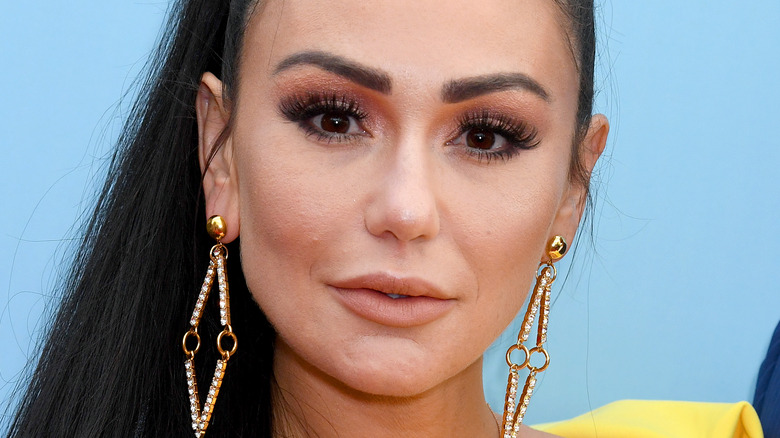 Dia Dipasupil/Getty Images
Finding a lasting friendship while filming "Jersey Shore" was far from a sure thing for the stars of the MTV series, who originally bonded over their shared devotion to the GTL lifestyle, complex haircare rituals, and fondness for fist-pumping. But much like a fresh spray tan, friendships can fade fast if they're not maintained, and during her time on the show, Nicole "Snooki" Polizzi met one person who was like a streaky orange application she couldn't wait to scrub off: Angelina Pivarnick.
It was Jenni "JWoww" Farley who held Polizzi's earrings when the pouf-coiffed spitfire had it out with the a fed-up Pivarnick, per Entertainment Weekly. This wouldn't be the end of the "Jersey Shore" stars' feud, and it was just one of the many times that Polizzi and Farley demonstrated their sisterly bond during the series' early seasons — after all, they were both there on the Shore for the same reason. "We all have one main goal — to party it up and live," Farley told Us Weekly.
Farley and Polizzi later got their own spinoff, "Snooki & JWoww," but marriages and mommyhood made the women rethink their reality careers in 2015. "I think both Snooki and I want our kids to grow up having normal lives and not be in front of the cameras 24/7," Farley wrote on her blog ahead of the series finale. So many life changes could drive some BFFs apart — however, this wasn't the case for the two sassy Seaside Heights stars.
The Jersey Shore stars' daughters are also BFFs
Nicole Polizzi and Jenni Farley both welcomed daughters in 2014. Giovanna was baby No. 2 for Polizzi and her husband, Jionni LaValle, who became first-time parents in 2012 when their son Lorenzo was born. As for Farley, Meilani was the first child for her and her now-ex, Roger Mathews. They also share a son named Greyson, while son Angelo completes Polizzi and LaValle's party of five.
In 2021, Farley told Us Weekly that Giovanna and Meilani grew so close that they were FaceTiming one another on an almost daily basis, and she made a prediction about the pals, saying, "I have a feeling they're going to end up in the entertainment industry somehow in some way." She also revealed her daughter considers Polizzi family when sharing a funny story about Meilani discovering why her mommy and her auntie are famous. "She's like, 'Mommy, they said you're on 'Jersey Shore' and Aunt Nicole got arrested and you peed behind a bar!'" Farley recalled.
Farley and Polizzi continued making it difficult to hide their reality careers from their kids by reuniting with some of their former castmates for "Jersey Shore Family Vacation" in 2018. Polizzi announced that she was leaving the show in a 2020 episode but decided to return the following year in dramatic fashion: She hid inside a super-sized fake cake to surprise Farley for her birthday. Farley reacted by leaping out of her seat and excitedly embracing her friend.
How Jenni Farley and Nicole Polizzi became such good friends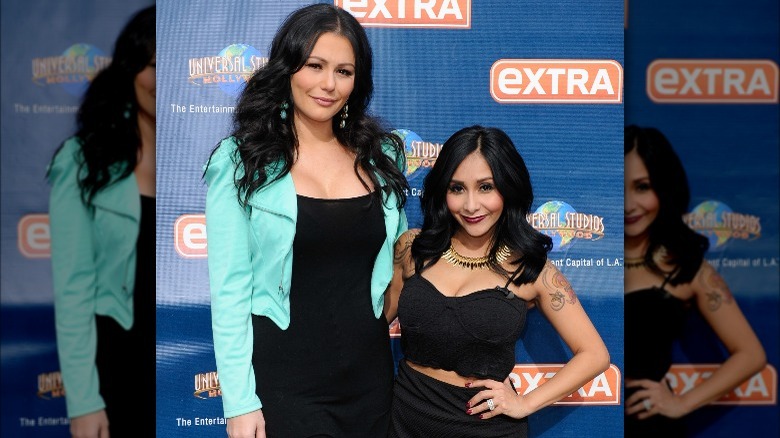 Noel Vasquez/Getty Images
When Jenni Farley's fiancé, Zack '24' Carpinello, competed in a professional wrestling match in January 2022, Nicole Polizzi and her kids showed up to cheer him on. "We lived our best life while the kids had a blast," Farley wrote on Instagram. But how did Farley and Polizzi build a decade-long friendship that has turned into a family affair?
In March 2020, Farley observed "Jerzday" by filming a YouTube Q&A. While speaking about her favorite "Jersey Shore" episode, she reminisced about how she and Polizzi became so close. It all started during Season 1 when a male bar patron shockingly punched Polizzi in the face. The moment brought out Farley's protective instincts. "I realized that was the love of my life, and we would be together forever because I loved her," she said of Polizzi. Farley confessed that those feelings probably never would have surfaced if she hadn't witnessed that horrifying moment.
As for how she and Polizzi have remained so tight, Farley told ET, "I think it comes down to having a real relationship with each other, treating each other like a real family." She revealed she and her BFF have daily gab sessions, and if she gets her way, someday they'll become actual family members. "I want our kids to end up together so we can be in-laws," Farley told Glamour in 2012. "I already know my grandchild is going to have Snooki blood in it."