Inside Jack Harlow's Complicated Love Life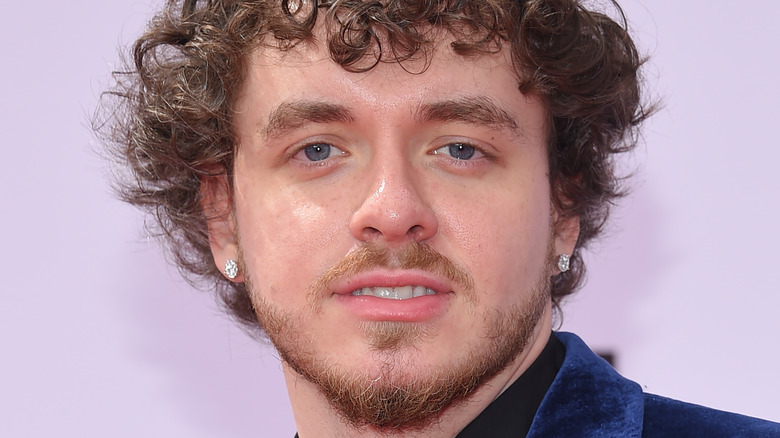 DFree/Shutterstock
With a chart-topping single and a starring role in the remake of "White Men Can't Jump," Jack Harlow might just have more sticking power than the hair product used to keep his curls perfectly coiffed. With his witty flow and tousled look, the 24-year-old star has emerged as one of Gen Z's most prominent rappers. Harlow gained traction with bangers like "Sundown" and "Thru the Night," but it was the infectious hit "What's Poppin" that catapulted the Louisville, Kentucky native into the mainstream. Younger audiences couldn't get enough of the earworm, blowing the song up on — you guessed it — TikTok, where it has played in over 400,000 different videos, and the hashtag "#whatspoppin" has bagged over seven billion views.
Aside from his hit songs, Harlow's quiet confidence and covert appeal have a lot of people talking. Much was made about the rapper's love life after he gushed over his crush on the song "Dua Lipa," but is Gen Z's Macklemore actually dating anyone?
Ladies and NDAs go hand in hand for Jack Harlow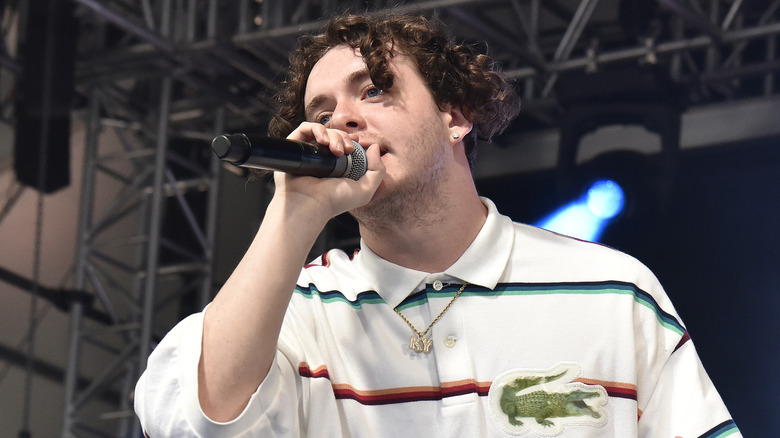 Tim Mosenfelder/Getty Images
Jack Harlow is the heartthrob we deserve after a global pandemic kept us inside for the better part of two years. Who else is there? Nobody wants to sleep in Johnny Depp's bed after Amber Heard dropped a grumpy on it, and even Angelina Jolie is tired of Brad Pitt. Harlow, on the other hand, is a breath of fresh air. "I love women and dating is good," he told GQ in October 2021. "It's funny, the bigger you get, the more opportunities you have. But, ironically enough, you close up a little as the stakes are higher. So, a girl I would have invited back to my hotel three years ago, I wouldn't do it now."
And, if the hitmaker did invite a lucky lady back to his hotel, there's a good chance we'd never hear about it. "First name, last name, date of birth (date of birth), make a bad b***h sign paperwork (oh, yeah), once the ink dries, can't say a word," Harlow quipped about making any potential lovers sign a non-disclosure agreement on his track "21C/Delta." Harlow wasn't just dropping bars; he was dropping facts. He told GQ, "I present [the NDA], like, 'Hey, listen, if you don't want to sign this you don't have to ... but this is what needs to happen for us to be able to hang out. I just want us to hang out; I don't want this to be a thing on the internet.'"
He's been linked to a few famous faces
Johnny Nunez/Getty Images
Jack Harlow is currently single, but you might not have known it if you tuned in to the 2021 BET Awards. As per Complex, the "First Class" crooner and fellow rapper Saweetie sent the internet spinning after a few flirty exchanges on the red carpet — and a photo of the two catching each other's gaze — made the rounds. While many presumed Harlow was shamelessly shooting his shot, the rapper later clarified that he was just being friendly, saying, "That's a friend... That's a friend vibe."
Harlow had fans swooning again in 2021 after he was spotted attending a boxing match in Atlanta with TikTok star Addison Rae, much to the ire of her ex-boyfriend Bryce Hall. It looks like nothing happened between the two (unless an NDA was involved) because the social media star tweeted, "I'm single," after the rumors started to gain some traction.
While there is a continuous air of mystery surrounding Harlow's love life, he's previously been candid about one star he'd love to link up with. "My first crush was Vanessa Hudgens," he told Teen Vogue. "I was in fifth grade, and I was like, 'My God. Yeah, she's just right up my alley.'" When Harlow finally got a chance to meet Hudgens at the Met Gala – something he called a "bucket list moment" — the star played it cool. "I didn't want to do nothing; she was trying to work," he said.