Inside Dave Grohl's Tense Relationship With Courtney Love
Kathy Hutchins/Shutterstock
In March, the drummer for Dave Grohl's band Foo Fighters, Taylor Hawkins, suddenly died while the band was on tour. It was a shocking loss that forced Grohl and the band to cancel their remaining tour dates, according to NPR. But this wasn't the first time Grohl had suffered the devastating loss of a bandmate.
In 1994, Grohl was a drummer in the seminal grunge band Nirvana when lead singer Kurt Cobain took his own life. It was a suicide that rocked the music world, and heralded the end of grunge. Cobain's loss was so deeply felt by his fans, that his suicide sparked copycat suicides, including three young men in Vancouver, British Columbia, who were reportedly distraught over his death, according to Tampa Bay Times. Grohl himself admitted that Cobain still haunts his dreams. "I think about him all the time. I just had a dream about him two nights ago," he told People in 2021.
At the time of Cobain's death, he was married to Hole frontwoman Courtney Love, and since 1994, Grohl and Love have had many tense interactions, including major financial disputes over Nirvana's legacy, and even personal attacks.
If you or anyone you know is having suicidal thoughts, please call the National Suicide Prevention Lifeline by dialing 988 or by calling 1-800-273-TALK (8255)​.
Courtney Love claimed that Kurt Cobain hated Dave Grohl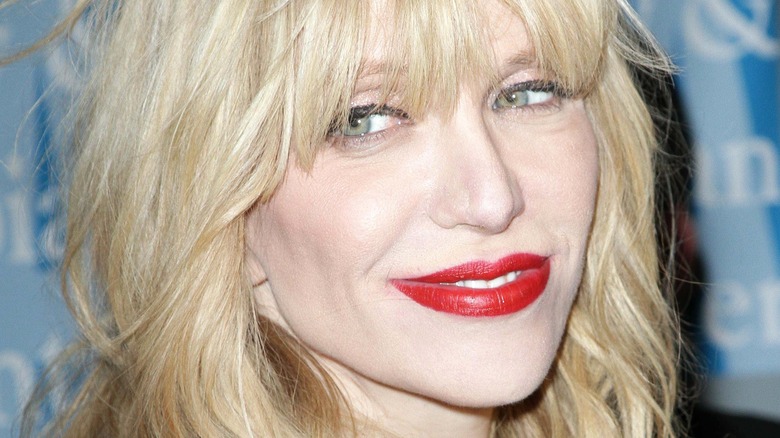 s_bukley/Shutterstock
In 2001, leaked court documents revealed just how badly the relationship between Courtney Love and Dave Grohl had deteriorated. ABC News reported on the ugly legal battle between Love and the surviving members of Nirvana, namely Grohl and bassist Krist Novoselic, which detailed financial concerns and disputes surrounding Nirvana's legacy. Grohl and Novoselic wanted to release the last song Kurt Cobain had ever recorded, "You Know You're Right," as part of a box set, and the "Violet" singer was attempting to block the release. 
Love reportedly accused the Foo Fighters frontman and Novoselic of taking advantage of her grief after Cobain's suicide to coerce her into signing documents stating that Grohl and Novoselic were equal members in Nirvana, when she actually believed they were just hired guns. Grohl and Novoselic, on the other hand, painted Love as a social climber trying to use her Nirvana connections to advance her own music career. Ultimately, the song was released in 2002, and became a chart-topper, per Billboard.
The "Doll Parts" rocker also appeared on Howard Stern's syndicated radio show in 1999 alleging that her late husband and Grohl had a more acrimonious relationship than the public knew (via MTV News). Addressing Grohl directly into the microphone, she sang, "Kurt hated you!" In 2007, she reiterated these claims on her MySpace page, writing, "Kurt loathed HIM more than anyone else" (via NME).
Courtney Love and Dave Grohl made up — sort of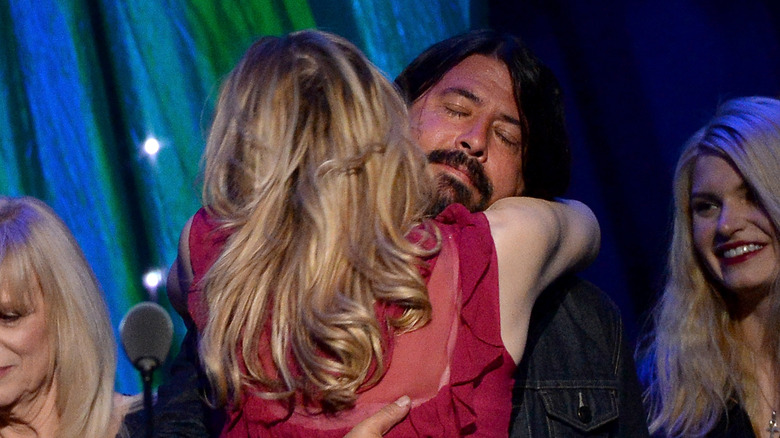 Larry Busacca/Getty Images
By 2014, things seemed to have calmed down between "The People vs Larry Flynt" star Courtney Love and Foo Fighters frontman Dave Grohl when Love appeared on "Jimmy Kimmel Live!" and said they had made up. "We used to really like each other, and then there was 20 years where we sued each other," she laughed. "The other night, we just started talking about this one actress' boobs — and we just picked up where we left off after 20 years of suing one another. We're cool, we're totally tight." Love went on to say she would like to record a duet with Grohl, particularly the famous country song, "Islands In The Stream."
But, in 2021, Love was again lashing out at Grohl, this time in her Instagram Stories, where she again accused him of profiting from Nirvana's legacy over their equal-partnership deal. She later issued an apology and deleted the Story, per Loudwire. Curiously enough, when Kurt Cobain and Love's only daughter, Frances Bean, produced a documentary about her father, "Montage of Heck," Grohl was interviewed for the doc, but his scenes were left on the cutting room floor — he never made an appearance. Still, Grohl has said that despite the bumps, he and Love have an inextricable bond (via The Hollywood Reporter). "We've had a rocky road. We've had a bumpy past, but at the end of the day we're a big family."