Taylor Swift's Private Jet Controversy Just Got Even Worse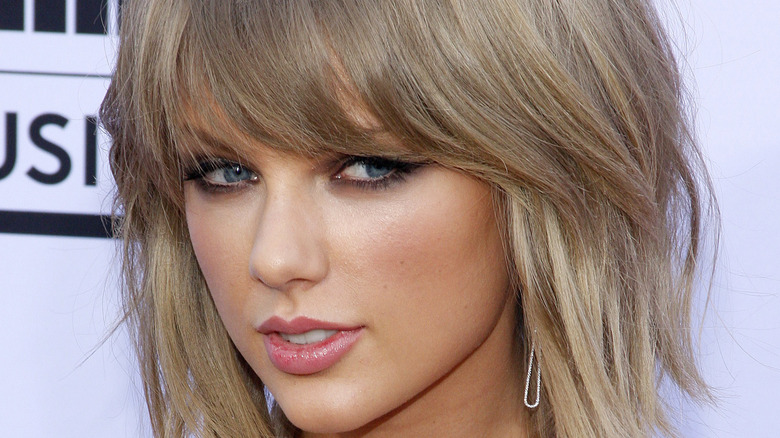 Tinseltown/Shutterstock
Given the recent drama over Kylie Jenner's casual private jet usage, everyone was surprised to discover the celebrity guilty of the worst carbon emissions. 
According to a July 2022 study by sustainability-centric digital marketing agency Yard (via Buzzfeed News), Taylor Swift's private jet emitted more carbon dioxide in seven months than 1,184 average people would in an entire year. With Swift's two jets taking 170 flights within 200 days in 2022, the "Shake It Off" singer is responsible for 8,293.54 metric tons of carbon flight emissions this year. For reference, the average person emits only 7 metric tons in one year. Although Swift's boyfriend Joe Alwyn is based in London, visits from the U.S. to Alwyn doesn't fully explain her frequent jet-setting — her average flight time clocks in at just 80 minutes.
Many netizens instantly revolted against Swift online, such as one Redditor who wrote, "I love Taylor, but I'd never take a statement from her about the climate seriously after seeing this. I really think she has the means to do better." Some fans tried to see it from Swift's POV, such as one who noted on a subreddit, "She travels so much. she has homes in London, New York, Nashville, and LA. In the past few weeks, she's been in the Bahamas on vacation, London with Haim, and the US for Selena Gomez's birthday. And that's just publicly."
Swift's spokesperson stepped into the controversy with an official statement — but that only seemed to make things worse. 
Taylor Swift's private jet defense is a definite flop
When it comes to celebs, damage control over their private jet usage rarely seems to work. After it was revealed on July 29 that she had the highest carbon flight emissions of any star, Taylor Swift's rep issued a press statement on July 30 claiming, "Taylor's jet is loaned out regularly to other individuals. To attribute most or all of these trips to her is blatantly incorrect." 
Apparently, most people think Swift's spokesperson missed the point. As one Buzzfeed News reader commented in their report of the study, "I don't care who's on the plane, it shouldn't be making all those flights and producing all those emissions. If you own it, you're responsible for it." Over on Twitter, a user had an even more acerbic take. "You've really gotta hand it to taylor swift's publicist bc 'she generously rents out her jet for her poorer friends who can't afford their own personal jets to use' is the funniest possible way to put a humanitarian spin on her carbon emissions," they mused.
More constructive critics offered that Swift and her team should have accepted responsibility, using this as a teachable moment. As one Buzzfeed reader noted, perhaps a less tone-deaf statement would have said that "we're grateful this was brought to our attention" and that Swift will be reviewing her "transport needs in the coming days, as well as the needs of the acquaintances to whom she often loans the jet."