What Isabel May Was Doing Before Starring In 1883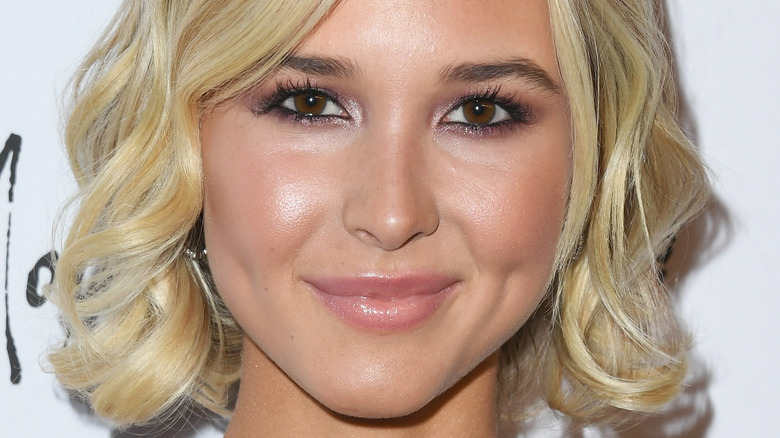 Jon Kopaloff/Getty Images
Much like settlers of the Old West, Paramount Network is all about expansion. After its series "Yellowstone" became a ratings hit, the company decided to give the eponymous ranch an origin story. The spinoff series, "1883," introduces viewers to the Dutton family's adventurous ancestors, who began their life on the frontier by traveling from Tennessee to Texas — far from the massive chunk of land in Montana that their descendants will eventually call home.
The cast of the Paramount+ series includes real-life couple Tim McGraw and Faith Hill as former Confederate soldier James Dutton and his wife, Margaret. When they make the trek from Texas to Montana with a herd of hardy Longhorns, they are also accompanied by their children John and Elsa, played by Audie Rick and Isabel May, respectively. May serves as the show's narrator, as well, sharing the Duttons' story from the perspective of a teenage girl. Sam Elliott, who is arguably Hollywood's most famous modern-day cowboy, paid May a huge compliment during an interview with The Hollywood Reporter. "Never had much experience on a horse, but looks like she's been riding a horse her whole life," said "The Big Lebowski" star. May savored the experience, telling Reel School, "What a luxury to just be able to ride a horse all day in these beautiful meadows."
But before she was filming in wide open spaces under the blazing Texas sun, May appeared in two series that didn't call for her to spend much time outdoors.
Isabel May's first role was a lead character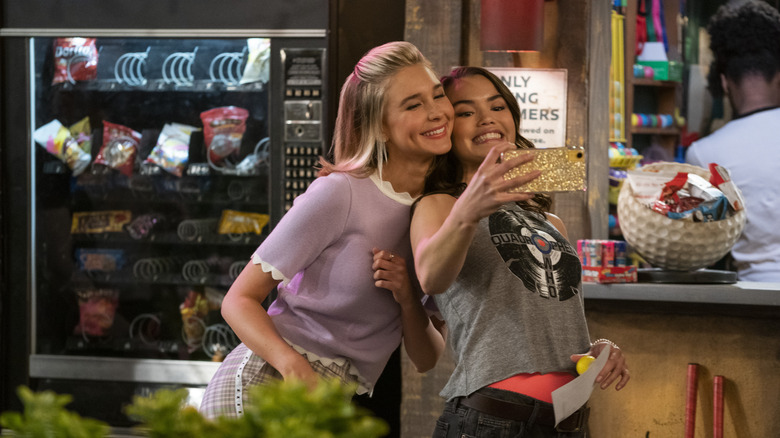 Ali Goldstein/Netflix
Isabel May grew up in Los Angeles, which afforded her easy access to auditions. In an interview for the "Awards Chatter" podcast, May recalled being a ravenous reader growing up. Her sixth grade English teacher noticed that she also did not socialize much, and May told Terroir that he spoke to her parents about her behavior, advising them that she needed an outlet to express herself. May decided acting would be that creative outlet. "I did audition for three years, but I was devoted to school as were my parents," May recounted. "We kind of made a pact, that I had to wait until ninth grade to really commit to something like this."
May had no luck getting gigs during those years, but mere months after she reached the agreed-upon grade and began online schooling, she landed a lead role in the Netflix series "Alexa & Katie." From 2018 to 2020, May played a highschooler named Katie whose BFF Alexa (Paris Berelc) has cancer and is doing her best to lead a normal life. "I'd never watched a sitcom before. I did not find myself to be very funny," May told "Awards Chatter." While she proved that she did possess comedic skills, May began watching reruns of various sitcoms to see how she could improve. "I have quite a long body so I found I could express myself comedically, physically in certain ways," she told Terroir.
Inside Isabel May's most difficult role
The next job Isabel May got was a smaller part in "The Big Bang Theory" spinoff "Young Sheldon." Her recurring character, Veronica Duncan, is a love interest of Sheldon's (Iain Armitage) older brother, Georgie (Montana Jordan). In an interview with KTLA 5, May revealed that she was particularly thrilled about getting to work with "Designing Women" star Annie Potts, who plays Sheldon's beloved Meemaw. "Oh, I love it. ... It's such a great set. [The] cast is fantastic," she gushed.
May got to experience what it's like working on a movie when she was cast in the 2020 low-budget film "Run Hide Fight," which is about students fighting to survive an attack by a group of school shooters. "It was the most challenging thing I've ever done," May told "Awards Chatter." According to the actor, some scenes left her with such severe bruising that she had to go to the hospital. But she said of the experience, "I wanted to do it again."
While May's appetite for making movies was whetted, she continued to audition for roles in series, including one set in the "Yellowstone" universe: "Mayor of Kingstown." May confessed to The Hollywood Reporter, "I was terribly wrong for it." But a few days later, those rolling plains beckoned — Yellowstone" creator Taylor Sheridan offered May the role of Elsa Dutton in "1883." And now her future is looking as bright as the stars of a frontier night.