Brad Pitt's Latest Fashion Statement Proves His New Outlook On Life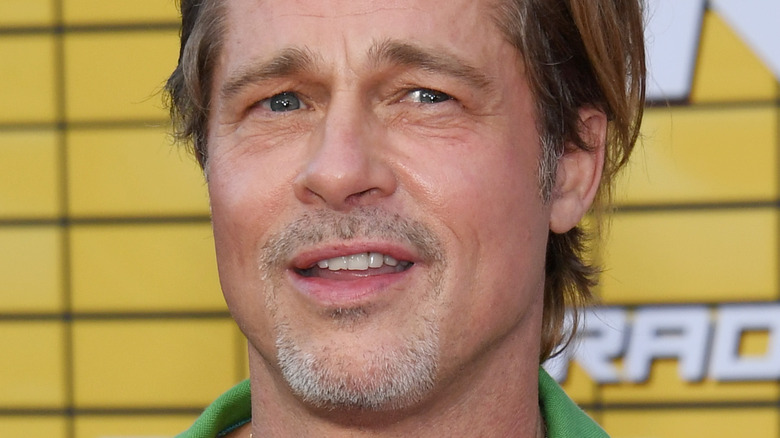 Jon Kopaloff/Getty Images
Back in July, fans couldn't get over Brad Pitt's major fashion statement on the red carpet. While there's no doubt the Hollywood star turns heads wherever he goes, he turned up on the red carpet in Berlin with a brown skirt and a salmon-pink shirt while promoting his latest film, "Bullet Train." But Pitt was not always this adventurous about fashion. In September 2021, Pitt told Esquire, "I like monochrome, without it being a uniform. I like simplicity. I like the details in the stitching, the way it feels. If anything, that's the only divining rod I have."
And while there's no doubt that Pitt could put a brown paper bag over his head and people would still call it fashion, the actor recently opened up as to why his personal style has shifted in a new direction. And apparently, it has nothing to do with his style preference, either.
Brad Pitt wants to push all the buttons when it comes to his style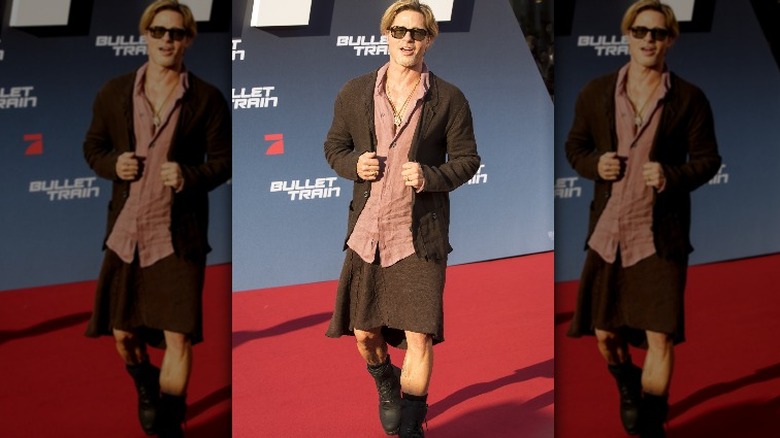 Ben Kriemann/Getty
In a new interview with Variety, Brad Pitt admitted that he's no longer afraid to take a walk on the wild side, especially when it comes to some of the clothes that he has in his closet. When asked why he decided to show up on the red carpet wearing a skirt, he told the publication, "I don't know! We're all going to die, so let's mess it up."
Pitt also told Deadline that he's still got some juice in him, especially when it comes to his future in the filmmaking business. He said, "I've never been a five year plan kind of guy. I'm just, whatever feels right for the day. I still operate that way." That said, we have a feeling we will be seeing much more of Pitt's eclectic fashion choices in the coming months and maybe even years ahead. Not only that, but there's also a very good chance that salmon-pink shirts and brown skirts are going to remain a red carpet staple in the celebrity world. After all, if Pitt can pull it off, anyone can pull it off, right?