The Truth About Robert Downey Jr.'s Relationship With Armie Hammer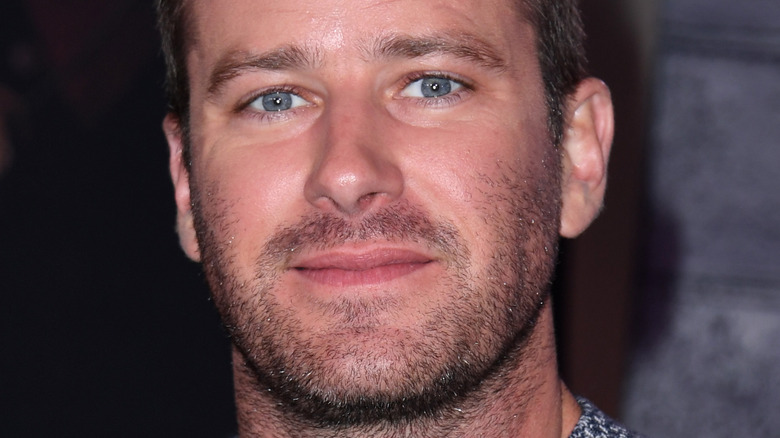 Jon Kopaloff/Getty Images
The following article discusses sexual assault and addiction.
Sometimes all you need in life is a good friend, and Armie Hammer is learning that lesson right about now. The formerly beloved actor held roles in many notable films, however, in recent years, his promising career has been a little bleak. 
According to Fox Business, Hammer's net worth was estimated to be more than $10 million in 2020, as his career appeared to be taking off. It seems that his fame and glory came to a screeching halt once allegations of his misconduct began to surface. In October 2016 the once-beloved actor allegedly sent screenshots to the Instagram account @HouseofEffie, however it wasn't until January 2021 when the user, named Effie, came forward to speak over their four year relationship. The DMs, obtained by Daily Mail, showed the "Death on the Nile" actor detailing fantasies of drinking blood, sexual domination, and even acts of cannibalism. One of his exes, Courtney Vucekovich, seconded the claims as she told Page Six in January 2021 that Hammer once told her that he wanted "to break my rib and barbecue and eat it."
His career and reputation plummeted so much, it was reported that Hammer traded in his glory days for a less glamorous job selling timeshares in the Cayman Islands, per TMZ. While most of Hollywood may have turned their backs on him, there was one superstar that has hoped to help pick up the pieces. It turns out, Robert Downey Jr. is supporting the actor in a big way.
Robert Downey Jr. paid for the actor's rehab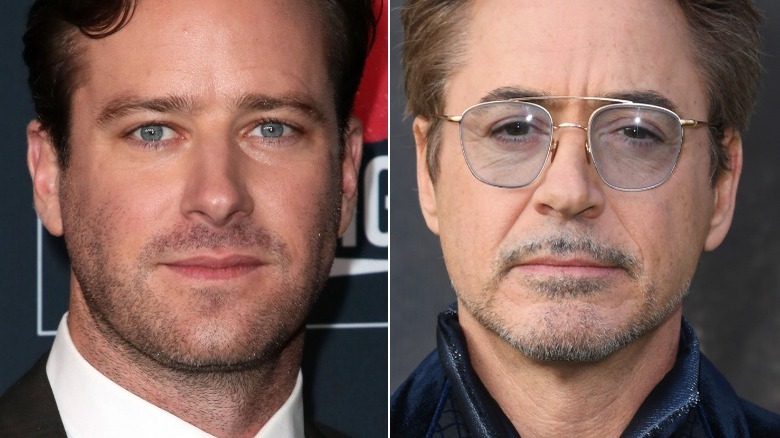 David Livingston & Jon Kopaloff/Getty & undefined
Armie Hammer found himself at the center of a dark controversy in 2021 involving shocking allegations of emotional abuse, manipulation, and violence. If there's anyone who knows about highly publicized scandals, it's Robert Downey Jr. The "Avengers" actor, who has been vocal about his previous struggles with addiction and run-ins with police, offered to provide support to Hammer while navigating his personal turmoil.
While friends and family want the best for the embattled "Call Me By Your Name" star, Downey Jr. stepped in to steer the actor toward rehab in 2021, a source revealed to Vanity Fair. The "Iron Man" star reportedly helped Hammer through his six-month stay at the Florida-based rehab center, Guest House, a sex and drug addiction treatment center geared towards the elite. The rehab promises to provide the opportunity to overcome trauma and addiction free from outside stressors, "judgement," and with "respect and dignity," which we can assume was a top wish for the scandalized actor.
Downey Jr. "is the pinnacle of when people in Hollywood are struggling," a source close to both actors shared with People in July 2022. "They look to Robert as this beacon of someone who has overcome it [addiction] and is walking out on the other side and Robert takes that honor and responsibility very highly."
Robert Downey Jr. offered Armie Hammer a place to stay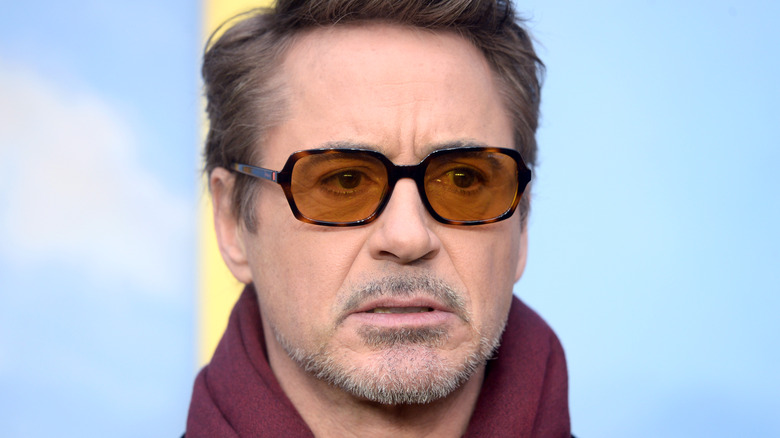 Dave J Hogan/Getty Images
While Hollywood may not be calling Armie Hammer for an upcoming role, he is in good hands with support from Robert Downey Jr., and his estranged wife, Elizabeth Chambers. In his experience, Downey Jr. in particular had a bit of guidance and hope from colleague Mel Gibson when he went through his rough patch, per The Guardian.
Downey Jr. is a recovering addict and staunch supporter of anyone's efforts to get sober, and it appears he wanted to take his encouragement of Hammer to the next level. According to Vanity Fair, after news of his salesman job went viral, Hammer is staying at a home in Los Angeles, owned by the Marvel icon, and was seen leaving an AA meeting in Malibu. Undoubtedly, Hammer has found a supportive friend with Downey Jr. as he continues his recovery journey.
"Everyone looks at Armie thinking that he's had some sort of privileged life — and that must mean there were no problems in his youth and everything was peachy keen," a friend of Hammer's previously shared with Vanity Fair. "But that's not necessarily the way things go. Just because you come from an upbringing where financial resources are plentiful doesn't mean life isn't without problems."
If you or anyone you know has been a victim of sexual assault, help is available. Visit the Rape, Abuse & Incest National Network website or contact RAINN's National Helpline at 1-800-656-HOPE (4673). 
If you or anyone you know is struggling with addiction issues, help is available. Visit the Substance Abuse and Mental Health Services Administration website or contact SAMHSA's National Helpline at 1-800-662-HELP (4357).