Aaron Rodgers Reveals How He Bonded With Ex Danica Patrick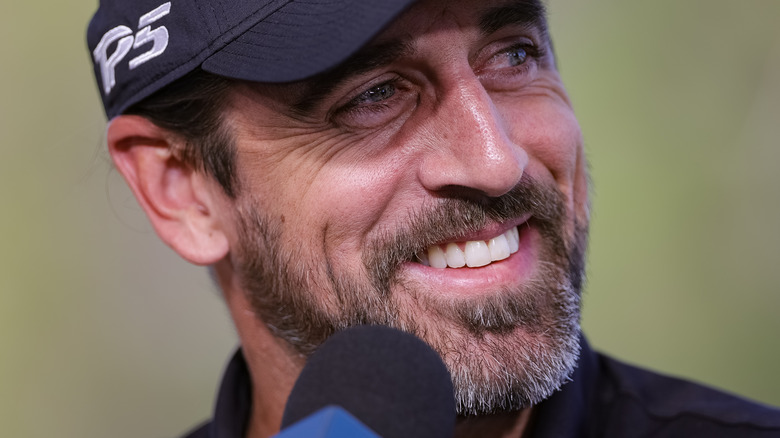 Carmen Mandato/Getty Images
After splitting from fiancée Shailene Woodley, Aaron Rodgers is looking ahead and seems excited about his future. In a far cry from the start of the 2021 NFL season — during which fans weren't sure whether he would return to the Green Bay Packers — Rodgers strutted into the Packers training camp this year rocking a whole new look. With his white tank, long hair, and scruffy beard, the quarterback was giving major "Con Air" vibes. "Let's do this," the Packers captioned a viral video of Rodgers looking like Nicolas Cage's twin. To go with his Cameron Poe transformation, Rodgers also has a new girlfriend just two months after breaking up with Woodley, according to SideAction.
Fans were quick to take to Twitter regarding the football player's new partner. "This is Aaron Rodgers new GF. Her name is Blu of Earth and is a witch/medicine [woman]. Aaron has slowly been turning into a weirdo over the last couple years," one person tweeted. Another joked, "SIRI: show me a celebrity's mid-life crisis rebound chick." However, both Deadspin and Blu herself debunked rumors that she's a witch — and, at the very least, Rodgers seems happy with his new girlfriend. During a 2020 appearance on "The Pat McAfee Show," the league's MVP alluded to "decisions and changes and habits that put me in a lot better head space." Perhaps those decisions have to do with his significant others, as Rodgers seems to be in a reflective mood regarding his love life.
Aaron Rodgers praised Danica Patrick's take on spirituality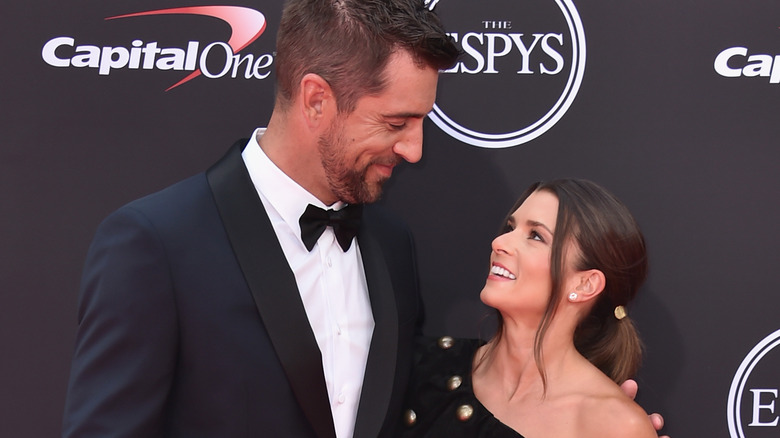 Alberto E. Rodriguez/Getty Images
On August 3, Aaron Rodgers posted a video on Instagram teasing his interview on the "Aubrey Marcus Podcast," where he spoke about mental health, his journey to find love, and his prolific NFL career. Per People, the quarterback also shared some rare insight into his relationship with NASCAR driver Danica Patrick, whom he dated prior to Shailene Woodley. "I was dating Danica and that relationship was great for me because she is on her own journey and spirituality is important to her," he explained. "We both were finding our way, learning about different things [and] practicing meditation techniques."
Patrick has spoken out about her own spiritual journey, telling Haute Living in February that she visits Arizona's Center for the New Age "to get psychic readings or to buy crystals or incense." "I'm generally quite a spiritual person, so it helps to cultivate that," she added. After splitting from Rodgers, the athlete navigated heartbreak by ultimately embracing a positive mindset. "There were some ... feelings of sadness in a way," she told Fox News. "But I also love being able to be spontaneous and spend time with my girlfriends and go on trips. ...When the right guy comes along, I'll know it."
For Rodgers, it's clear he looks for spirituality in his partners. Apart from Patrick, Woodley is known for embracing an alternative philosophy, and it seems like "Blu of Earth" is, too. There's no doubt fans are wishing the new couple all the best!