Kylie Jenner's Latest Instagram Post Brings On A New Critique From Fans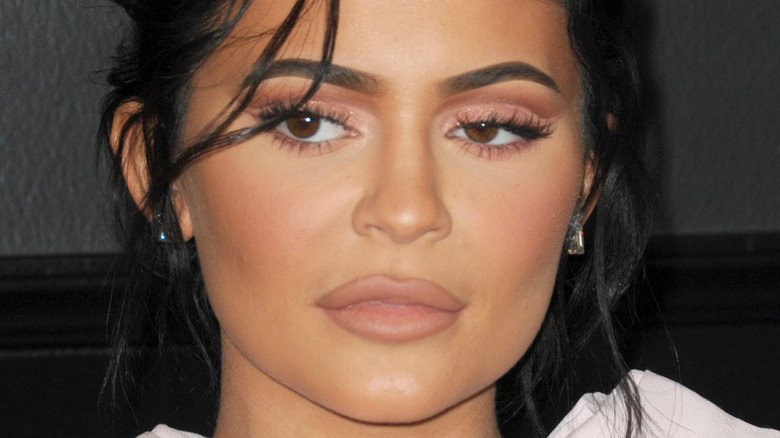 Kathy Hutchins/Shutterstock
Kylie Cosmetics and controversy have never strayed too far from one another. This January, Kylie Jenner gave fans a sneak peek at the February launch of her "Valentine" makeup collection, per Elite Daily, but not all were so enthralled. Some fans began to suspect Jenner was recycling old packaging and product designs. One asked Jenner on Twitter why the Valentine collection looks "like the same recycled colors," while another called the release of new makeup every holiday season "wasteful." 
Of course, Kylie Cosmetics' history of scandals stretches back years. In 2016, Allure reported the brand's lip kits, its first and arguably signature product, came with faulty, dilapidated-looking wands. Things worsened in February 2017 when at least 15 Kylie Cosmetics customers filed complaints with the Better Business Bureau after detecting smells of "chemicals and glue" in the brand's Royal Peach Eyeshadow Palette, according to TMZ. The title of the grossest Kylie Cosmetics scandal, however, belongs to the time a customer actually found ants in her box of makeup, per Teen Vogue. In a now-deleted Instagram video, the consumer filmed dozens of live ants scurrying across the beauty products. Allegedly, despite previous failed attempts to reach them privately, Kylie Cosmetics only contacted her about a replacement when her video went viral. Oof.
Now in August, Jenner and Kylie Cosmetics have found themselves in familiar, controversial territory once again.
Did Kylie Jenner break lab safety protocols?
This is a fit Kylie Jenner's fans are not fond of. On August 3, the Kylie Cosmetics founder posted a series of Instagram photos and videos of her working inside her company's laboratory. "In the lab creating new magic for you guys... better than ever," Jenner captioned the carousel, featuring shots of her perusing and mixing colors in measuring cups. Immediately, followers noticed Jenner's lack of lab-appropriate attire. Although the beauty mogul donned a lab coat, she was missing other seeming essentials like gloves and a hairnet. 
"Cant wait for this to break my skin out in hives," one critical follower commented on Jenner's post. "No gloves, lab coat open, phones, health and safety would go bananas," another mused. Other followers were skeptical about Jenner's actual involvement in the beauty products' production (her video showing her mixing chemicals also revealed inch-long faux nails and heavy rings). "The actual scientist whose lab coat you have on standing right out of frame," one such fan quipped.
Generally in any laboratory setting, one is expected to wear such protective attire as gloves, eye shields, and lab coats, per Lab Pro. Additionally, jewelry and synthetic nails are best avoided, especially as the latter is comprised of extremely flammable polymers. However, sources have insisted to Page Six that Jenner was not on the actual production floor, with her simply there to conceptualize colors for products.