Kevin Hart Had To Conquer His Biggest Fear While Filming Jumanji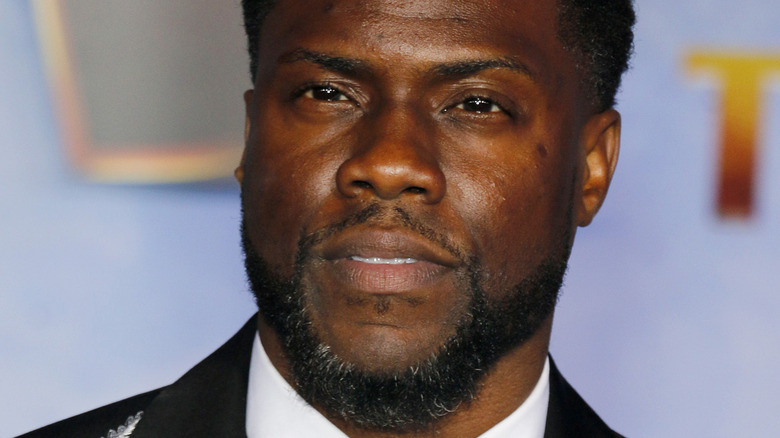 Tinseltown/Shutterstock
Comedian and actor Kevin Hart is a courageous performer, but that doesn't mean he's without his fears. Several times in the past, Hart's phobia of animals has been displayed during his various TV appearances. While he was on a 2018 episode of the MTV reality series, "Ridiculousness," Hart and fellow hosts watched a video with an ostrich rapidly chasing after a bike rider. Hart then stated that this scenario is "a real fear of [his]."
This was also brought up that same month when Hart and animal expert Robert Irwin were both guests on "The Tonight Show Starring Jimmy Fallon." Irwin brought along numerous animals for the interview, including a baby ostrich. When Irwin welcomed this animal on the "Tonight Show" set, Hart quickly made his way over to the other side of Fallon's desk in order to steer clear of the ostrich. 
"I don't need to pet it. I can see it, that's cool," Hart said as he kept his distance. Irwin then explained that, in addition to possessing an impressive speed, ostriches have legs that are so strong "they can easily kill a lion." "You can put that one back," Hart laughingly said in response. As he worked on the "Jumanji" franchise films, the father of four had to face his fear of different animal species that were present on set.
Kevin Hart had to deal with many bugs on the Jumanji set
A couple of recent blockbuster films Kevin Hart has starred in required the performer to face his worries related to insects. Hart and his co-stars filmed the first "Jumanji" reboot, "Jumanji: Wecome to the Jungle," in Hawaii. As noted by E! News, there were many insects present on set. Dwayne Johnson, who also starred in the movie, took this opportunity to tease Hart and "even threw a fake poisonous spider" at him at one point, the outlet revealed. 
Hart first addressed these pranks from Johnson while visiting "Good Morning America" in 2017. "DJ plays way too much," Hart said, per the Toronto Sun. "I don't like insects, I don't like animals." When he stopped by "The Ellen DeGeneres Show" in 2019 to promote "Jumanji: The Next Level," Johnson spoke of Hart's phobia, explaining, "Kevin is really terrified, I mean terrified, of animals. Camels, insects, butterflies, you name it." 
Actually, during a 2019 ET Canada interview with Johnson to discuss this second "Jumanji" film, Hart became anxious and got up out of his seat to avoid a butterfly that was flying nearby. The dynamic duo recently teamed up for another film that has given Hart a chance to have a more enjoyable experience with animals.
Kevin Hart is embracing animals in his latest project
Kevin Hart may have shown some fear toward onset animals in the past, but his most recent role is revealing the soft spot he has for dogs. Hart and Dwayne Johnson provide the voices for lead characters in "DC League of Super-Pets," with both playing animated dogs in the film. To promote the movie, the co-stars held some puppies in an Instagram video that was posted by Johnson on July 20. 
These dogs were from the Best Friends Animal Society, and Hart and Johnson urged viewers to comment why they would make a great owner for one of the puppies. "If you think this puppy couldn't be any cuter, and you think that he would make the Ace to your Batman, comment below," Hart said. "Kevin and I just might make that dream come true," Johnson added. On July 27, Johnson updated on social media that he'd surprised a family by giving them one of the dogs at a Los Angeles showing of "DC League of Super-Pets." The actor also shared that he and Hart joined forces with the Best Friends Animal Society in order to support the "tremendous work" they do to help animals throughout the country. This sweet gesture to benefit animals in need is hopefully a sign that Hart's animal fears could be fading!