Kevin Hart's Tragic Real-Life Story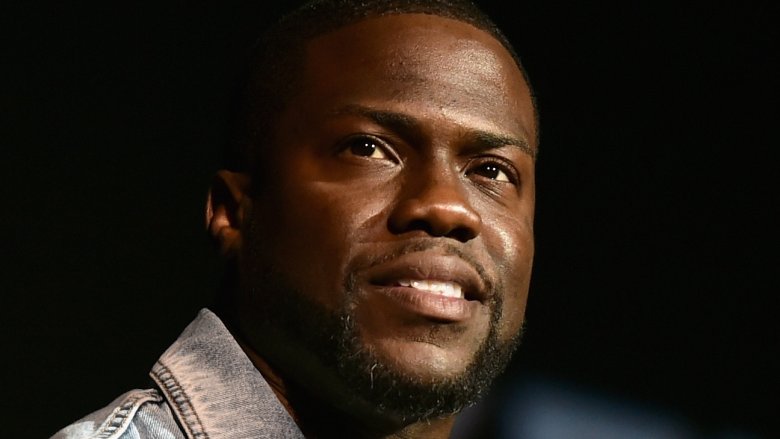 Alberto E. Rodriguez/Getty Images
We may receive a commission on purchases made from links.
Kevin Hart was able to transition from being a budding stand-up comedian to starring in numerous box office hits, like 2017's Jumanji: Welcome to the Jungle. We can always count on him for his comedic one-liners and his outrageous antics, like the time he flubbed his post-Super Bowl LII interview (via SB Nation), drunkenly dropping an F-bomb on live television. Iconic. Try searching for a picture of him without an infectious grin on his face and you're likely to come up empty. That's because this movie star radiates happiness and positivity, but behind the scenes, Hart's real life has been shrouded in tragedy. His upbringing was far from ideal, and it was a severely bumpy road as he made his way to becoming one of the world's highest-paid comedians.
The husband and devoted father has a knack for retelling his childhood memories with fondness and humor, but Kevin Hart's tragic real-life story will break your heart.
Kevin Hart's dad was addicted to 'heroin, coke, crack, you name it'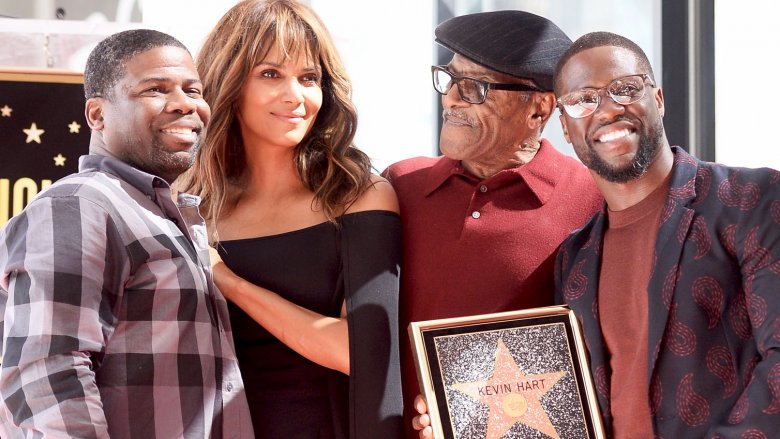 Matt Winkelmeyer/Getty Images
Kevin Hart tailored his award-winning formula for stand-up performances by focusing on topics that centered around his dysfunctional upbringing — in particular, his experience growing up with his father, Henry (pictured, second from right), who was addicted to drugs. Although his dad's addiction proved to provide belly-aching laughs for Hart's legion of fans, away from the stage, the funnyman admitted that his dad's struggles severely affected their family.
"Heroin, coke, crack, you name it, he did it," the comedian told Howard Stern (via People). "Nothing else mattered [to him]." The silver lining? "If my dad hadn't been around and didn't do drugs, I may be handling my success differently," Hart continued. "I may be on drugs, I may be searching for something."
After a long and tumultuous struggle, Hart and his brother, Robert (pictured, left), got their dad into rehab, and their father eventually "met an amazing woman" who has "helped him stay clean." Hart told Stern, "My dad's fine now ... I never lost touch, that's my dad. I don't give a s**t about his mistakes." In 2016, Hart invited his dad to his Hollywood Walk of Fame ceremony. His father beamed proudly, albeit looking a bit distracted by actress Halle Berry. (Hey, can you blame him?)
From selling shoes to living his dream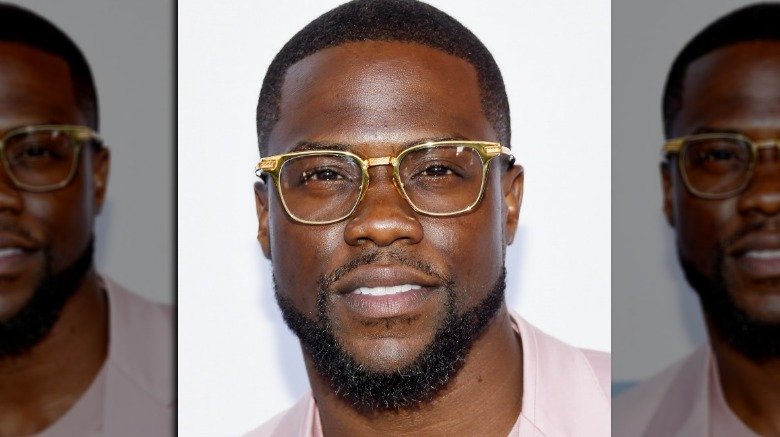 Mike Coppola/Getty Images
After graduating from high school, the Ride Along star set his sights on furthering his education. According to The Mind of Marvin blog, Kevin Hart "briefly attended Temple University and the Community College of Philadelphia," but his educational goals didn't pan out as he expected. "Anytime you fail a pop quiz in community college ... education might not be the thing for you," the funnyman told the blog. "I couldn't go to school and help provide so I got a job to help out my mom."
After dropping out of college, the Philadelphia native joined the workforce and got hired as a shoe salesman in a sneaker store. Even though he enjoyed his job, making people laugh was always his one true love. Hart finally took the advice of his friends and began doing stand-up comedy at local amateur nights. As we all know, he eventually kissed the sneaker store goodbye.
Kevin Hart was hated on in the City of Brotherly Love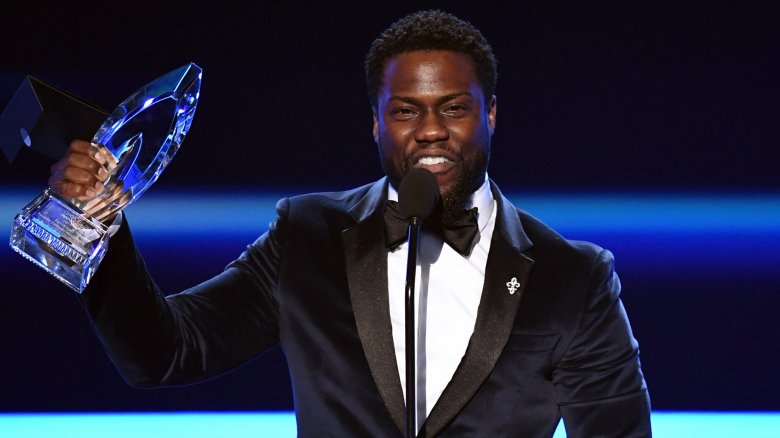 Kevin Winter/Getty Image
Kevin Hart had to struggle to make his way to the top, and he certainly bombed a few times along the way. During his early days on the comedy circuit, he was greeted by disgruntled patrons who weren't feeling his shtick, and they weren't afraid to show their disapproval. According to The Mind of Marvin blog, Hart's own hometown gave it to him the worst. "People have thrown buffalo wings at me at one point," he said. "I remember one time I got hit in the head with a Lemonhead candy because this guy was so mad at my jokes." Jeez, that's gotta hurt.
Fortunately, what doesn't soil your clothes only makes you stronger, and Hart was not easily broken. Aren't you glad he didn't let the buffet of food thrown at him deter him from bringing his dreams to fruition?
Hart came from a 'f***ed up situation'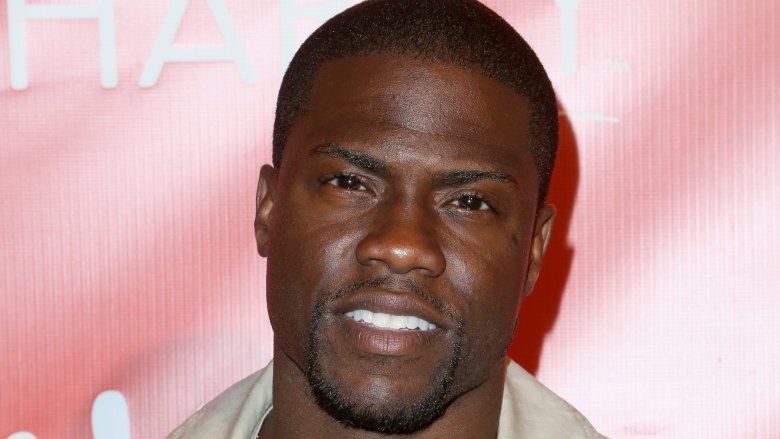 Chelsea Lauren/Getty Images
Growing up in a gritty section of Philadelphia wasn't easy. Since Kevin Hart's father spent most of his son's formative years in and out of jail, the comedian was raised by a single mom. Naturally, his dad's drug addiction made it difficult for him to be active in Hart's life. Don't get us wrong, his father came around when he could, but he wasn't always lucidly present, like the time Hart claimed he dropped him off at the wrong school, which later resulted in Hart's mom limiting his dad's visits.
"We come from a f***ed up situation," his brother, Robert, told Variety. "We come from the worst living conditions." While Kevin Hart has praised his mom for providing him with a solid foundation, he's grateful for his dad, too, but in a more unique way. While chatting with Howard Stern (via People), he said, "The way I look at it now, I'm such a great father because I don't want to make the mistakes that my dad made."
A crime committed by Kevin Hart's own flesh and blood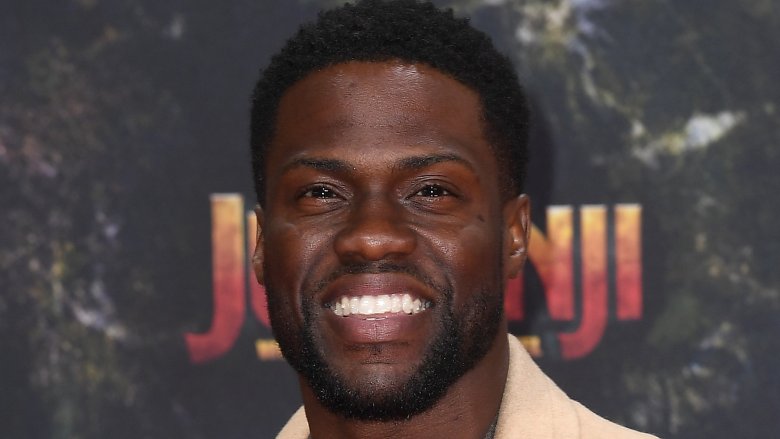 Matthias Nareyek/Getty Images
To further expand his already bustling empire, Kevin Hart released his first book, I Can't Make This Up: Life Lessons, in 2017. It gave fans an even deeper glimpse into his less than idyllic childhood. In one passage (via Variety), Hart recalled how his dad allegedly "broke into his mom's house to steal money." Another alleged incident entailed his father robbing Hart's brother's barbershop and crashing his car. "Seeing the stuff firsthand. Seeing the reality behind drugs and addiction, and what it can really do to a person, that's why I don't do drugs," Hart told Variety. "I learned what I shouldn't be doing from what my dad did."
Hart's brother wasn't the only alleged victim of their troubled father. During an interview with Howard Stern (via Essence magazine), the Central Intelligence star accused his father of stealing $20 from him to purchase drugs, but do you think he unleashed his fury on his dad, à la a real-life Grudge Match? Not a chance. "I choose to go positive instead of negative a lot and because of that, my relationship with my dad is amazing now!" Hart said on The Late Show with Stephen Colbert (via Entertainment Tonight). "And my dad understands how I feel and how I look at things, and now my dad is focusing on being the best grandparent that he possibly can."
Hart's mom hid her cancer diagnosis from him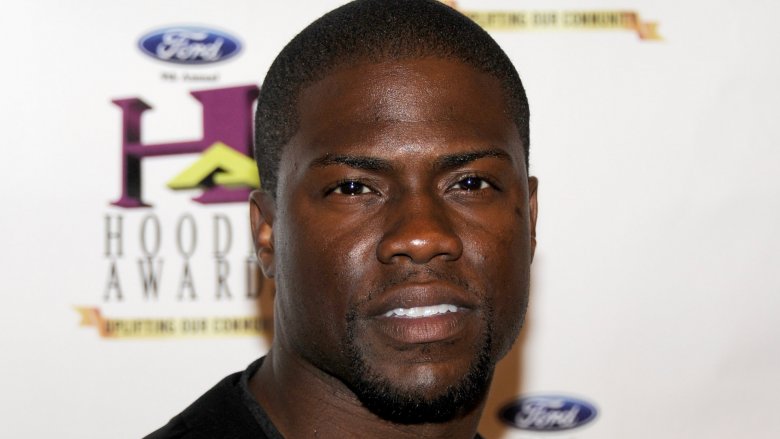 Ethan Miller/Getty Images
After leaving his job as a shoe salesman, Kevin Hart decided to hit up the local comedy clubs to perfect his stand-up routine, but who would cover his bills? His mom, Nancy Hart, that's who. Variety revealed "his mother agreed to pay his rent for a year as he worked to get noticed." Although his mom supported his aspirations, the entertainer said her religious beliefs prevented her from ever seeing him perform live. "There was going to be drinking and alcohol and smoking stuff. She didn't want to go around that mess. She didn't like to be in environments that were not conducive to her spiritual growth," Hart said.
Sadly, his mom was diagnosed with terminal cancer in 2007, just as he snagged a role in the rom-com film, Fool's Gold. She made the tough decision to keep her diagnosis a secret from him, worried that if he knew the truth, it would derail his career. It wasn't until a few weeks before she passed that Hart found out how ill she really was. 
While cleaning out her home following her death, there was no doubt in his mind that she was his number one fan. Hart stumbled upon "a box filled with newspaper and magazine clippings of his interviews" and videos of his recorded television and movie appearances. "Anything I'd ever done, she had it," he said. "She never missed anything."
This shorty used humor to get out of tough situations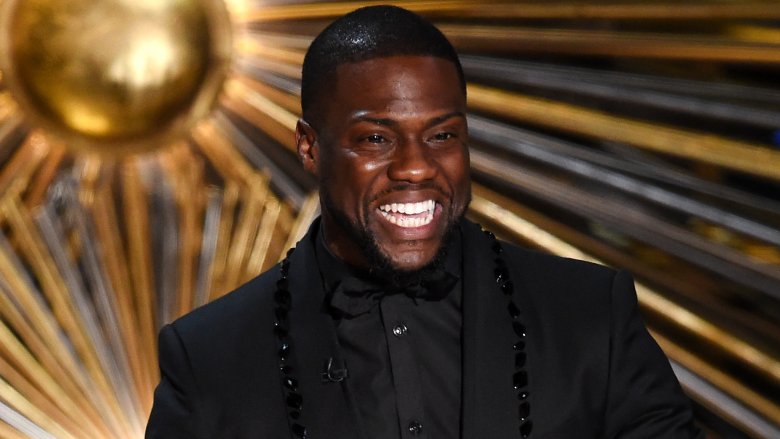 Kevin Winter/Getty Images
Growing up in a gritty Philadelphia neighborhood meant danger was constantly lurking, but Kevin Hart used his humor as a way to get by. "Nobody wants to fight the funny guy," he told CBS' Sunday Morning. "Nobody wants to mess with the funny guy. Everybody wants to be around the funny guy. And that's what I was."
Besides being funny, another thing Hart is known for is his short stature. The comedian, who reportedly comes in at 5 feet 4 four inches (or 5 feet 2 inches, depending on who you ask), has been the butt of jokes in various movies due to his bite-sized build, but he doesn't seem to mind. He learned from an early age that it was best to poke fun at himself in order to control his own narrative. "Anything that the person thinks that they can say, I disarm you of it by saying it myself," he told Oprah Prime (via HuffingPost).
We're glad he found a way to protect himself and keep his confidence intact at the same time. If Hart had let the haters get to him, who knows how his life would've turned out. 
Kevin Hart was a witness to violence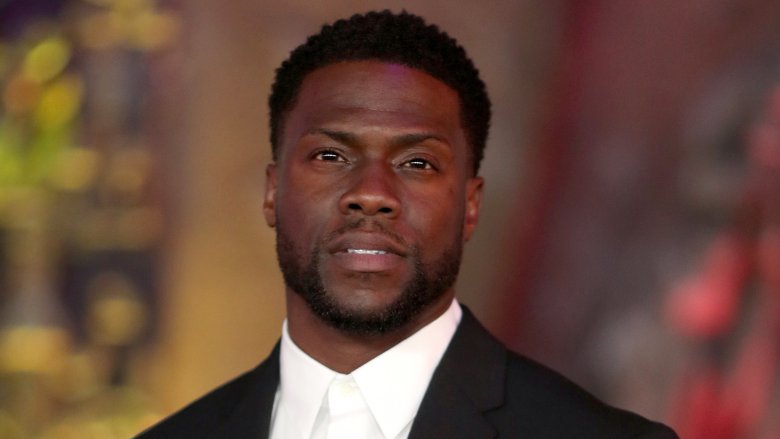 Christopher Polk/Getty Images
Comedians are known to push people's buttons and teeter the fine line toward non-politically correct topics, and Kevin Hart is no different. He might turn a blind eye to politics, but he made some surprising comments in an interview with Seattle PI when he stated: "I believe in the whole anti-bullying thing but, as a kid, I think you need a little bit of drama." He went on to say it was important for kids to "go through something; you need to build character," and he justified his stance by retelling a violent incident from his past.
"I saw my dad lose a fight when he was trying to show me what to do!" Hart said. "He got into it with this guy and me and my brother were in the car. He said, 'You handle yourselves at all times; you be a man!'" He recalled his father getting out of his vehicle and then: "This guy hit my dad with two of the hardest punches I've ever seen in my life." 
We can't imagine how scary that must've been, but we have to hand it to Hart. He once again found a way to turn that negative movement into a (hilarious) positive. "So the lesson I heard here was, 'Duck and get outta the way if it's coming!'" he joked.
What's for dinner? Plenty of beef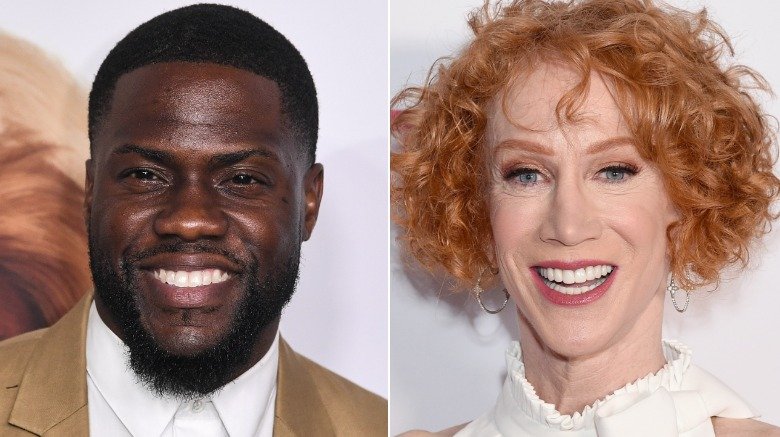 James Gourley, Gregg Deguire/Getty Images
Kevin Hart has opened up about his tragic real-life story in his stand-up, from his troubled childhood to his infidelities, but one topic he won't touch is politics. "When you jump into that political realm you're alienating some of your audience," he told Variety. Perhaps there's no winning in that domain, because by avoiding party lines, Hart has also ruffled feathers. Fellow comedian Kathy Griffin (pictured, right) called Hart out for not calling out Donald Trump. "I personally think that's a (expletive) move because he's a black man," she told USA Today. "But I guess he's selling more tickets than I ever will." 
Hart has dined on plenty of beef with other peers, too. Next Friday star Mike Epps called him "overrated," among other things. In return, Hart labeled Epps a "sad individual." Okay, guys, can't we all just get along and focus on being funny? K, thanks.
Speaking of topics that are no laughing matter: Hart stepped down from hosting the 2019 Oscars after homophobic tweets from his past resurfaced, noting that he didn't want to be a "distraction" on the big night. Is missing the Academy Awards a tragedy? No, but Hart is clearly hoping to overcome this negative part of his history. "I'm sorry that I hurt people," he tweeted. "I am evolving and want to continue to do so. My goal is to bring people together not tear us apart."
A terrifying car accident nearly changed everything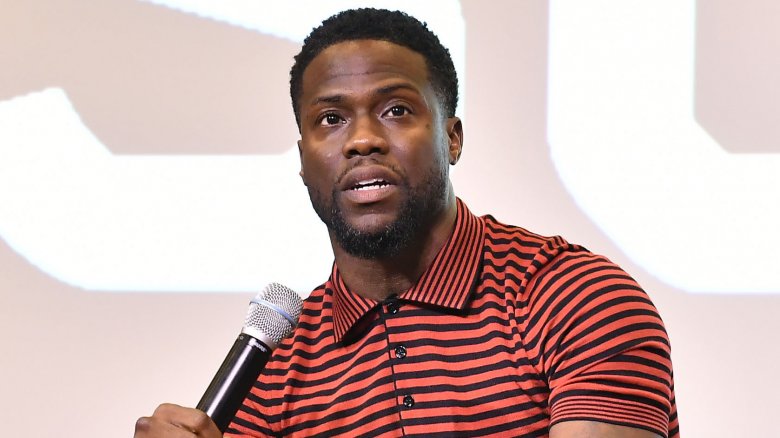 Paras Griffin/Getty Images
Kevin Hart purchased a 1970 Plymouth Barracuda for his 40th birthday, which was completely totaled in a tragic car accident about two months later. TMZ reports that the comedian was riding in the passenger seat of the car, with personal trainer Rebecca Broxterman in the back seat and her fiancé, Jared Black, behind the wheel. Black reportedly lost control of the vehicle while driving in Malibu Hills, Calif. in the early morning hours of Sept. 1, 2019, sending it crashing through a fence and down "a gully about 10 feet off the road."
With the roof of the car completely crushed, Hart was miraculously able to escape from the wreckage. The media outlet notes that "a member of his security team showed up in an SUV and picked him up." Hart was taken to his home before being transported to a hospital to undergo back surgery. TMZ later caught up with Hart's wife, Eniko Parrish, outside the hospital, where she revealed he was thankfully "going to be just fine." 
Broxterman was "pinned in the backseat," but didn't sustain major injuries. Also stuck inside the vehicle, Black was reportedly "seriously injured" and airlifted to UCLA Medical Center (via TMZ). As of this writing, cops are supposedly investigating whether speed played a role in the incident after a witness claimed "they heard the tires screeching" prior to the sound of the vehicle crashing through the fence.
Here's to Hart and his friends making speedy recoveries!