The Double Life Chris Farley Secretly Lived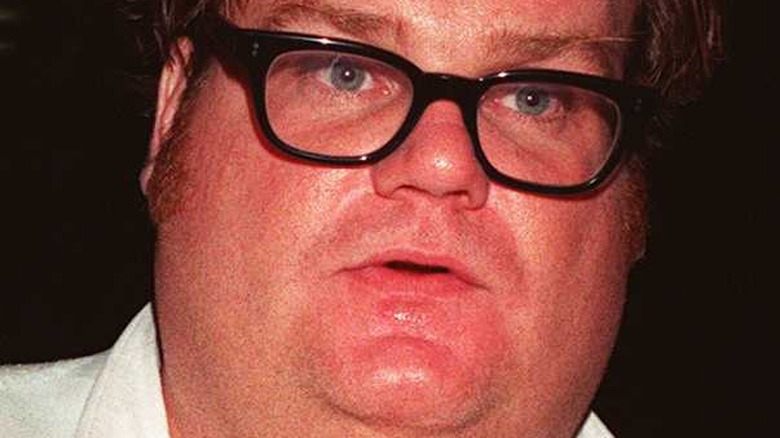 Denny Keeler/Getty Images
Comedian Chris Farley skyrocketed to fame in the early '90s as a cast member on "Saturday Night Live." His most memorable roles include motivational speaker Matt Foley, who lives in a van down by the river and "doesn't amount to jack squat!" Of course, there was his character as "Da Bears" fan, and also hosting a fake "The Chris Farley Show," where he nervously stuttered through interviews with famous people like Paul McCartney. His time on "SNL," alongside David Spade, Mike Myers, Adam Sandler, and Rob Schneider easily translated to movie roles, where he used his incredible comedic timing and physicality in classic movies like "Tommy Boy," "Black Sheep," and "Beverly Hills Ninja."
But all that talent disappeared in December 1997 when Farley was found dead in his apartment at age 33 of an opiate and cocaine overdose, per the Chicago Tribune. The outlet also reported at the time that it was this very same cocktail of drugs that killed another famous "SNL" cast member years prior, John Belushi. Any secrets Farley kept, he took with him to the grave, but it was at his funeral that some of his friends and colleagues learned he lived a very private and secret double life that none of them knew about.
Norm MacDonald learned of Chris Farley's secret life only at his funeral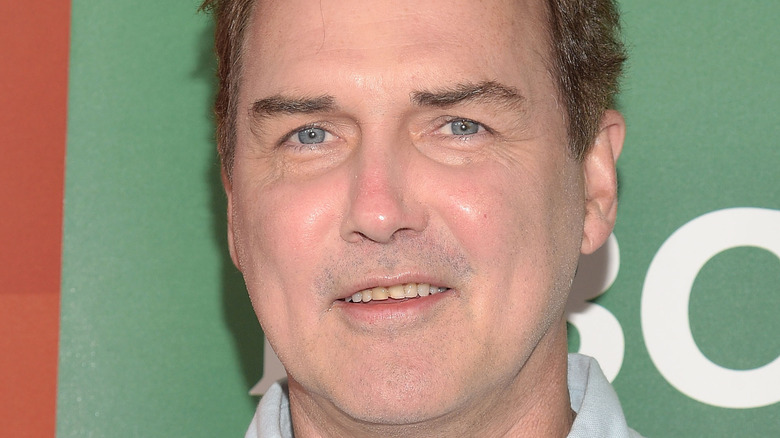 Jason Kempin/Getty Images
One of Chris Farley's castmates on "SNL" was Canadian comedy legend Norm MacDonald, who hosted "Weekend Update" on the show. After Farley died, MacDonald shared what he learned about his friend only after his passing.
Speaking with Howard Stern on the shock jock's SiriusXM radio show, he revealed, "When we went to the funeral, we were shocked that he had the second life in Madison, Wisconsin where he went to soup kitchens ... and so he had the second life where he [was in] service to God." MacDonald also revealed in that interview that Farley's famous motivational speaker character on "SNL" was named after his real friend Matt Foley, who was a priest. MacDonald himself tragically died in 2021 after being diagnosed with cancer. 
In 2019, A&E broadcast a documentary about Farley called "Anything For a Laugh," where fellow cast members revealed what they knew about his second life in philanthropy. Relaying that Farley would visit nursing homes and volunteer at soup kitchens while living in NYC, castmate Al Franken, who later became a senator, revealed he organized a visit between Farley and a sick young boy in a hospital pediatric ward that was very emotional. Franken revealed the encounter at the hospital, and visiting other children there simply to make them laugh, resulted in the two men crying in an elevator as they left, per Boston Globe. 
There is one secret Chris Farley shared with Norm Macdonald
Denny Keeler/Getty Images
In the early '90s, one of the most popular recurring skits on "Saturday Night Live" was "It's Pat," a head-scratching gag about an androgynous character named Pat, played by Julia Sweeney. Every time the skit played, fans and audience members wondered if Pat might reveal their gender (this was before the days of widespread understanding that gender exists on a spectrum and isn't binary). But in 2016, when Norm MacDonald, Adam Sandler, David Space, and Rob Schneider were guests on "Conan" with Conan O'Brien, MacDonald shared a rare glimpse into the personality of their late friend and colleague, Chris Farley.
When MacDonald first joined "SNL," he says Farley and he quickly made friends when Farley pulled him aside to share top-secret classified info about Pat. "He secreted me into this room and he locked it and made sure it wasn't bugged," MacDonald recounted, per Entertainment Weekly. "He said, 'I got a secret to tell you.' I was very honored to have this. And then his secret was — he said, 'This doesn't go past these walls. Pat is a woman!'"
Wherever Farley and MacDonald are now, we hope they're arm-in-arm, still giggling over their insider joke.
If you or anyone you know is struggling with addiction issues, help is available. Visit theSubstance Abuse and Mental Health Services Administration website or contact SAMHSA's National Helpline at 1-800-662-HELP (4357).