The Truth About Kehlani's Relationship With 070 Shake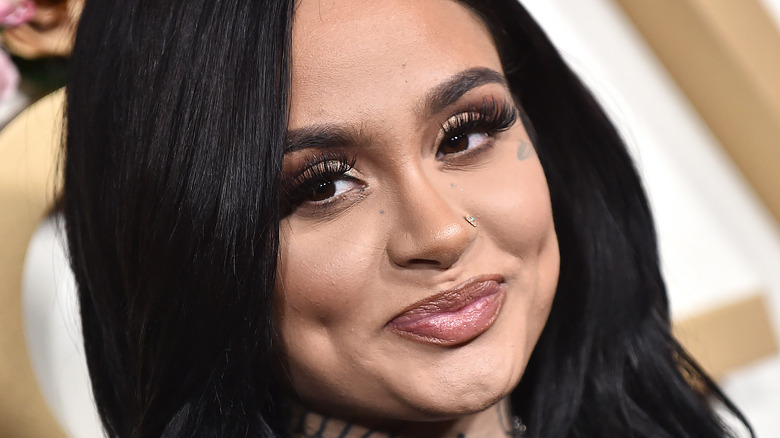 DFree/Shutterstock
Kehlani has been a proud member of the LGBTQ+ community since the early days of their stardom. The R&B musician, who uses the pronouns she/they, addressed her sexuality in 2018, clarifying she identified as queer, E! News reported. Throughout their career, Kehlani has made headlines not only for their powerful songs, but also for their personal life and relationship history, which has included both straight and queer folks. In 2016, Kehlani made headlines when she was linked to NBA star Kyrie Irving in 2016, HipHopEarly noted.
In 2018, Kehlani also caused quite a stir when she announced she was pregnant, as she hadn't been publicly linked to anyone at the time. Speaking on Nicki Minaj's "Queen Radio" (via Essence), Kehlani revealed that the father was her guitarist Javie Young-White, whom she described as bi. Kehlani gave birth to Adeya in March 2019. Later that year, the "It Was Good Until It Wasn't" singer moved on to rapper YG, who has caught flak for past homophobic remarks — for which he issued a Twitter apology in 2020. Their relationship was short-lived, though, with Kehlani choosing to go their own way after a few cheating incidents, she said on "The Breakfast Club" (via Rap Up).
In April 2021, Kahlani came out as lesbian. "I'm gay, gay, gay," she said in a now-deleted TikTok video (via Pop Crave). Kehlani has since entered a relationship with rapper 070 Shake, who has served as inspiration for much of Kehlani's recent music.
070 Shake is featured in one of Kehlani's music videos
Kehlani and 070 Shake took their relationship from the realm of friendship to the romantic in the summer of 2021. While the R&B powerhouse and the rapper prefer to keep their private life mainly out of social media, Kahlani celebrated Shake on her birthday in June. "6 years of friendship almost 1 year of love. Nothing I say in a caption could explain or compare," Kehlani captioned the Instagram post, which included a series of snaps featuring the two together. "You're one in a million Dani. I love you. My very best friend."
Kehlani also teased fans by including an engagement ring emoji between the last two sentences. Shake reacted to the sweet post by replying in the comments section. "Thank You for loving me. I adore you," she wrote. Despite keeping it on the down-low, Kehlani and Shake have expressed their love through their art. In April, Kehlani released her latest album "Blue Water Road," which includes the song "melt." Its music video features Shake prominently, with Kehlani and Shake showing off their affection through passionate kisses and big laughs.
Unlike her previous work, Kehlani's third studio album explores gay love more deeply, particularly relationships between women. "I wonder if my label has considered the fact that I kind of kicked 75% of my male audience away," Kehlani told The Face in April. She doesn't care. "It's my first fully comfortable and out piece of music," she said.
070 Shake is Kehlani's first publicly known girlfriend
Before making their relationship with 070 Shake official, Kehlani hadn't been publicly linked to any women. However, the singer had previously revealed she felt attraction for the same sex. "I started dating women before I ever dated men," she said on "Queen Radio" in 2018 (via Essence). But Kehlani had to explore their sexual fluidity for years before coming to the conclusion that she identifies as gay. "Wanna know what's new about me?" she said in an April 2021 Instagram Live video (via NME). "I finally know I'm a lesbian."
In a 2018 Instagram Live, Kehlani had previously disclosed the "lesbian" label didn't quite fit her. Now she knows, however, that she was living in denial. That closet, Kehlani joked in the since-deleted TikTok video (via Pop Crave), was rather see-through to everybody else. "I'm like, 'Guys, I finally know that I'm gay. Like, I'm gay gay,' and they're like, 'We know. Duh, stupid. Duh," she said in the clip.
Kehlani came to the realization before she started dating Shake. In April, she told The Face she and Shake were celebrating their 7-month anniversary that month. That puts the start of their romance in July 2021, three months after Kehlani came out. Shake has also mused over her own sexuality, telling Pitchfork in 2018, "I don't really identify myself as queer or gay or anything. I just like girls." Regardless of labels, Kehlani and Shake make a powerful — and uber talented — couple.