Who Is Julie Chrisley's First Husband, Kenneth Wayne Childress?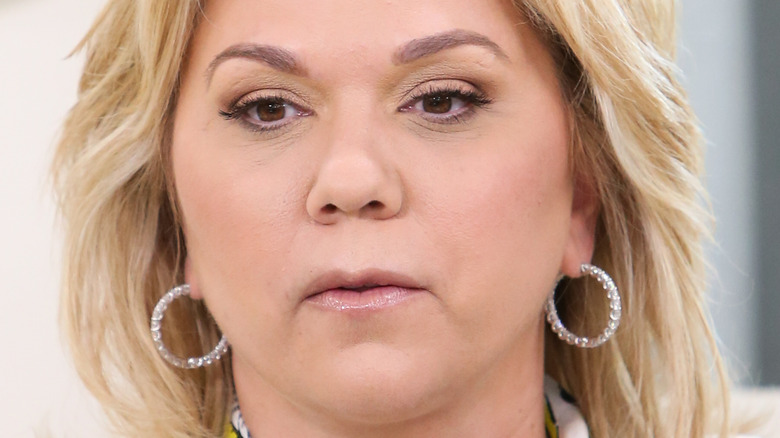 Paul Archuleta/Getty Images
Julie Chrisley and her husband, Todd Chrisley, were relatively unknown until they landed their reality show. "Chrisley Knows Best" has been on the air since 2014, but it feels like we have known the Chrisley clan for far longer. While Todd and Julie tend to be the show's main stars, their kids — Savannah Chrisley, Chase Chrisley, and Grayson Chrisley — have also gained plenty of notoriety from the show. There's also Todd's daughter from a previous marriage, Lindsi Chrisley, who exited the series in 2017 but has continued to give fans updates via social media.
Thanks to their playful banter, Julie and Todd's marriage is one of the highlights of "Chrisley Knows Best." The couple's relationship has withstood the test of time as they wed back in 1996, according to Us Weekly. On an episode of the "Chrisley Confessions" podcast, Todd recalled the moment he first laid eyes on Julie at a party. "She walked into my friend's house, and it was during the winter months, and I remember when she walked in, and she smiled, I thought, 'She has got the most beautiful smile I have ever seen,'" he shared, via Insider, adding that Julie really "touched" his soul.
The couple has weathered some tough storms during their marriage, including Julie's battle with breast cancer. After undergoing a double mastectomy, Julie told People that the moment after surgery when Todd helped her shower was a game changer. "I truly believe that that moment took our relationship to a whole other level because he never flinched," she said. After all this, can you believe Julie was actually married before Todd?
Julie Chrisley was first married to Kenneth Wayne Childress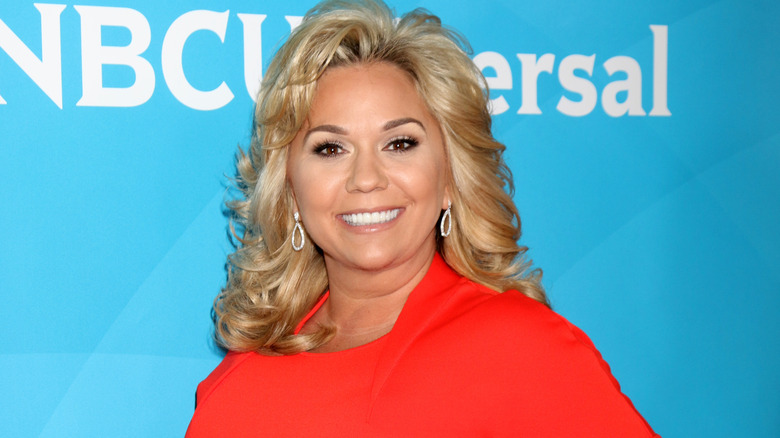 Kathy Hutchins/Shutterstock
It's hard to imagine a time when Julie Chrisley and husband Todd Chrisley were not together — but way back when, there was. Long before Julie reached superstar status, her life was totally different. According to Life & Style magazine, Julie got married when she was only 18 years old. The outlet reports that in 1991, the reality star wed Kenneth Wayne Childress in South Carolina. They ended up divorcing a few years later, although the exact details of the split aren't known. Julie's former sister-in-law told Radar Online that "Kenny and Julie were high school sweethearts," and she also accused Julie of still being with Childress when she began dating Todd.
Childress had a far different career than Julie's second husband; he worked as a pipe fitter in the construction industry. Julie and her first husband did not have any children together. According to Childress' obituary, he died in 2012, suggesting his death was related to heart complications. The obituary also confirms he died in his home state of South Carolina. It does not appear as though Childress had children of his own, but the obituary lists several other family members, including nieces and nephews.
Todd and Julie Chrisley are facing prison time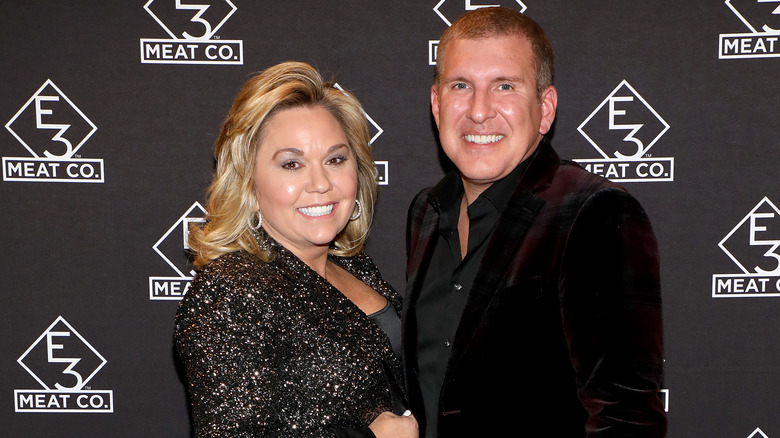 Danielle Del Valle/Getty Images
Todd Chrisley and Julie Chrisley have found themselves on the wrong side of the headlines in recent years. In 2019, USA Today reported the couple was in trouble after a federal court accused them of tax evasion. Todd blamed an employee for the legal woes in an Instagram post, claiming he and Julie were innocent. In June 2022, however, a jury found the couple guilty of bank fraud and tax evasion — with Julie also found guilty of wire fraud and obstruction of justice — after they defrauded small banks out of $30 million, per The Washington Post. The charges could earn them up to 30 years behind bars; a sentencing date is set for Oct. 6.
Todd and Julie talked about the legal woes during a June 29, 2022 episode of their "Chrisley Confessions" podcast. On it, Todd revealed the public drama brought them closer. "I feel like my marriage — for me personally, internally — is the strongest that I've felt it's ever been," he shared. "For the first time in my life, I feel like my marriage is feeding a part of me that I didn't even know was starving." Julie echoed these same sentiments. "It's been you and me against the world I feel like. I think for both of us, this situation, our season of life right now, has shown us that it's not about just what you and I and our plan is," Julie added, saying it is "God's plan." 
For better or worse, much has changed in Julie's life since her marriage to Kenneth Wayne Childress.