The Tragic Death Of Queen Elizabeth's Childhood Friend, Lady Myra Butter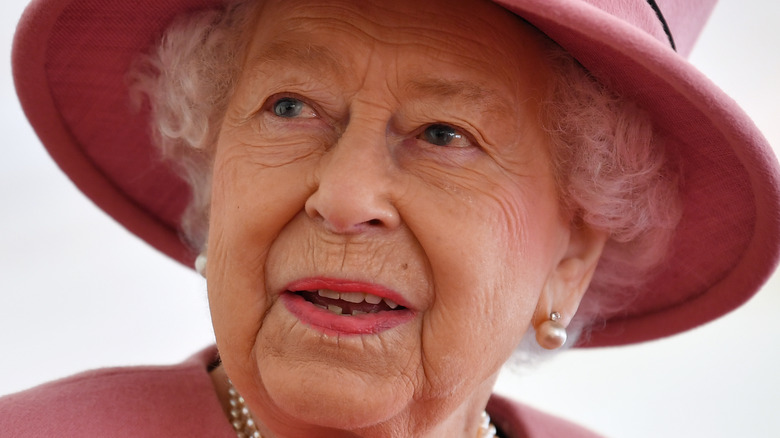 Wpa Pool/Getty Images
Queen Elizabeth has had a difficult few years. It hasn't been that long since the death of her husband, Prince Philip, in April 2021 — only a month after Prince Harry and Meghan Markle gave their explosive Oprah interview. She had to strip her second son, Prince Andrew the Duke of York — once rumored to be her favorite — of his title in January because of allegations of sexual assault tied to his friendship with Jeffrey Epstein. She became ill with COVID-19 in February, and recovered, but has had to miss several appearances, including part of her Jubilee Celebrations. In addition, she lost two of her ladies-in-waiting in December 2021, per Us Weekly: Diana Maxwell, Lady Farnham, died at age 90, and Fortune FitzRoy, the Duchess of Grafton, was 101. Now, People reports the death of the Queen's close childhood friend, Lady Myra Butter, on July 29. She was 97 years old.
Lady Butter's parents were Sir Harold and Lady Zia Wernher, descendants of the Grand Duke Michael Mikhailovich of Russia. She was related to Russia's Tsar Nicholas I, and to the Russian poet Alexander Pushkin, according to Newsweek. Vladimir Putin decreed that she be awarded a Pushkin medal in 2018 for her work uniting Scottish and Russian school children, but she returned the medal when Putin began his attack on Ukraine.
As for Lady Butter and Queen Elizabeth, they began their friendship when they were young and spent much of their lives in each other's company.
Lady Butter loved the queen's sense of humor
Queen Elizabeth and Lady Myra Butter knew each other from childhood, when they were both Buckingham Palace's group of Girl Guides, which is the U.K.'s version of Girl Scouts. Elizabeth was 11 and Lady Butter 12 at the time it was founded in 1937. Lady Butter told The Telegraph in 2021, "In the Guides and the Brownies it was a real mixture, which was really nice, some friends, friends of [the family], and all the people in the royal mews, their children, they were Brownies and Guides. Just a normal sort of pack really."
Lady Butter was also cousin to Prince Philip, and he, along with Elizabeth and Princess Margaret, attended Lady Myra's 1946 wedding to Major David Butter, per People. Lady Butter was complimentary of the queen, noting to The Telegraph her pal had never lost her "very good sense of humor." And when Philip died, she confided to ITV (via The Sun) how the loss was "incalculable," for the queen.
As news of her death spread, tributes poured in. Royal biographer Jane Dismore tweeted, "Lady Butter – Myra, as she insisted – was lovely & a great help when I was researching my book." Another well-wisher said, "Oh she was a wonderful lady, so gracious, amusing, didn't suffer fools and so kind to a teenager who met her with his grandmother." Yet another spoke for many when she tweeted, "This would have to be one of the saddest parts of old age.... [Losing] everyone." At least they've all lived wonderfully long lives.