Kim Kardashian's Claim About Her Bone Density Has Social Media Dragging Her Left And Right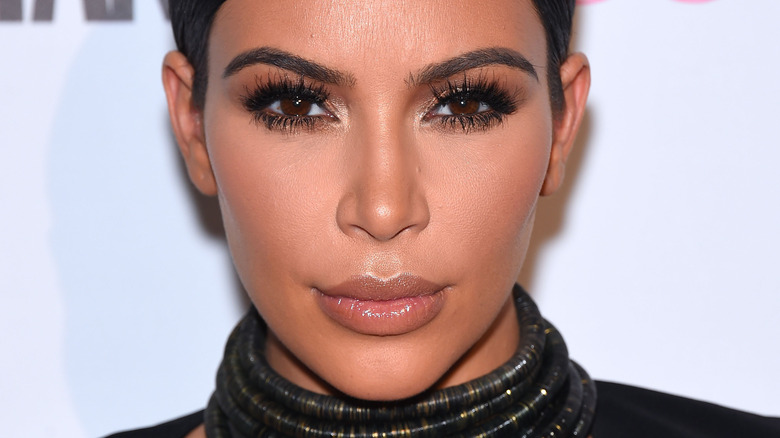 DFree/Shutterstock
Kim Kardashian famously drew public controversy in May after revealing on the Met Gala red carpet how she slimmed down for that evening's dress. Determined to wear the Marilyn Monroe gown the icon donned to sing "Happy Birthday" to John F. Kennedy in 1962, Kardashian told La La Anthony that she dropped 16 pounds in three weeks. Some perceived Kardashian's comment as reckless, with many unconvinced the mother-of-four shed the weight responsibly in that brief time frame. As one Twitter user wrote, "I know it's not the first or the last time kim kardashian will talk about weight loss & body image in horrible ways but... there's no way to do that in any healthy way."
Kardashian insisted she did just that, however, detailing to Vogue her regimen of wearing a sauna suit "twice a day," running on the treadmill, and cutting out "all sugar and all carbs." She also attempted some damage control by later telling The New York Times, "I didn't do anything unhealthy," explaining that the process felt similar to method actors losing or gaining weight for a role. "To me, it was like, 'OK, Christian Bale can do it for a movie role and that is acceptable.' Even Renee Zellweger gained weight for a role. It's all the same to me," the SKIMS founder said. 
Now, Kardashian is making waves over comments about an entirely different facet of her body.
Kim Kardashian is flexing about bones now
Unsolicited, Kim Kardashian took to her Instagram Stories on August 3 to boast about, of all things, her bone density. Showing off a specialized body scan she had done, via Vanity Fair, Kardashian wrote alongside images of her bone scan, "YOU HEAR THAT?!?!!! MY BONES ARE STRONGER THAN 93-97% OF PEOPLE." Umm.. K? According to the scan, Kardashian also lost a good amount of body fat since May 2021, dropping from 25% to 18.8% body fat. As Vanity Fair points out, body fat percentage differs from Body Mass Index (BMI) measurements. Whereas BMI categorizes people as "underweight," "healthy," "overweight," "obese" or "morbidly obese" based on their weight and height, the former separates a body's fat content from its muscles.
The internet instantly lit up with reactions. One Reddit user pointed out, "As someone with an ED this is so triggering for some people.. why would she include all her numbers like that?!" Meanwhile, another quipped that "it's pretty easy to have low body fat when you get it all sucked out of you," implying Kardashian had undergone liposuction. One user even declared that this was "the last straw" for them, leading them to unfollow Kardashian after seeing this particular (over)share. 
Over on Twitter, one user wondered if it was time to stop giving such Kardashian news a platform, calling it "superficial and petty 'news' at best." Summarizing public opinion best, however, was one Twitter use who simply wrote, "I could not care less."