John Legend Reveals The Real Reason He Ended His Friendship With Kanye West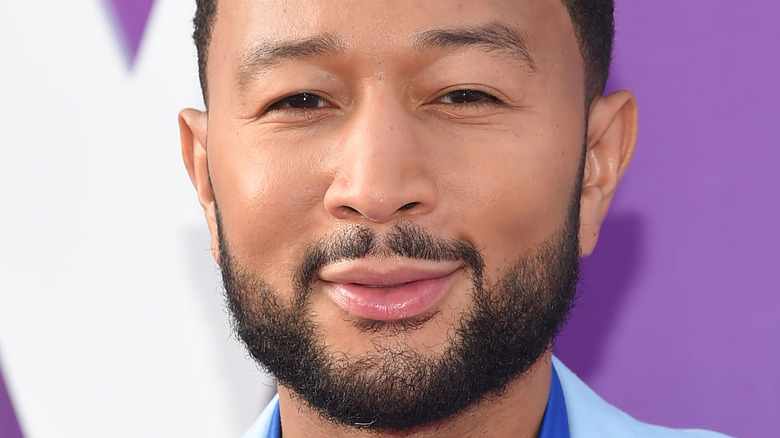 DFree/Shutterstock
John Legend has plenty to celebrate these days, as Chrissy Teigen just announced she's expecting and he revealed he's releasing his eight studio album on September 9, 2022. As Billboard reported, it will be called "Legend" and it's a big step for the singer who explained he's never used his name in an album title before because "I had to earn that." And now that he's done it, it holds a special meaning. 
"This is me saying, I'm proud of who I am, I'm confident in the work I've done, and I'm just going to declare it," he explained. It sounds like Legend sure has reached a place where he's totally sure of who he is and what he believes in and that would explain why he's revealed, without any qualms or apologies, that he had to cut one of his closest friends — Kanye "Ye" West — from his inner circle.
Legend and Ye's friendship goes back decades. As BuzzFeed noted, they met when Legend first arrived in New York after university and just so happened to move in with Ye's cousin, DeVon Harris. Harris soon introduced them and that chance encounter turned into a friendship that stretched from the professional (Ye produced Legend's 2004 debut album, "Get Lifted") to the personal (Legend performed at Ye and Kim Kardashian's wedding). However, it seems there are some things even the strongest friendships can't withstand, including opposing political views.
The real reason John Legend doesn't want to be friends with Ye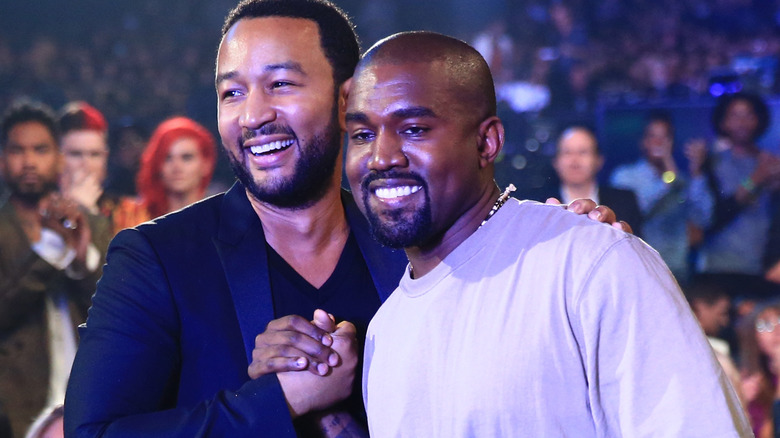 Christopher Polk/mtv1415/Getty Images
Cracks first appeared in John Legend and Kanye "Ye" West's relationship back in April 2018 when Legend texted his friend to ask him to think twice about placing his clout behind Donald Trump's presidential bid. "I hope you'll reconsider aligning yourself with Trump," he encouraged, per Vox. Ye declined, then posted the exchange to Twitter, seemingly trying to shade his friend. After that, his support of Trump only got stronger. Case in point: Once Trump was sworn in, Ye paid him a visit at the Oval Office, hugging him and even proclaiming, ​​per New York Post, "They tried to scare me to not wear this [MAGA] hat, but this hat, it gives me power, in a way."
Now, Legend has confirmed to CNN's"The Axe Files" podcast (via New York Post) that he and the rapper are no longer close like they used to be and it's all because they're on opposite sides of the political aisle. Explaining their rift, Legend said he simply couldn't support Ye's support of Trump. After all, he proudly backed Joe Biden and he even performed at Biden's inauguration. 'What's more, Legend couldn't come to terms with the fact that Ye announced he was running for president back in 2020. "He was upset that I didn't support his run for presidency of the United States of America — for understandable reasons," Legend revealed. These days, they can't seem to find common ground and so, they've drifted apart. "I think it became too much for us to sustain our friendship, honestly," Legend confessed.