How Lisa Rinna Really Got Her Signature Hairstyle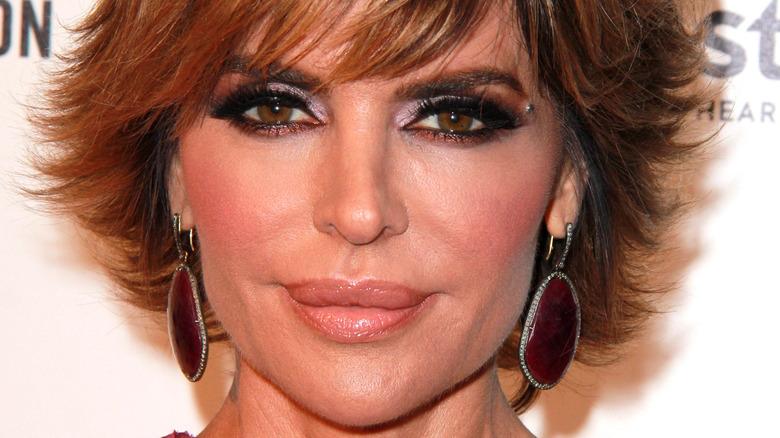 Kathy Hutchins/Shutterstock
Over the years, Lisa Rinna has become known for her classic hairstyle — a shaggy, short look with bangs swept to the side. On "The Real Housewives of Beverly Hills," the reality TV star often gets creative with her hair, frequently trading in her go-to shag for long wigs. Not everyone has been supportive of Rinna, including "RHOBH" alum Brandi Glanville, who previously insulted Rinna's hair. In fact, Glanville's criticism of Rinna's longtime shag actually led her to experiment with wigs. "They instantly make me feel better," the former soap star told People. Yup, the TV personality isn't a one-trick pony. In 2018, Rinna sported a longer hairstyle — thanks to clip-in extensions. Recently, Rinna modeled with her daughter, Delilah Belle Hamlin, matching Delilah's long locks in a series of Instagram photos for her lip product line Rinna Beauty.
In a 2019 appearance on "Watch What Happens Live," Rinna showed off her medium-length waves to Andy Cohen and viewers. A picture of Rinna's signature shaggy hairstyle was displayed side by side with her current look. A live survey asked people to vote on their preference between "Classic Rinna" and "New Rinna." The results, though close, were in favor of "New Rinna." However, Rinna disclosed that her husband "Harry Hamlin likes the old Rinna." Whether you're a fan of "Classic Rinna" or not, you can't argue that Rinna is a hair trend-setter in her own right. But what are the origins of Rinna's signature hairstyle?
Celebrity stylist Chaz Dean was responsible for Lisa Rinna's original haircut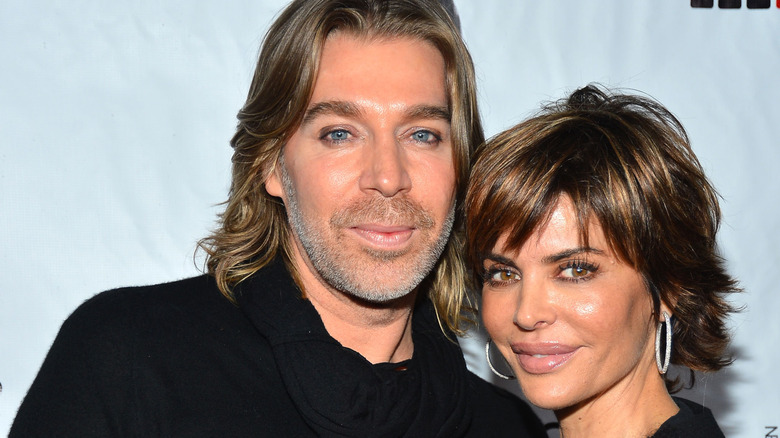 Frazer Harrison/Getty Images
On July 29, Lisa Rinna wowed fans with a twist on her iconic hairstyle, per People. Though popular New York hair stylist Sally Hershberger added some layers to her voluminous shag this time around, she isn't the first person to put the finishing touches on Rinna's legendary hair.
In an episode of the podcast "Behind the Velvet Rope," celebrity stylist Chaz Dean revealed to host David Yontef that he's the one behind Rinna's original, signature haircut. He said, "She came to me one night — her hair was long — she was like I'm thinking of cutting my hair, what would you do?" Dean offered his ideas. A week later, Rinna sought out Dean's opinion on her new hair. Dean continued, "[Rinna] asked me what I would do and then [she] went and did it." Nonetheless, Dean grabbed his scissors and gave her a shaggy hairdo. He recalled, "I'm like, sit down, and I cut it to what I said I would do. So yes, it all started there."
But things became "too close for comfort" when Rinna started dating her current husband Harry Hamlin, who had recently split from ex-wife Nicolette Sheridan. At the time, all three stars were Dean's clients. "Lisa was in my chair at the time and Nicolette walked in," Dean revealed. "And you can imagine. That was when 'Real Housewives' really started. So I lost all of them then because it was uncomfortable."
Delilah Belle Hamlin also received an iconic haircut from Chaz Dean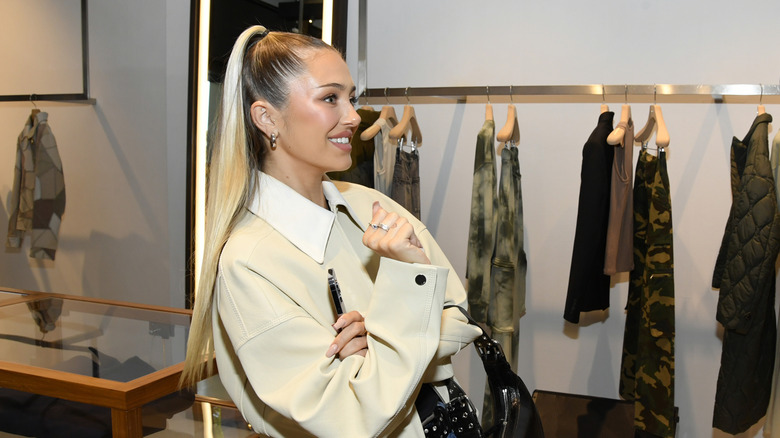 Michael Tullberg/Getty Images
On the same episode of the podcast "Behind the Velvet Rope," Chaz Dean also revealed that he once gave Lisa Rinna's daughter, model Delilah Belle Hamlin, a unique haircut. According to Dean, he received a frantic call from Harry Hamlin when his daughter was just 5 years old. Hamlin had explained that Delilah's friend cut her long hair extremely short during a playdate. Dean solved the hair crisis, telling host David Yontef, "I gave her the shaggiest shag in the world." In fact, the happy accident even sparked a trend, prompting adult women to ask for "The Delilah" at the salon.
Like mother like daughter? Not anymore, as Delilah currently doesn't flaunt a shaggy look like Rinna. She often shows off her long blonde locks on Instagram that she typically wears down or in a neat ponytail. But that isn't to say she hasn't experimented with her hair. In 2019, Delilah sported her new brown hair in a series of now deleted Instagram posts, per Bravo. The same year, a hairstylist put her shoulder-length blonde waves in a "simple, slicked back mini-bun" in a New York fashion week "getting ready" video for Elle. We'll just have to wait and see if Delilah will ever emulate her mom's signature hairdo — or, her own former shag.