What Really Happened Between Kristen Doute And Alex Menache?
Tibrina Hobson/Getty Images
During the early stages of the COVID-19 pandemic, Kristen Doute was able to find love with boyfriend Alex Menache. After dating for a few months, the former "Vanderpump Rules" star decided to come clean about the budding relationship, which came after she split from longtime boyfriend Brian Carter. "I was trying to keep it very under wraps," Doute said about Menache while appearing on the "Sheananigans" podcast in April 2020 (via Bravo's The Daily Dish). Originally, the pair was exclusive, but wanted to keep the relationship casual. "We're having a really great time, and he's kind of back and forth between his house and mine," she added.
The following month, Doute made it Instagram official with Menache when she posted a snap of them sporting matching tie-dye outfits in May 2020. Originally, the Bravolebrity struggled with deciding when to go public with her boyfriend. "I've tagged him a couple of times because it started feeling very secretive," she said on the "Sheananigans" podcast.
Prior to dating, Doute and Menache had a long-standing friendship, and the two planned on taking their time with love. "I don't see the need to rush into anything. We've known each other for years," the "Vanderpump Rules" alum said while appearing on the "We Met at Acme" podcast in May 2020 (via Life & Style). Eventually, the couple moved past casual and moved in with each other, but soon hit a rocky patch. 
Kristen Doute moves out of Alex Menache's home
Only months after Kristen Doute moved in with Alex Menache, the status of their relationship was called into question. In March, the "He's Making You Crazy" author made a vague post to her Instagram Stories that had fans wondering if she was back on the market. "I am ready to start a new chapter in my life," Doute wrote. This sparked a discussion online as one Redditor asked, "Is Kristen single?" The post caused speculation among fans, and not long after their questions were answered.
A few months after hinting at "a new chapter," Doute officially announced that she and Menache were calling it quits. The former "Vanderpump Rules" castmate documented her move from the home she shared with Menache on her Instagram Stories. "[M]oving day is hard. leaving memories behind is even harder. sending anyone having a DAY like this lots of love," she wrote (via E! News).
Although Doute did not provide a reason for the break up, the split appeared amicable. "[W]e had so many awesome memories ... as heavy as it is, my current mood is gratitude," she added. The James Mae CEO kept it positive when a fan expressed dismay at the couple parting ways. "Alex is a wonderful man who I love and respect very much," Doute responded to the fan on Instagram. The breakup came somewhat as a surprise, as the two had hinted at a future together.
They both wanted a family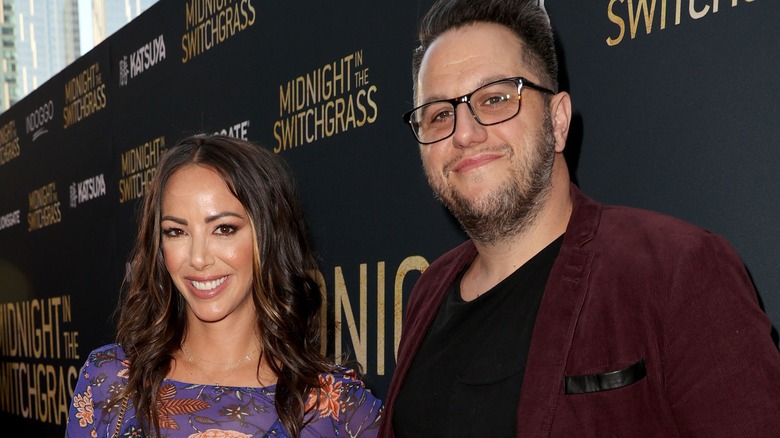 Kevin Winter/Getty Images
Despite Kristen Doute's claims early on in her relationship with Alex Menache that the two wanted to take things slow, there were signs the pair could be together for the long haul. When news first broke that the "Vanderpump Rules" alum had a new boyfriend, a source revealed Menache was not interested in a fling. "He wants to get married and have kids soon," an insider told Us Weekly in April 2020. "He has been looking for a wife," they added.
Around a year into their relationship, in January 2021, Doute made it clear she also wanted kids in the not-too-distant future. "[H]oping to get pregnant but not this minute," the clothing designer shared on her Instagram Stories (via Reality Tea). Doute also went into detail about meeting with her gynecologist, and how she worried about her irregular menstrual cycle.
From the beginning, the reality star had hopes about including Menache in her public life. "Hopefully we get a season 9 [and], you know, if he's my boyfriend, he'll be a part of the show because it's a part of my life," Doute told Us Weekly early in their relationship in May 2020. She was forthright with Menache from the start about divulging their relationship to the public, and included him "in a few of the chapters" of the book she was writing at the time.