How Natalia Dyer Really Feels About Working With Boyfriend Charlie Heaton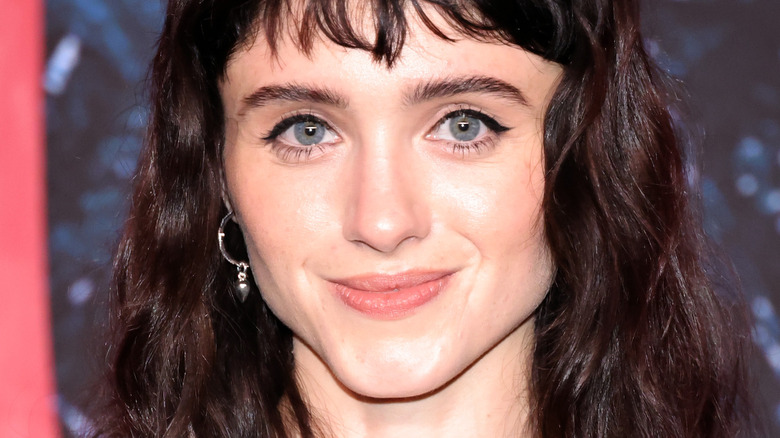 Theo Wargo/Getty Images
Natalia Dyer's "Stranger Things" character, Nancy Wheeler, has had quite the trajectory over the show's four seasons. When viewers first meet her, she is a mild-mannered high school student whose biggest concerns are her grades, her social standing, and her boyfriend. But by the show's most recent installation — which dropped in June — Nancy has progressed to full-on monster slayer mode, and is off stalking Vecna with a sawed-off shotgun in the Upside Down. Despite all the upheaval, Nancy is grounded by her boyfriend Jonathan Byers (Charlie Heaton), though she does flirt with the possibility of resident heartthrob Steve Harrington (Joe Keery). Per TV Insider, there's a whole section of fans who ship Nancy and Steve together.
Life imitates art for Dyer, who has been in an offscreen relationship with Heaton for almost as long as her onscreen counterpart. The pair made a soft launch on each other's Instagram accounts circa 2016, per People, though they didn't make their official red carpet debut until December 2017. Clearly, it took some time before they were comfortable sharing their romance with the public. "We didn't really know what the relationship was," Heaton told GQ in 2020. "The caginess, anyway, might have been unnecessary." At least showrunner Matt Duffer knew what was up right away. "That first audition we did a chemistry read with [Heaton and] Natalia, and sparks were flying," he said. Speaking of, how has it been for Dyer to work with her boyfriend on the show?
Natalia Dyer and Charlie Heaton share a special working relationship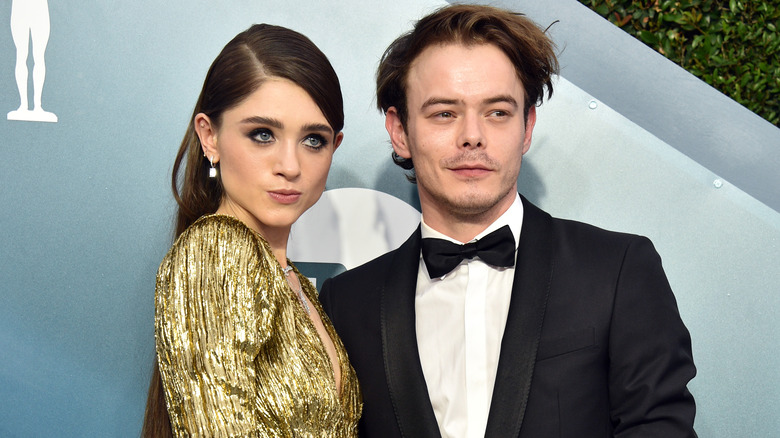 Gregg Deguire/Getty Images
In conversation with Us Weekly, Natalia Dyer praised her working relationship with Charlie Heaton on the set of "Stranger Things." She said, "He's great. It's a lot of fun. We goof off a lot." Likewise, Heaton values the fact he can share things with Dyer, as a result of their time together on the show. "Because we work in the same industry and have had similar trajectories, we've gone through it together," he explained to V Man. "Sharing that does bring you closer. They understand something that maybe no one else would. You go into high-pressure situations together but you can share those insecurities."
Dyer and Heaton's real-life romance seems to be rock solid (as of this writing), but their characters hit a rough patch in Season 4. With the Byers' move to California, the pair is separated — and despite their strong feelings for one another, Jonathan reconsiders his college plans without talking to Nancy. In the meantime, Nancy grows close with Steve. But in Dyer's opinion, it might be time for Nancy to take a break from the men in her life and focus on herself. "It's really tough ... It feels like she's been in a relationship for a while so maybe she needs some self discovery time," the actor told Variety.
Natalia Dyer and Charlie Heaton face challenges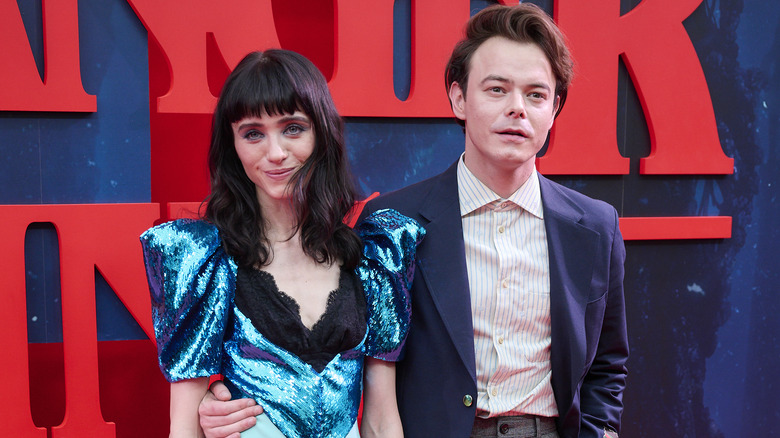 Carlos Alvarez/Getty Images
While Natalia Dyer gushed that Charlie Heaton is "super" to work with, balancing an on-set relationship with a personal one still comes with challenges. The actor told Us Weekly that there "are pros and cons" to working with Heaton, though the whole experience has been "a lot of fun, truly." She didn't specify those challenges, but it's easy to imagine that fame can complicate any relationship. Because "Stranger Things" broke all kinds of records on Netflix, logging more than 286 million hours of viewing time in its premiere weekend, anonymity is a luxury Heaton and Dyer don't get to have. Another challenge might be the blurring of personal and private lines. While promoting Season 3 of "Stranger Things," both Dyer and Heaton admitted that maintaining boundaries can feel overwhelming. "We want [our characters] to have moments and these things, but I think sometimes we get confused and are like ... between our own and the characters," Heaton said, per People.
In conversation with Refinery29, Dyer chose to look on the bright side of things. "It's an interesting thing to work with somebody who you go home with," she revealed. "It's always really fun. We're really comfortable with each other, so we can play and feel more free, and we can talk about it before." She also told the outlet that she doesn't know when another opportunity like this will come along, adding that it might "be [her] only chance to play like this."