The Truth About Natasha Bure's Time On The Voice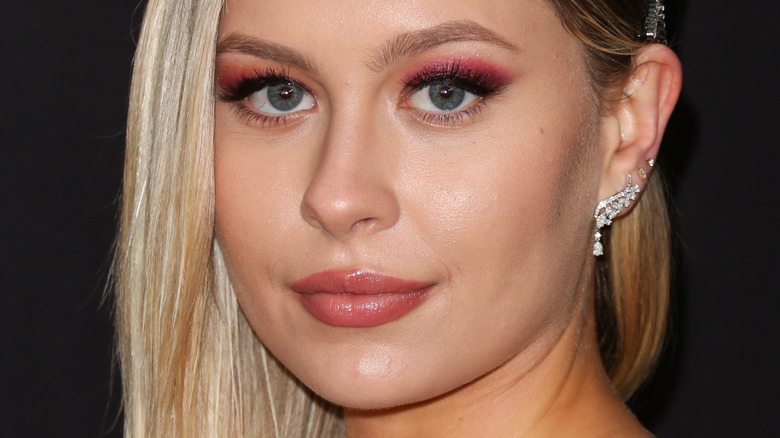 Paul Archuleta/Getty Images
Actor and singer Natasha Bure has a history of boldly pursuing her interests in the entertainment industry. Back in 2016, Candace Cameron Bure's daughter appeared as a contestant on the reality singing competition series "The Voice" when she was just 18 years old. The "Faith, Hope & Love" star auditioned for the show with a classic Elvis Presley song, "Can't Help Falling in Love," per Yahoo!. One of the "The Voice" judges, Adam Levine, turned his chair around early in the performance to show his approval of her vocal skills.
Natasha later reflected on her audition during an interview with E! News. "I was so nervous," she said of singing for the judges of "The Voice." "It's the most nervous I've ever been I think in my entire life for anything, and I've performed a ton ... when [Levine] turned around after that, it was the biggest moment of relief." As reported by Today, Natasha was eliminated from the series the following week when she sang a '50s track, "Cry Me a River," in a battle against fellow contestant Riley Elmore.
Since the end of her time on the show, Natasha Bure has spoken publicly about what being on "The Voice" was really like.
Natasha Bure was 'really terrified' to be on The Voice
Appearing as a contestant on "The Voice" was not without its scarier moments for Natasha Bure. In February, Natasha reflected on this experience while speaking on the "Conversations with Olivia Jade" podcast, per People. The performer explained that advice from her mother, "Full House" star Candace Cameron Bure, motivated her to go on the competition series when she was in her late teens. "The only reason I went on was because there was this thing that my mom told me — she's like, 'If there's an opportunity that comes and it scares you, you should say yes just because it scares you,'" she said.
Natasha added that she "had the worst nerves of [her] life" and "sobbed [her] eyes out" before singing on "The Voice," which resulted from being judged by a larger audience for the first time. "It really terrified me to know everyone is going to watch this," Natasha said. Though she revealed she's now "mortified" by her "The Voice" performances, Natasha called this "a good growing experience" in her career.
Since then, Natasha has continued to share her vocal talents publicly, including posting a 2019 Instagram video of herself belting out "If This is Love" by Ruth B. In addition, she has followed her other passion of acting. 
Natasha Bure may have new music on the way
After being on "The Voice," Natasha Bure has continued to wear several hats as a creative. "I kind of do a bunch of different things," Natasha said in an April "Austin AF" interview with blogger Katie Austin. "I started out doing social media and YouTube, Instagram. And then I also act, I do music, I've written a book. I kind of just spread myself all over." Some acting roles Natasha has taken on in recent years include playing lead parts in projects such as the 2020 rom-com, "Home Sweet Home," and portraying a younger version of her mother, Candace Cameron Bure, in a 2022 episode of "Aurora Teagarden Mysteries."
When she recently talked to Today, Natasha said that she has remained persistent as a performer. "I am honestly just like every other person out there and I'm just trying to stay on the grind and do my best and continue to keep all the acting chops constantly at work," she said. During the interview with Austin, Natasha additionally stated her upcoming plans for her career, which include exploring both acting and releasing music. "Hopefully [there will be] future acting projects and lots of music to come. Hopefully at the end of this year," Natasha said.