Inside Selena Gomez's Rumored Drama With Kendall And Kylie Jenner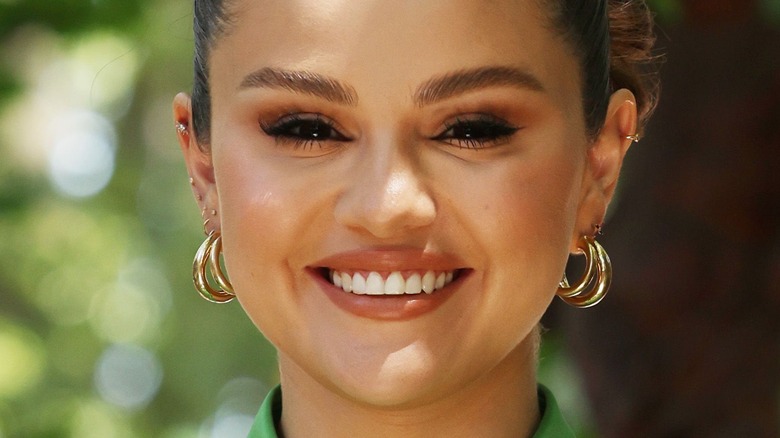 Stefania D'alessandro/Getty Images
It's a small world, especially when it comes to Hollywood, and A-listers tend to stick together. After all, no one else can understand the glare of the spotlight quite like another celebrity. Proving this point, Selena Gomez, Kendall Jenner, and Kylie Jenner were all besties once upon a time. Although they rose to fame in different ways — Gomez found stardom on the Disney Channel and through her singing career, while fans got to know the Jenner sisters on reality TV — all three ladies quickly cemented themselves as icons. In 2016, Kendall and Gomez spent time together as part of Taylor Swift's squad, per Capital FM. However, Kendall no longer hangs out with Swift, but Gomez and Swift have remained good pals, according to Elle.
Then there's Kylie. Us Weekly reported that Kylie and Gomez were close as of 2014 and posed in flower crowns at Coachella (as you do). At one point, Kylie even captioned an Instagram of featuring Kendall and Gomez, "MY FAVORITE PEOPLE." Flower crowns and festival garb notwithstanding, Kylie, Kendall, and Gomez fell out of touch somewhere along the way. In 2014, Gomez made headlines by unfollowing both Jenners on Instagram, according to Us Weekly. The "Love You Like A Love Song" singer still doesn't follow them today, and Kendall and Kylie don't follow her, either. Aside from a rogue meet-up between Kylie and Gomez at the 2018 Met Gala, the women don't speak. So, what went wrong? Supposedly, Gomez's ex Justin Bieber was at the root of the trio's falling out.
Justin Bieber came between Selena Gomez and the Jenner sisters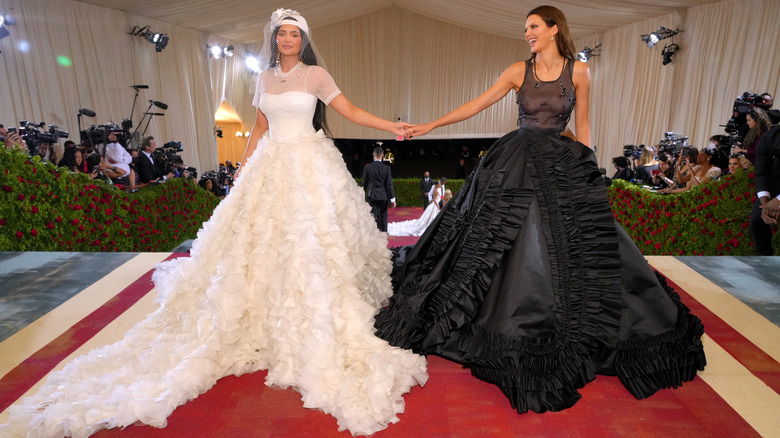 Kevin Mazur/mg22/Getty Images
According to Us Weekly, Selena Gomez unfollowed Kendall and Kylie Jenner on Instagram because of their behavior toward her then-boyfriend Justin Bieber. A source told the outlet, "Selena said the Jenner girls were flirting with Justin and his crew. She was pissed and overreacted." HollywoodLife corroborated this account (via the Daily Mail), explaining that Gomez "flipped out" when she found racy texts between Kylie and Bieber on his phone. "Kylie sent sexy pics of herself to Justin and that's what started the fight. Selena saw the pictures on Justin's phone and she freaked out," an insider revealed. Per Radar, Gomez "want[ed] nothing to do with Kylie or Kendall," from whom she had already been picking up "bad vibes."
At this time, Gomez was reportedly carving out a path for herself on the straight and narrow, via TMZ. This translated to a renewed focus on her singing career. She also sought to cut out "toxic influences" in her life, like the Jenner sisters. But in a plot twist, the Jenner sisters claimed that Gomez was actually the toxic one, which backed up the Biebs' account of his ex-girlfriend's substance abuse. As SheKnows noted, the "Peaches" singer pointed the finger at Gomez for drinking and smoking, and even called her a "much heavier partier." While it's unclear who was telling the truth, it looks like Gomez may have ended her relationship with the Jenner sisters due to insecurity over Bieber.
Where do Selena Gomez and Kendall Jenner stand today?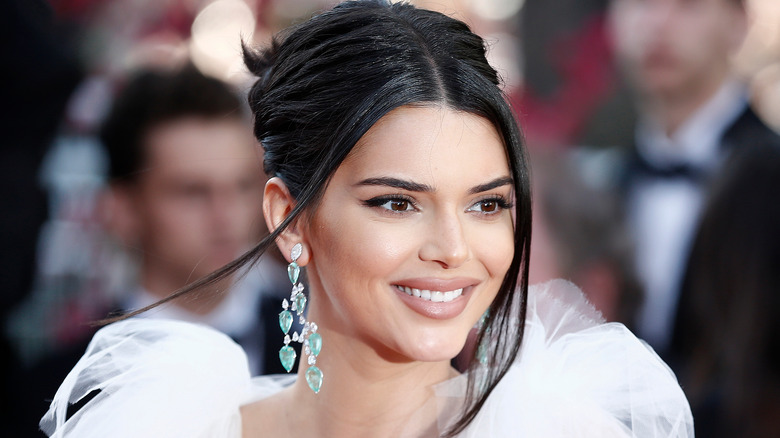 Andrea Raffin/Shutterstock
Kylie Jenner caught flack for (allegedly) flirting with Justin Bieber over text, but rumors swirled for years about a possible romance between Bieber and Kendall Jenner. In April 2015, Kendall and Bieber posed for a photoshoot for Vogue's spring issue, and fans thought they looked especially cozy together. Then, that November, Bieber hinted something might have been going on with Kendall when he told a Billboard reporter that things were "never serious with Kendall Jenner."
At some point that year, Life & Style (via HollywoodLife) reported that Selena Gomez caught Kendall and Bieber in a compromising position. "After the Coachella festival last April ... Selena showed up at his house and walked in on him and Kendall in bed together, fooling around," a source said. Understandably, Gomez wanted nothing to do with Kendall after this. "For months, Selena sent [Kendall] angry texts and insulted her," the insider added. "She was really mean to Kendall, but who could blame her? She thought she was her friend."
And Kendall and Gomez don't seem to have buried the hatchet since. In 2021, Kendall wore the same pink dress that her frenemy had previously worn in the "De Una Vez" music video. While a comparison was natural, Kendall sparked controversy by sharing a post from @PopFaction that said she had "pulled off this dress better than anyone else." Was this a direct message to Gomez? Odds are these ladies won't be attending Coachella together again anytime soon.