Are Chace Crawford And Miles Teller Friends?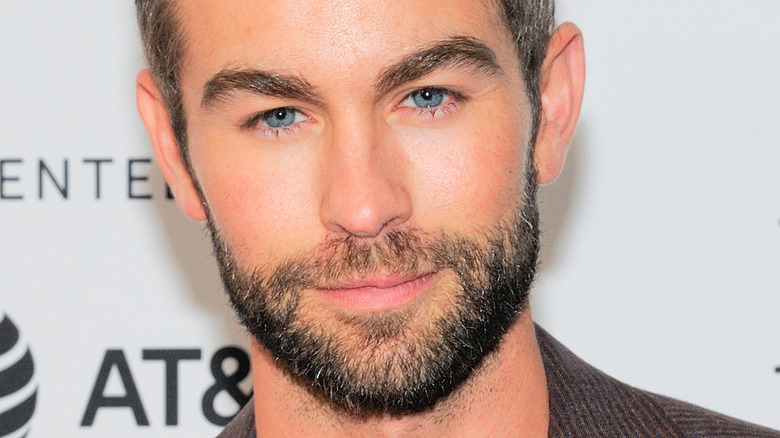 Ron Adar/Shutterstock
Be still our inner teenagers' beating heart. Chace Crawford and Miles Teller are real-life friends — and they're the twosome we never knew we needed. 
For "Gossip Girl" fans, Crawford needs no introduction. Though he has gone on to play a number of roles since the teen series wrapped in 2012, for many, he will forever be the swoon-worthy (albeit eternally tortured) Nate Archibald. However, with four seasons on Amazon's "The Boys" under his belt, he might be on his way to shaking his schoolboy persona for good. As for Teller, he also has roots in the youth genre. While he's arguably best known for his performance as Bradley 'Rooster' Bradshaw in "Top Gun: Maverick" now, in the 2010s, he had starring roles in the "Divergent" series, the 2013 remake of "Footloose," and "21 & Over," to name a few. 
Similar starting roles aside, Crawford and Teller have never worked together — but they came close once. According to People (via MTV), the "Gossip Girl" actor was initially set to be the star of "Footloose." Unfortunately, it wasn't meant to be, with sources telling Entertainment Weekly that Crawford's "Gossip Girl" schedule was to blame. It seems rehearsals had been underway prior to his exit, though, as ahead of the announcement, Crawford's would-be co-star Julianne Hough gushed over his progress. "He's doing good," she told Us Weekly. We can't confirm if Teller was present for those rehearsals. However, something tells us he might have been...
Fans can catch this twosome on TikTok
If Miles Teller and Chase Crawford didn't dance together ahead of "Footloose," they're certainly making up for it now!
The internet was thrown for a loop when Teller's wife, Keleigh Sperry, posted a video to TikTok of the actors dancing side-by-side in a kitchen — for reference: both are shirtless, one is holding a dog, the other a pool stick, and at one point, a loaf of bread — to Sickick's "Top Gun Mode." Yes, it was a lot. However, fans couldn't get enough, especially given that both men continue to hold a special place in the hearts of many thanks to their early work. As one wrote, "Miles AND chase???? My 16 year old heart wouldn't be able to take this." 
Teller has subsequently joked about his TikTok videos with Entertainment Tonight, telling the outlet that, ultimately, his greatest joy came from goofing around with his loved ones, and he was happy for the world to see it. "My time with Kelleigh, and, you know, and my family, and my friends ... those are the moments I really savor," he shared. Crawford shared the sentiment. Speaking with Bustle in early July, he hinted at a recent breakup, and credited his friends with helping him get through it. Hey, if Teller gets a memorable moment, Crawford gets the support he needs and fans get a TikTok as a result, that's a win-win, right? 
... and the golf course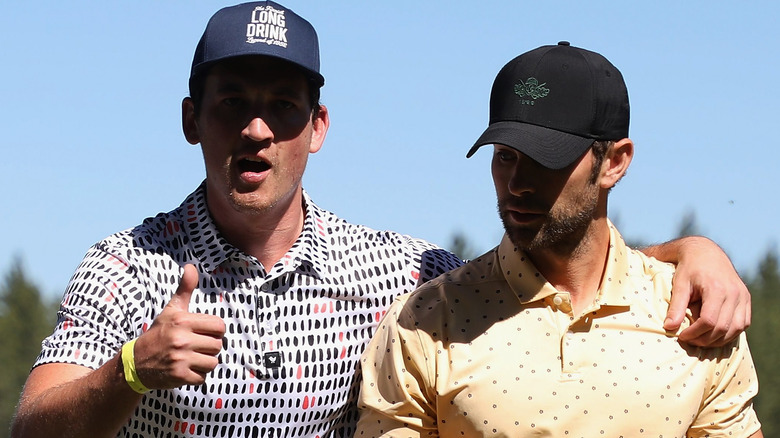 Christian Petersen/Getty Images
When they're not whipping up viral TikTok videos in the kitchen, Miles Teller and Chace Crawford can also be found hanging out on the golf course. In fact, it's a sport both seem to take pretty seriously. 
Back in 2020, Teller and Crawford were spotted by Just Jared as they were gearing up for a round of golf. The month prior, they'd competed together in the star-studded American Century Championship charity tournament, even taking a moment to pose goofily for photographers. This year, Teller was ecstatic to have returned, telling Golf, "There's nothing like this tournament." Though Crawford's brother-in-law, Tony Romo ultimately won the championship (via Golfweek), the actor himself wasn't in this year's lineup. However, it seems he might have tagged along to support his "Top Gun: Maverick" bestie anyway. In an Instagram photo dump of their Tahoe friends trip that coincided with the tournament, Keleigh Sperry shared an image of Crawford wading through a rock pool, gleeful expression in tow. 
Given that Crawford had previously told Bustle that he wanted to become a football player as a kid, and that Miles has told Rolling Stone he had his sights on baseball, it only makes sense that these two sports fanatics are friends. Who knows? Maybe one day we'll see them in a sports film together, giving our inner teenagers what they want. In the meantime, we'll always have TikTok.