The Truth About Nicolas Cage's Famous Family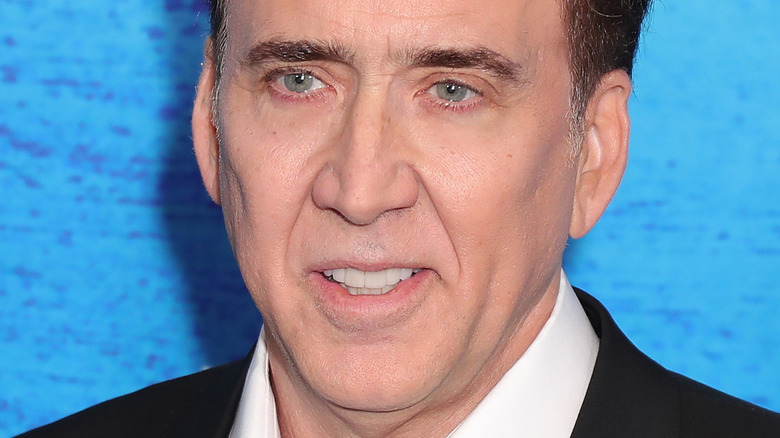 Leon Bennett/Getty Images
Nicolas Cage has been a Hollywood mainstay for a long, long time and has plenty to show for it. Through his career spanning through four decades, the actor has racked up more than one hundred acting credits, per IMDb, and more than 17 credits as a producer. Unsurprisingly, Cage's impressive run in the entertainment industry has earned him more than 60 awards, including one Oscar and one Golden Globe.
Outside of his career, however, Cage's personal life is also just as interesting. Per People, the actor married his fifth wife, Riko Shibata, in February 2021 and has since  enjoyed every moment of their time together. "I'm really happily married," Cage admitted to the Los Angeles Times. "I know five is a lot. But I think I got it right this time." Not only is Cage happily married to Shibata, but the two are also on the verge of expanding their family. In January, Us Weekly confirmed that the "Moonstruck" actor is expecting a child with his wife. While the baby's the first for Shibata, Cage is already a father to Weston Coppola, whom he welcomed in 1990, and Kal-El Coppola Cage, born October 2005, per HollywoodLife.
But, while Cage has created a lovely little family for himself, his extended family is made up of some pretty famous people — and you just might know them!
Nicolas Cage is related to a long list of Hollywood stars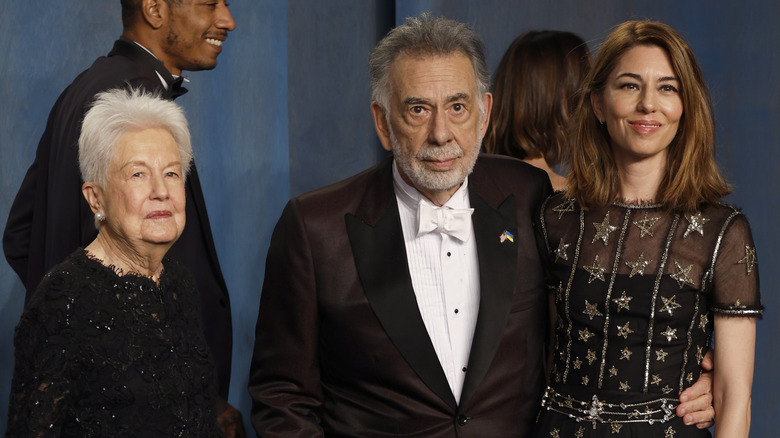 Frazer Harrison/Getty Images
Knowing that he's related to some of Hollywood's biggest filmmakers and actors, one could almost attribute Nicolas Cage's stellar acting to genetics. His uncle, Francis Ford Coppola, is one of the best directors of all time, per Entertainment Weekly, with some of his best works including "The Godfather," "The Apocalypse," and "The Conversation."
By default, this means Cage is also related to Sofia Coppola, Francis' daughter, who has since followed in her father's steps and is already making a name for herself as a director. With multiple awards, including an Oscar, under her belt, Sofia is clearly carrying on her father's legacy. In the same vein, Cage and Sofia are first cousins to actor Jason Schwartzman of "Wet Hot American Summer" and "I Heart Huckabees" fame. Schwartzman's mom, Talia Shire, is sister to Cage's dad August Coppola and Sofia's dad Francis — so yes, this is a dynasty packed full of talents of varying types and degrees. That is, however, of course not all.
A deeper dive into Cage's family history also shows the actor's grandfather to be the later Carmine Coppola who, according to The New York Times, famously contributed to the soundtrack for "The Godfather" franchise.
Nicolas Cage was inspired to start acting thanks to Francis Ford Coppola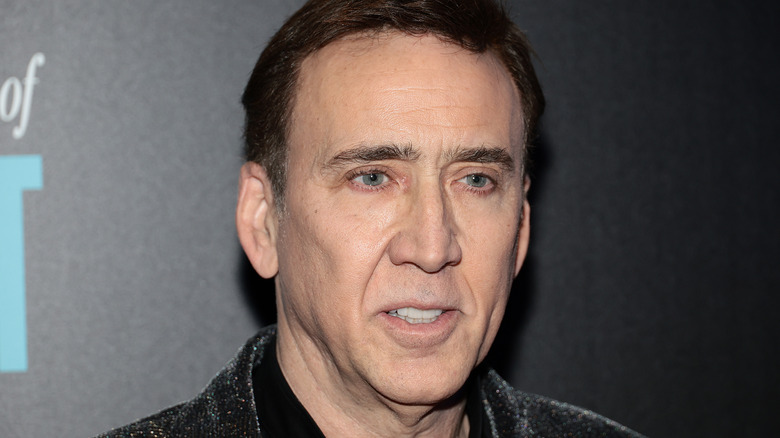 Dimitrios Kambouris/Getty Images
Nicolas Cage might have been born into a Hollywood dynasty, but it was not until noticing that his cousins, Francis Ford Coppola's kids, led a far better life that he started looking into acting. As a ninth grader, Cage went to live with Francis and his family, soon becoming enthralled with their luxurious life. It was there and then that Cage decided he would be just as successful. "I said I was going to buy a big house in San Francisco where they used to have a house — and I did," Cage told The New York Times in 1994. "It's just sort of unfortunate that it was revenge that fueled much of my ambition."
But, despite his determination to become a successful Hollywood star, Cage insisted on making a name for himself outside of his famous family. Thus, in the early days of his career, the actor changed his last name from Coppola to Cage — a name which, according to Biography, was largely inspired by the Marvel superhero character, Luke Cage.