Here's What Jenni 'JWoww' Farley Really Looks Like Without Makeup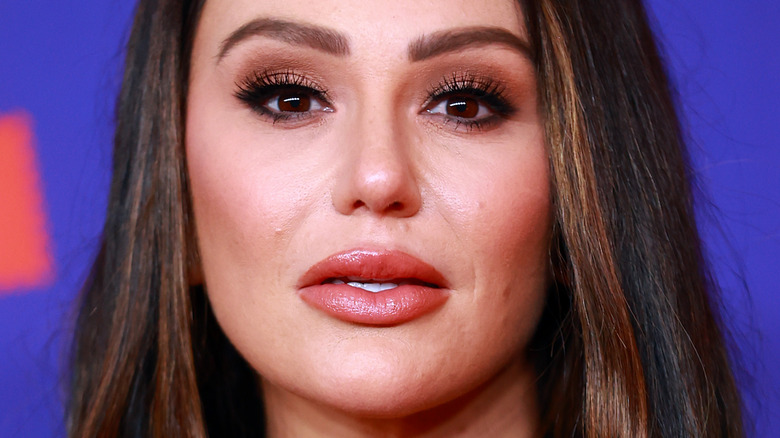 Matt Winkelmeyer/2021 Mtv Movie And Tv Awards/Getty Images
Jenni "JWoww" Farley is putting her best face forward. 
The "Jersey Shore Family Vacation" star is widely known for her outspoken (and sometimes overbearing) personality, as well as her distinguishable looks. The MTV reality star initially caught the attention of fans from season one of the cult classic with her flashy fashion choices, daily partying on the Jersey Shore boardwalk, and fist-pumping antics. Over the years, fans have noticed JWoww go through a dramatic transformation since her early "Jersey Shore" days. Now, the mother of two is living a completely different lifestyle than before — but make no mistake, Farley still keeps it real.
All things considered, one thing stays true with the reality star: her thoughts on being her most authentic self. We know JWoww has always been vocal about her opinion on all matters, and no topic is off the table when it comes to her willingness to be open with her fans. The same can be said when it comes to her choices about her appearance. For example, the star shared details with Us Weekly in June 2018 regarding her decision to get botox. All things considered, we can't help but wonder what JWoww looks like without makeup.
JWoww keeps it real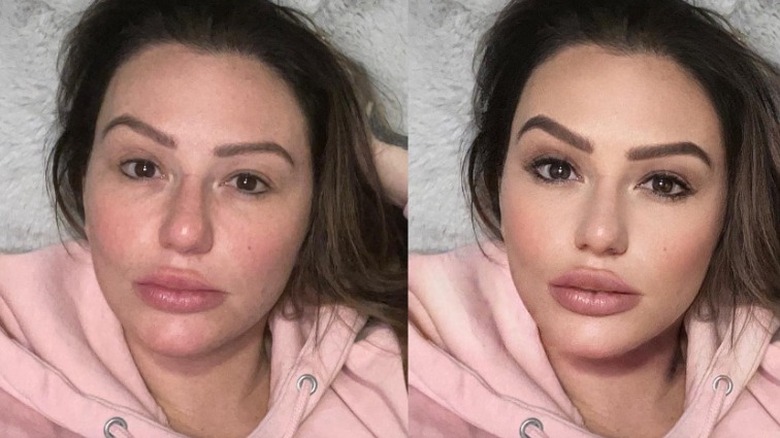 Instagram
In a world full of filters, Jenni "JWoww" Farley doesn't mind keeping it real. 
The reality star encouraged others to take more authentic photos when Farley posted a photo of herself being makeup-free next to the same selfie with a glammed-up filter, showing JWoww rocking an airbrushed face, rosy cheeks, eye-makeup, and defined contouring on Instagram in March 2021. In the caption, she spilled, "Laying here bored and saw this app... so I said 'why not?' WTF. I'd rather be old and ugly." She furthered the convo on unrealistic standards by requesting that her fans not use photo editing apps for social media posts. "Seriously, don't do this crap to your pics... love yourself."
It appears that this sentiment on celebrating natural beauty is also felt by JWoww's fiance Zack Carpinello as he shared the sweetest message on Instagram in December 2019. In the post, which saw the mom in a more natural look, he gushed that JWoww means "everything" to him and is "an absolutely gorgeous woman inside and out." Throughout JWoww's dramatic transformation from party girl to mother over the years, she continues to promote being authentic while embracing her natural beauty.
JWoww defends her approach to natural beauty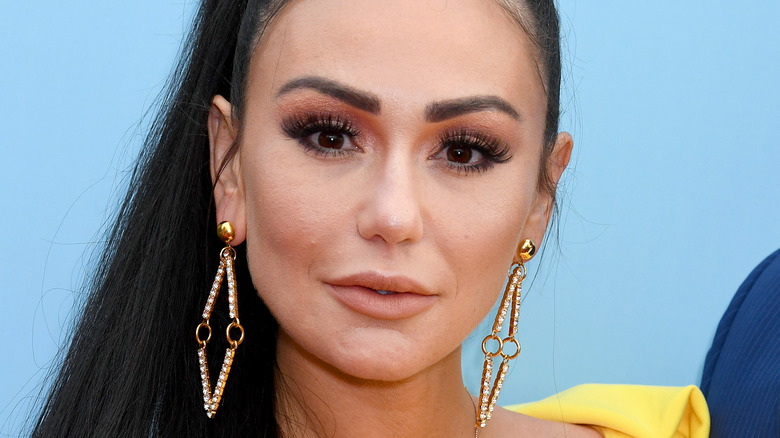 Dia Dipasupil/Getty Images
While the mother of two has not shied away from acknowledging the work she has done to enhance her features, Jenni "JWoww" Farley prefers to not alter her look in its entirety.
The New York native has made it known that she prefers to stick to noninvasive procedures when considering an enhancement, per Entertainment Tonight. "I don't like touching my face only because I'm always scared you can never go back. All those nose jobs and cheek implants and stuff like that, people get those and can never go back to what they were," she shared with People in August 2014. "I wouldn't go overboard and get that frozen face when you're trying to cry and look like you're smiling."
Despite the changes she has made, such as her breast augmentation — which she admitted to doing twice to People in December 2020, and the choice to tackle wrinkles by using botox, she says she prefers minimal when it comes to her appearance. JWoww's approach to beauty is refreshing, as it's always the real outspoken Farley that shines through no matter what.