Here's What Selena Gomez Really Looks Like Without Makeup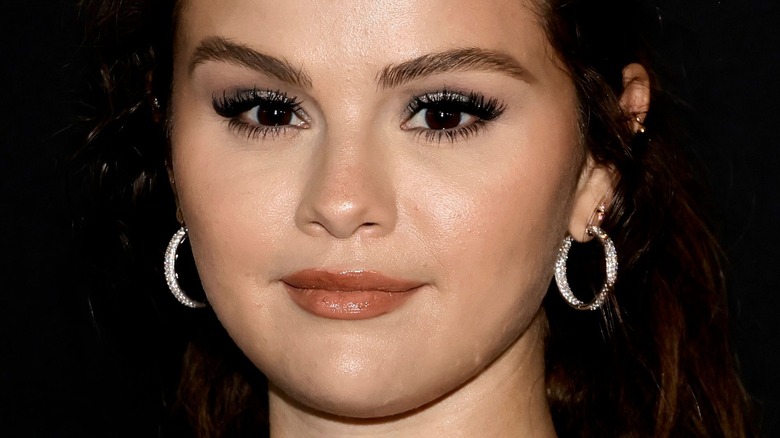 Kevin Winter/Getty Images
Actor, singer, and make-up mogul — is there anything Selena Gomez can't do? The Disney alum has had an influence ever since her introduction to the entertainment industry when she was 7 years old on the kids' favorite, "Barney & Friends," and we can understand why. With a career spanning over two decades, Gomez has a reach that encompasses both Millennials and Gen Z with her trendsetting ways across entertainment. 
One of Gomez's most notable business endeavors thus far is her beauty brand, Rare Beauty, a line aimed at realigning beauty standards and expectations while celebrating body positivity. In December 2021, the entrepreneur shared with People that the "mind, body, and soul" of the cosmetic company is for individuals to know "it's OK to not look like everybody else." The brand has over 3.3 million followers on Instagram, so it comes as no surprise Gomez is a strong force in the beauty industry as an advocate for change.
Even with her renowned glamour, the starlet shines by putting her natural beauty to the forefront. The beauty mogul has taken matters of shaking up beauty standards into her own hands by discussing the importance of being your most authentic self. With that, Gomez hasn't shied away from rocking a makeup-free look.
Selena Gomez is a natural beauty
From switching up her hairstyles to her makeup, we have seen Selena Gomez change her look many times over the years. With such a huge platform, the "Good For You" singer has always been open and honest with her fans regarding inner beauty and the importance of mental health. We can only imagine that's one of the many reasons behind the success of her beauty empire.
In January 2022, the beauty mogul shared a video of herself without makeup to Instagram, appearing glowy and flawless as ever. While the post showed off as an open letter to her team at Rare Beauty, fans couldn't help but notice how radiant the singer appeared. In the letter, posted on the print edition of The New York Times, Gomez shared that the "heart" of Rare Beauty is appreciating everyones' uniqueness, and she hopes the brand can help "shape the dialogue around the beauty of self-acceptance," which is "needed in the beauty space."
Gomez enjoys being her most authentic self by wearing "no make-up makeup." Gomez shared her flawless approach to natural makeup with her Selenators on YouTube in May 2022. In the segment, Gomez highlighted her natural beauty by using a few of her staples from her line, Rare Beauty. Per the brand website, Rare does its part to speak up regarding mental health, which is something of utmost importance to the hitmaker.
Selena Gomez redefines beauty standards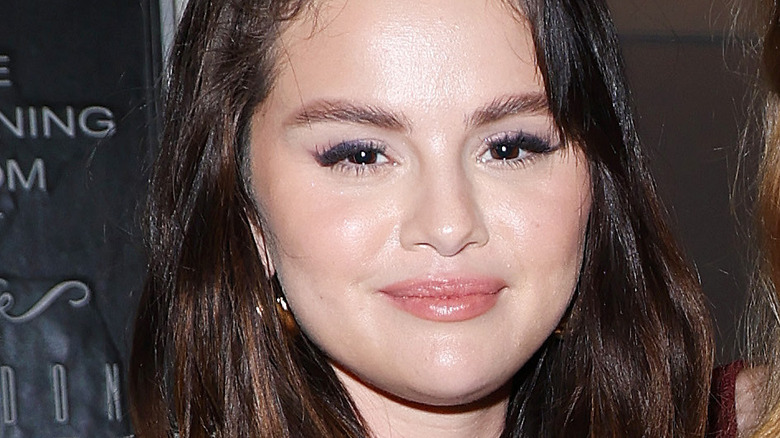 Daniele Venturelli/Getty Images
Selena Gomez has dealt with her fair share of haters and body-shamers over the years. The "Only Murderers in the Building " star does her best to shut out the noise and refocus on positivity.
The "Wizards of Waverly Place" alum shared with Glamour UK in June 2022 that beauty standards on social media were "unrealistic" in a lot of ways, and wished that she knew makeup was meant for "fun," not to be viewed as "something you need" at a younger age. "I used to think I needed to wear makeup to feel pretty, and I can definitely say that has changed as I've gotten older," the "Hands to Myself" singer said. "From the time I can remember, I've always felt like I had to be perfect or look a certain way. It took me a long time to realize that I only wanted to be myself — that what made me unique was also what made me beautiful."
The "Wolves" singer took her mental health efforts a step further when she launched a mental fitness ecosystem, Wondermind. According to its website, Wondermind is a safe space for individuals to "explore, discuss, and navigate their feelings." Through advocacy and hard work, Gomez is on a mission to live her life as the most authentic version of herself, with or without makeup.