The Real Reason Skeet Ulrich Changed His Name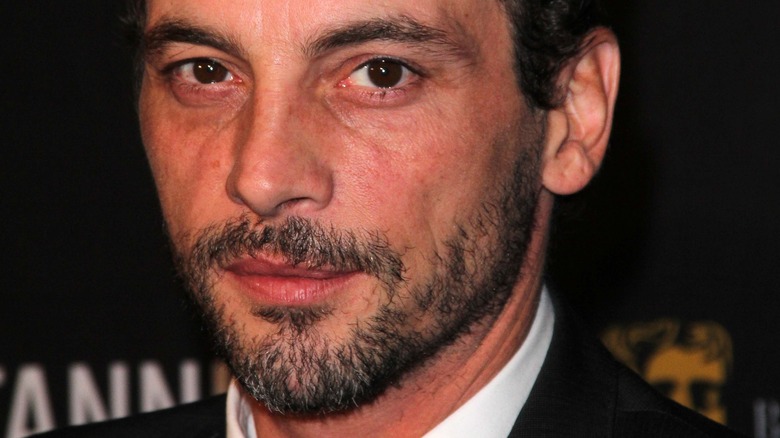 s_bukley/Shutterstock
'90s kids everywhere are guilty of having a crush on a ruthless killer thanks to "Scream." We didn't feel too bad about it, though. If anything, we understood we were the real victims of Wes Craven, who made us believe the handsome Skeet Ulrich was on our side before exposing him as one of the murderers behind Ghostface. By then, it was too late. We had all already fallen in love with the dark-haired actor with the unique name. But the "Riverdale" star's birth name includes neither Skeet nor Ulrich. According to People, he was born Bryan Ray Trout, which just doesn't have the same enchanting powers, if you ask us.
Adopting a stage name is a common practice among artists. For some, a nom de theatre allows them to separate their personal identify from their artistic expressions. That's the case with Nicki Minaj, known for her alter egos. For others, it is simply a matter of professional technicalities that get in the way, like Michael J. Fox. As it turns out, his given names already belonged to another actor registered with Screen Actors Guild, The Telegraph reported. So Fox added an invented middle initial to the mix and called it a day.
But none of these reasons apply to Ulrich, who already went by his professional name long before he landed his career-defining role in the slasher film. Unfortunately, his reason for doing so is a lot less straightforward — and a lot more devastating. 
Skeet Ulrich adopted his ex-stepfather's last name
Skeet Ulrich was born to a restauranteur father and a businesswoman mother, who ran a management company for racers in North Carolina, The New York Times noted in a 1997 profile. His parents divorced when he was 3, leading to a tumultuous relationship with his father. "I didn't really have a dad," Skeet told Los Angeles Magazine in 2010. When Skeet was 6, his father kidnapped him and his older brother, Geof, moving the family frequently to prevent their mother from finding them. Skeet and Geof returned home to their mother three years later.
His mother later married D.K. Ulrich, a former NASCAR driver who became the main father figure in his life, according to the NYT. That's when he left his biological father's name behind and adopted his stepfather's. His mother and D.K. later divorced, but Skeet continued to regard the racecar driver as his father.
His first name, however, was not his doing. "I'm not that dumb," Skeet told Entertainment Weekly in 2006. He acquired the moniker still in childhood, when a coach likened his slender physique and agility to that of a mosquito, the NYT noted. While Skeet may not love the nickname, it stuck for good. And he has learned to embrace the physical traits that inspired it. "49 years ago today and my legs are just as skinny," Skeet captioned a newborn photo of himself he shared on Instagram to mark his birthday in 2019.
Skeet Ulrich's childhood made him a better father
Skeet Ulrich was far from father of the year as F. P. Jones on "Riverdale," but he makes up for it in real life. For Ulrich, fatherhood has been a priority from the get-go, one that stems from his own negative experiences. "[My turbulent childhood] made me a great dad," he told Entertainment Weekly. Ulrich transitioned into fatherhood on March 9, 2001, when he welcomed twins Jakob and Naiia with then-wife Georgina Cates, according to Los Angeles Magazine.
When he and Cates divorced in 2005, Ulrich got custody of Jakob and Naiia and raised them as a single dad. He even pushed his career aside to focus on parenthood. "I took a couple years off to be with the kids," he told EW. Skeet saw it as the only option. "I won't get into the details of how I grew up and the lack of parenting I had, but I would never let my kids feel unwanted. That was the prime motivation," he told Fatherly in 2021.
Ulrich also relied entirely upon his own skills, choosing not to use permanent help. "I hired a nanny once when I was doing the first season of 'Jericho.' They were starting kindergarten, and I hired a nanny once more when I did 'Law & Order.' That's it," he added. He has no reasons to have any regrets. "I'm reaping the rewards ... They still come to me and give me a kiss."